Animink Redesigns Website for Omnia Construction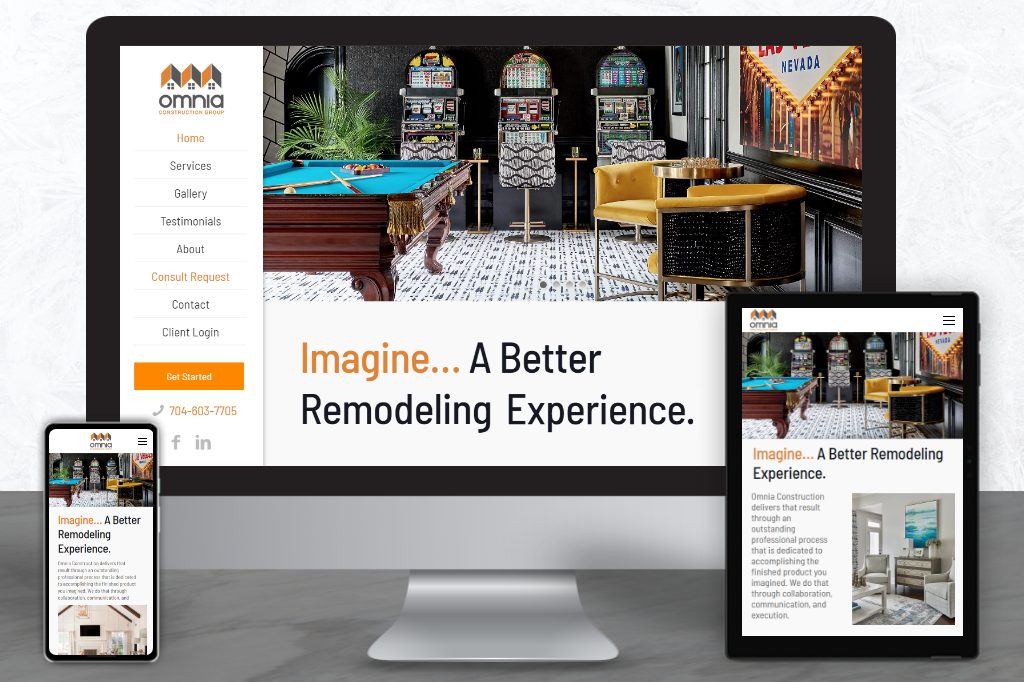 Omnia Construction LLC has been helping homeowners and families in the greater Lake Norman area with expert home remodeling and renovation services since 2009. The company holds a firm belief that although a newly remodeled home is technically a product, they are offering an invaluable service to homeowners instead. This mindset separates Omnia from the competition because they understand a home is not only something you own, it is where their clients live their lives and raise their children. It's where families gather for dinner and conversation around the table, where grandchildren come to play, and holidays celebrations are held.
The team at Omnia Construction has built loyal relationships with their clients because they understand two very important things – where you live is your personal safe space, and project communication is key. They offer professional remodeling services to their clients, where their clients are. Clients are always kept abreast of when work and inspections are scheduled, when utilities will need to be turned off and for how long, and even of days when no work is scheduled at all. This commitment to communication and excellence has not only earned Omnia Construction repeat clientele, it has also expanded their business and reputation through word of mouth referrals from previous and existing clients.
Charlotte Web Design Services
Animink was approached by Omnia Construction in need of a website redesign. Their existing website had become stale and outdated. They needed a website that was fresh and modern, and one that would represent who the company has grown to be since its inception. It was important to the client to showcase their more recent projects, and give their clients a better online user experience.
The newly redesigned website features stunning renovation photos beginning on the homepage, offering website visitors a small glimpse into the outstanding services the company has to offer. Important information has been reorganized in a simple way, allowing potential clients to easily find services offered and testimonials from previous clients by simply scrolling through the homepage.
The services section was also overhauled and reorganized. Clients can simply hover over the services area and a dropdown menu will guide them in the right direction. Here, they are met with beautiful photo examples of previous remodeling projects, as well as information on the selected choice and a contact button that makes for a quick and easy connection with Omnia.
The gallery is filled with dozens of finished home remodeling projects that not only showcases Omnia's talents, but offers inspiration to potential clients as well. Lots of great information can be found about Omnia in the "About Us" section, and the "Testimonials" section provides actual client feedback about the company.
A Web Development Company and So Much More!
The newly redesigned Omnia Construction website is responsive, informative, user friendly, and directly reflects the talent, innovation, dedication, reliability, and professionalism that Omnia is known for. Omnia Construction was EXTREMELY pleased with the finished result of the redesigned website. So much so, that the client has since signed on for professional Animink SEO services since going live with the website.
As an award winning and experienced Website Development Company, Animink understands that not only is a website for your business necessary in today's modern world, it's important that the design and flow of that website be created in such a way that your customers quickly understand what you do, and how to complete a call to action. We go beyond just providing an online face for your brand. We learn about your business, what makes it tick, and how the web can create more business for you. Our designers create a visual interpretation of your business, while our developers integrate a highly functional flow to drive traffic through the site as intended. Contact us today and let's get started on the path to online success!
Are you looking to update your old, outdated website? Get in touch with us, and our team will help you achieve your website redesign goals.