Tips for Creating a Successful Online Store with E-commerce Web Development in Charlotte, NC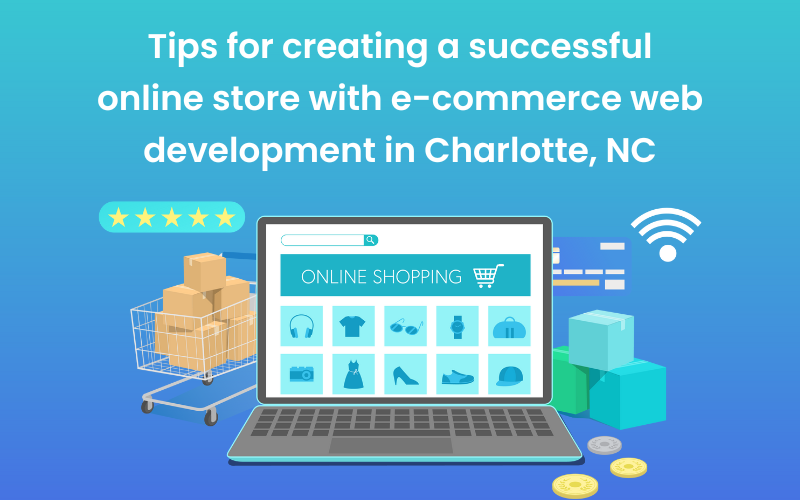 Over the past several decades, e-commerce has experienced a remarkable expansion, largely due to advancements in technology and the internet. Purchasing items from our smartphones while lounging on a sofa has never been more simple or more enjoyable. However, this rapid growth has not been entirely beneficial for everyone involved. As the e-commerce market expands, so does the competition, leaving some websites behind in the dust.
Imagine wanting to buy an item you like that is on sale, only to find the website too complicated to navigate in order to complete the transaction. You're likely to avoid the frustration altogether and visit another site that's much easier to use. The average shopper wants a hassle-free shopping experience. Effective web design involves more than just pretty pictures; current interactive design trends emphasize the importance of combining all visual elements to deliver an outstanding user experience. Your online store's design objective should be to increase conversions, sales, and repeat customers.
Conversion rates are influenced by factors related to your ecommerce site's design, such as ease of locating information or conveying a trustworthy brand image. You can never ignore the complete experience a user has with your site; each step on your website, from the initial landing page to the checkout process, must be meticulously designed with the ultimate goal of making a purchase in mind.
Let's explore best practices in e-commerce web design that can elevate your performance and help you achieve your business objectives.
Master the Art of Effective CTAs
To convert a visitor quickly, it is crucial to have a well-defined call-to-action (CTA). Make your CTA stand out by using contrasting colors compared to your store's theme and other design elements to capture visitors' attention. Experiment with the wording of your CTA to target different demographics and instill a sense of urgency. Select terms such as "limited supply," "buy now," or "free shipping" for the CTA to create urgency. Human psychology plays a critical role in this aspect. Espresso Digital reports that approximately 70% of small businesses lack CTAs.
Implement One-Click Checkout for Customer Convenience
Amazon offers a fantastic one-click checkout feature on their product pages, allowing customers to bypass the "Add to cart" step and expedite the checkout process. If you have an item in your cart that you want to save for later but don't want to remove, a one-click CTA is a perfect solution. Amazon has utilized this feature to increase conversions tenfold. Since they no longer hold the patent, anyone can now integrate this element into their online store as they please.
Simplify the Checkout Process

Many customers abandon their carts before completing a purchase due to a complicated checkout process. To ensure your checkout process is quick and user-friendly, incorporate various payment options, avoid asking too many questions, and keep navigation simple without overcrowding it with CTAs during the payment process.
Maintain Customer Engagement

Keep your customers informed with triggered notifications, similar to those received from social media platforms. Utilize tools such as push notifications, emails, and SMS messages to keep customers updated on relevant information. Design attractive web and mobile banners to notify customers of sales or free shipping promotions.

Prioritize SEO
This is one that should never be overlooked, because most web traffic originates from search engines, making it essential to optimize your site for search engines and on-site search tools. This helps customers find exactly what they're looking for and increases the likelihood of making a purchase. Utilizing the knowledge and experience of professional web development in Charlotte NC helps incorporate SEO best practices to ensure your online store stays ahead of the game.
Optimize for Mobile Devices

More than half of online purchases are made on mobile devices, so it's crucial to ensure your site is mobile-optimized. Follow these tips to create a mobile-friendly online store: avoid large banners and pop-ups, ensure CTAs are legible on small screens, display products in an organized manner, and showcase best-sellers at the top of the page.
Highlight and Showcase Customer Feedback

As they say, the proof is in the pudding, and the power of social media is undeniable. Many consumers will avoid products without reviews. Consequently, numerous websites capitalize on customer feedback to boost sales. Amazon, for instance, features reviews for every product, allowing anyone to provide feedback or share images of the product and their experience with it.
Customers are more inclined to trust products endorsed by others. Many platforms now offer numerous ways to rate and review products, addressing various aspects such as design, quality, comfort, and fit. Adding "verified purchase" next to reviews lends credibility, indicating that the reviewer actually bought the product. A review snapshot can help customers find the most helpful feedback.
Simplify Email Subscriptions
Ensure your website makes it easy for customers to subscribe for updates. Engage your subscribers by sending them emails with special discounts and promotional codes. Email marketing is known to be one of the most effective ways to increase conversions for online stores.
Incorporate a module at the bottom of your website for customers to input their email addresses and receive exclusive offers and updates. Alternatively, include an email subscription checkbox option in CTAs, possibly offering a discount code as an incentive.
Integrate a Referral Feature
Referrals from friends and family hold significant sway over purchasing decisions. Many referral programs come with discount coupons, benefiting both the referrer and the referred customer. E-commerce sites should consider incorporating referrals to increase sales. Design your online store to include a referral code CTA after each purchase, complete with an email address field and an easily shareable link. This small feature can greatly enhance your site's value.
Address Customer Needs
When a customer visits your site to purchase an item, suggest complementary products to enhance their purchase. Upselling can be effectively incorporated into your site's product pages. By offering complimentary items at discounted prices, you encourage customers to make additional purchases.
Reassure Customers with Security Measures
Trust is vital for conversions. Secure Socket Layer (SSL) is a protocol that ensures a site's security, displaying a green bar in the URL section of a webpage. Without this green bar, customers might hesitate to make payments. SSL encryption secures users' personal and banking information, safeguarding it from hackers and scams. Displaying your site's SSL can significantly reduce bounce rates.
Google also favors SSL-protected websites, ranking them higher in search results. Integrating trust badges into your website's design, particularly at checkout, can reassure customers that their transactions are secure.
Craft Engaging Content
Your website's design should not only focus on visuals but also on the copy. Create compelling content to captivate visitors and address their needs. Here are some tips for improving your site's copy:
Avoid excessive jargon or buzzwords; make your products stand out with clear and engaging language.

Studies show that people prefer concise content over long paragraphs.

Use short, unique headings that provide insight into the content that follows.
Apple's homepage is an excellent example of effective copy, as it provides sufficient information about the product. Users seeking detailed descriptions can click the "learn more" link.


Final Thoughts

Building an ecommerce platform doesn't have to involve substantial financial investments, but staying competitive in the market demands strict adherence to best practices.

Continuously explore and learn. Vigilantly monitor your progress and be proactive in gauging your performance. Conduct surveys to gather insights from your target audience about what resonates with them and what falls short.

Achieving conversions can be challenging; bear in mind that perseverance and patience are necessary to witness tangible returns and positive outcomes.

Professional ecommerce website development is critical to ensure the success of your online business. It can tip the scales between someone choosing your company, or someone else. You'll need a website development company that can listen to your needs for online solutions.
Not only is a website for your business necessary, it's important that the design and flow of the site be created in such a way that your customers quickly understand what you do, and how to complete a call to action. A great web development company is required to design the site properly. Clarity within a website is not created by accident, it is an intentional process created for the user to 'close the deal'. It's one thing to have a website. It's another to have a site that engages the customer or client to act. As a web development company in Charlotte, Animink strives to not only assist in that process, but partner in your success. Contact us to get started on the path to success today!