Keeping Your Website Healthy to Ensure Business Success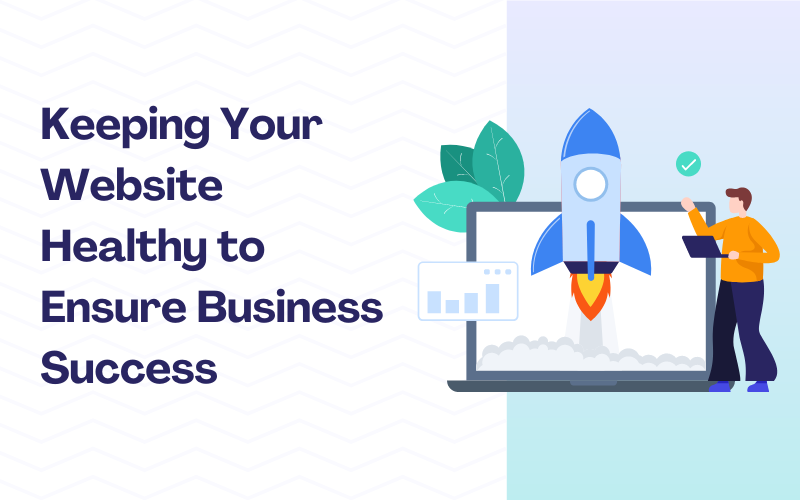 We live in a digital age when a business's website serves as the gateway to its products, services, and brand identity. It's where potential customers learn about what a business has to offer, and often, it's where they make the decision to engage further. Maintaining a healthy and efficient website is more critical than ever to ensure the success of your business. In this blog post, we'll discuss the importance of website health, and aspects such as security, performance optimization, content updates, and more. Whether you're a small business owner or a web developer, these insights and tips will help you keep your website in top shape, bolster user experience, increase traffic, and protect your business from cyber threats.
Website Security

Security is paramount in maintaining a healthy website. Cyber threats, such as malware, hacking, and data breaches, can severely damage your business's reputation and customer trust. Regular security audits, installation of SSL certificates, timely updates of your website's CMS, and utilization of secure coding practices are key to protecting your website from cyber-attacks. Moreover, it's important to regularly back up your website data to ensure you can recover quickly in the event of a breach.
Performance Optimization

Website performance significantly impacts user experience. Slow loading times, broken links, and website crashes can frustrate users and push them away. Tools like Google PageSpeed Insights can help you identify areas that need improvement. Techniques such as optimizing images, minimizing HTTP requests, enabling browser caching, and reducing server response time can enhance your website's loading speed and overall performance. Remember, a speedy and efficient website not only improves user experience, it also boosts SEO rankings.
Content Updates

Regularly updating your website content keeps it relevant and engaging. Whether it's blog posts, news updates, product listings, or user testimonials, fresh content encourages users to revisit your site and helps improve your search engine rankings. Remember, your content should not only be engaging but also accurate, error-free, and reflective of your brand's voice and values.
User Experience (UX) and Interface (UI)

Well-designed, e-commerce website development ensures your website is easy to navigate, visually appealing, and user-friendly. Pay attention to your website's UX and UI design. Ensure your site structure is intuitive, your content is easy to read, and your design is responsive across different devices. Regular user testing can help you identify usability issues and improve your website's overall user experience.
SEO

Search Engine Optimization (SEO) is crucial for increasing your website's visibility on search engines. It involves optimizing your website structure, content, and metadata to make it more attractive to search engines. Regular keyword research, on-page SEO practices (like proper use of header tags and meta descriptions), and building quality backlinks can significantly improve your website's search engine ranking and drive more organic traffic to your site.
Regular Audits and Monitoring

Regular audits and monitoring are essential for maintaining a healthy website. Use analytics tools to monitor your website's performance, user behavior, and traffic patterns. Regularly check your website for broken links, outdated content, and technical errors. Website audits can help you identify potential issues before they become major problems and provide insights for further improvement.

Conclusion
Keeping your website healthy and up-to-date requires ongoing effort, but the benefits – improved user experience, increased traffic, and protection from cyber threats – make it a worthwhile investment.
It's important to take the time to assess your website's health regularly, optimize its performance, update its content, and ensure its security. Remember, a healthy website isn't just a well-performing one – it's a direct reflection of your business's commitment to quality, user satisfaction, and digital excellence. By prioritizing your website's health, you're also prioritizing your customers, showcasing your brand in the best light possible, and setting your business up for sustainable, long-term success.
Having a strong online presence is no longer just an option—it's a necessity. A well-maintained, healthy website is integral to this presence, acting as the hub for your brand's digital identity. It's the platform where you can engage with your customers, showcase your products or services, and ultimately, drive business growth.
From ensuring robust security to regular performance optimization, from consistently updating engaging content to ensuring top-notch user experience—each aspect plays a crucial role in keeping your website vibrant and efficient. A keen focus on SEO will also ensure that your hard work gets the visibility it deserves, bringing in organic traffic, and expanding your business's reach.


About Animink

Located in Charlotte, North Carolina, Animink is an acclaimed web design and SEO firm that specializes in amplifying businesses' online presence, broadening their customer base, and bolstering online visibility. With a steadfast dedication to superior customer service and high-quality online content, we are committed to fulfilling our clients' digital needs.
Our approach places customer satisfaction at the forefront. We seamlessly blend innovative creativity with cutting-edge technology to deliver results that exceed expectations. Our team strictly adheres to methodical processes and industry best practices, enabling us to provide top-tier web design services in the competitive Charlotte, NC market.
Our team's proficiency is the cornerstone of our success. We take pride in working with a wide range of dynamic clients who hold excellence as a non-negotiable standard within their organizations. In response, we pledge to meet and exceed these high expectations in every facet of our service.
As a leading player in web development in Charlotte, NC, we invite you to experience the Animink difference. Don't hesitate to reach out and contact us today. Let us take your business to new heights of digital success.