Redesigning the website for MaxLife Industries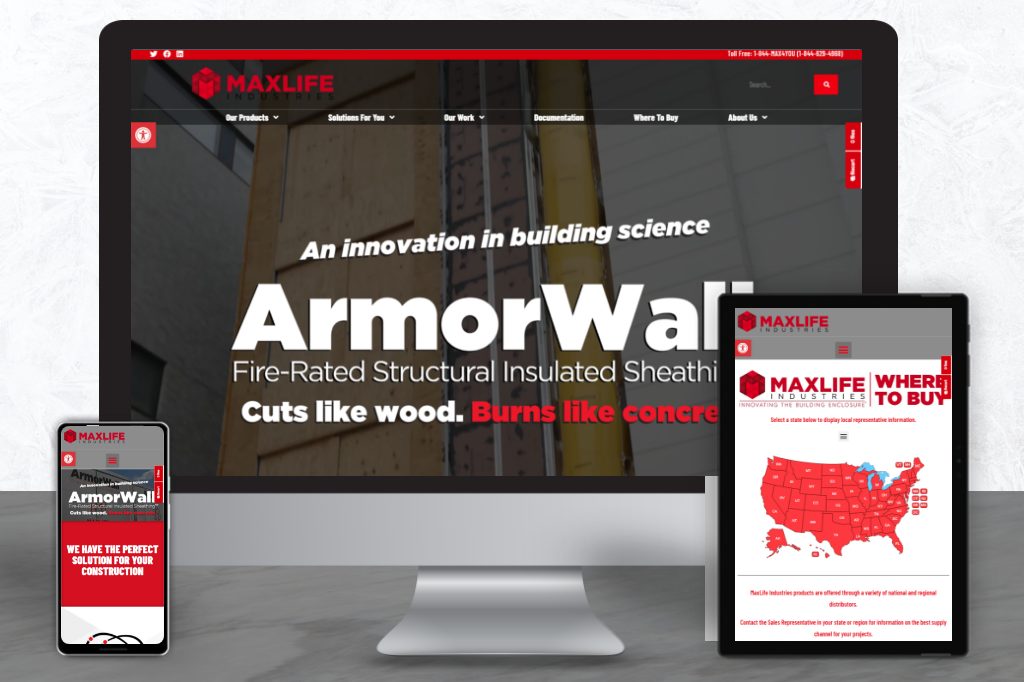 Meet the client:
MaxLife Industries is a North Carolina-based manufacturer with two manufacturing plants located in Salisbury, North Carolina. The company manufactures high-performance building enclosure products for the commercial high-rise, mid-rise, low-rise, and multifamily markets. The innovative products have quickly become the key design and structural components in new construction and renovation projects for hospitals, gyms, office buildings, storage facilities, multifamily and mixed-use developments, municipal buildings, and many others across the country.
Need:
In a realm of cutthroat competition it's fast, innovative, and simple solutions that rule the world. That's precisely what MaxLife Industries provides for businesses around the world. When their outdated and slow-loading website created a disconnect in their marketing channel, they contacted us to revive and redesign their core features.

MaxLife's first website was developed 5 years ago. Like everything else, a lot has changed in the field of web design in 5 years, and the client needed us to make adjustments to incorporate the latest trends and best practices in web development and design.
It was crystal clear that MaxLife Industries needed to update their website to leave no doubt in the minds of those who visited their website that they were indeed a "manufacturing powerhouse."
Solution:
The best way to start redesigning a new website is by taking a look at the current design with a content audit. Poor URL mapping, an ineffective site map, duplicate content, and slow speed were hurting their SEO rankings. The content audit gave us a clearer picture of what the site was lacking and what we needed to create and design. In our discovery process, we found that the document section was difficult to navigate in finding the correct document instantaneously. Our engineers started simply by mapping out navigation on their whiteboards, then designing how the functionality would work with each of the website touchpoints. Here are some of the functionalities we added to the website:
Ease of use: Captured its audience with an engaging, responsive experience.
Speedy loading time: We understand that nothing is more annoying than slow page loading times. We ensured that each page loads within a four-second window to avoid frustration for users.
Better security: Hackers aggressively target security flaws in popular websites, and the website needs to be regularly updated to patch security holes. We installed firewalls, enforced a strong website policy, encrypted login pages, and performed full website security audits.
Document fixing: We fixed the documents section that allows people to select various brochures, technical documents, safety files, etc., and download them on the go.
Search engine optimization services: Our team worked to improve rankings in search results for relevant keywords, achieve better search engine rankings, and ultimately more traffic with the goal of generating more business.

Results
Today, visitors to MaxLife Industries get a customized experience that matches the client's brand both contextually and visually. The site is now fast loading, and users can get anywhere on the site in under three clicks, with multiple opportunities to convert.
Our client is now better positioned to serve their customers and their business associates by easily updating their own content while offering a secured way to upload and access important documents.