5 Reasons Your Business Is Failing at SEO (And How to Fix It)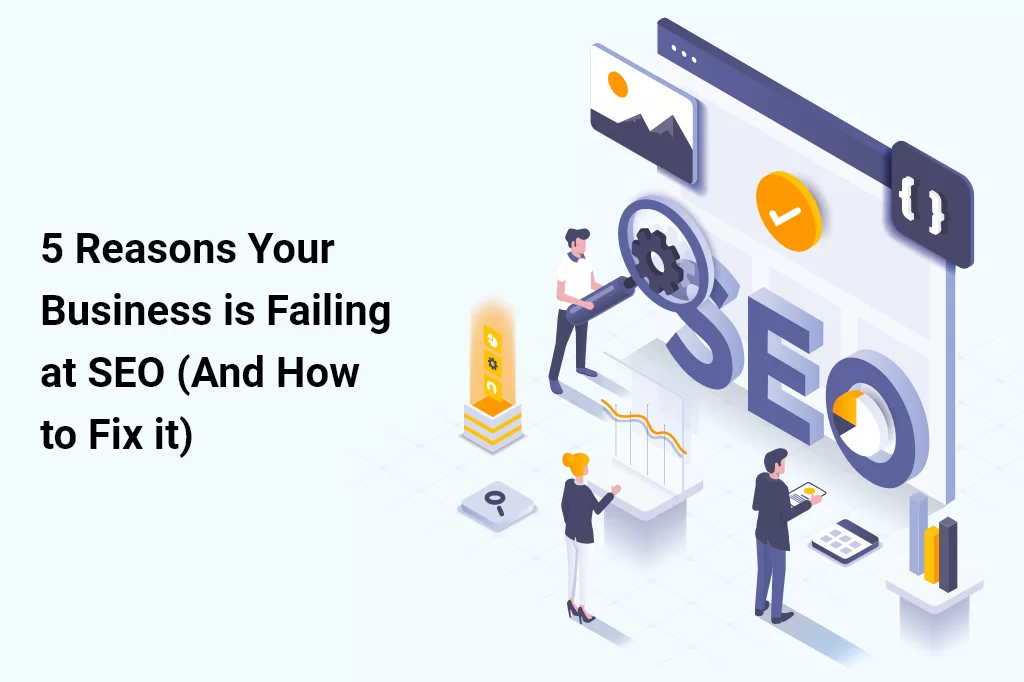 It can be frustrating to find out that the search engine optimization strategy you are using for your business in Charlotte NC is not working at all, especially after you have invested a lot of resources and time to plan and implement it. Perhaps you don't see much increase in leads, sales, or organic traffic—all of which are signs that your efforts are failing, but don't lose hope. Think of this as a lesson in SEO. Find out what has gone wrong and determine the necessary fixes. Here are five reasons why your SEO may be failing, plus how you can remedy them:
1. Not doing an audit
Auditing your website thoroughly is the first step to building a solid SEO strategy, but many people skip this part. Don't make the same mistake. An audit can help you identify and understand what is working and what is not. Consider utilizing website analytics tools to monitor visitor conversion, traffic sources, bounce rate, exit pages, interactions, return visitor conversion, and other factors. Using the information from your SEO audit, you can make the necessary adjustments to your optimization strategy.
Don't know how to start? An
SEO Company
in Charlotte NC can do everything for you. They can conduct on-page, off-page, and technical SEO audits to look into things like Google visibility, internal and broken links, backlinks, URLS and metadata, page speed, content and its performance, and headings and titles.
2. Being stingy
You might think that you can save a lot of money by doing your own SEO or settling for the cheapest social media optimization company you can find, but these decisions will actually cost you even more in the long run. With the right SEO company in Charlotte NC, you can optimize your site cost-effectively, even on a modest budget. They can design and implement a strong SEO strategy complete with keyword research, content creation, and building quality backlinks. They can also conduct competitor research and improve your website's performance.
3. Using outdated SEO methods
Search engines like Google change their algorithms regularly to improve the way they rank websites and eliminate spam and irrelevant content. If you are using outdated search engine optimization tactics, you can be compromising your campaign. Among the outdated techniques that are still surprisingly used by some companies are long-tail keywords, content machines, poor link building, and keyword stuffing. Many of these old SEO tactics may even cause your site to get penalized by Google. This is why it's best to consult a search engine marketing expert in Charlotte to learn about the latest best practices in SEO and apply them on your campaign.
4. Low-quality website user experience
You ultimately want your visitors to stay on your site and do what you need them to do—whether that means buying your products or calling you on the phone. Is your site repelling them with bad user experience? If your SEO efforts are failing, check the amount of time visitors spend on your website. Google ranks websites higher when an average customer spends at least 10 minutes on it. To enhance user experience, consider improving site speed, use more media and interactive content, and optimize your headlines by being direct to the point.
5. Over-optimized content
Your search engine optimization campaign in Charlotte may also fail if your content is so over-optimized to the point it affects readability and user experience. Always write for humans first, search engines second. Otherwise, your content will quickly lose value.
It's time you improved your SEO
Leaving your SEO success to chance or plain luck will get you nowhere. You have to use best practices and get help from a reputable SEO company in Charlotte NC.
Animink is here to help. Our goal is to assist you all around to boost your website rankings. To achieve that, we look into different aspects of your website, such as page loading times, content, keywords, reviews and links, and social media. Animink is also a social media optimization company, so you do not have to look further for another service provider to optimize your social pages. Contact us to get started.
Check out our new video on Tips and Tricks for Website Conversion Rate Optimization