Animink redesigned responsive website for Midland Valley Christian Academy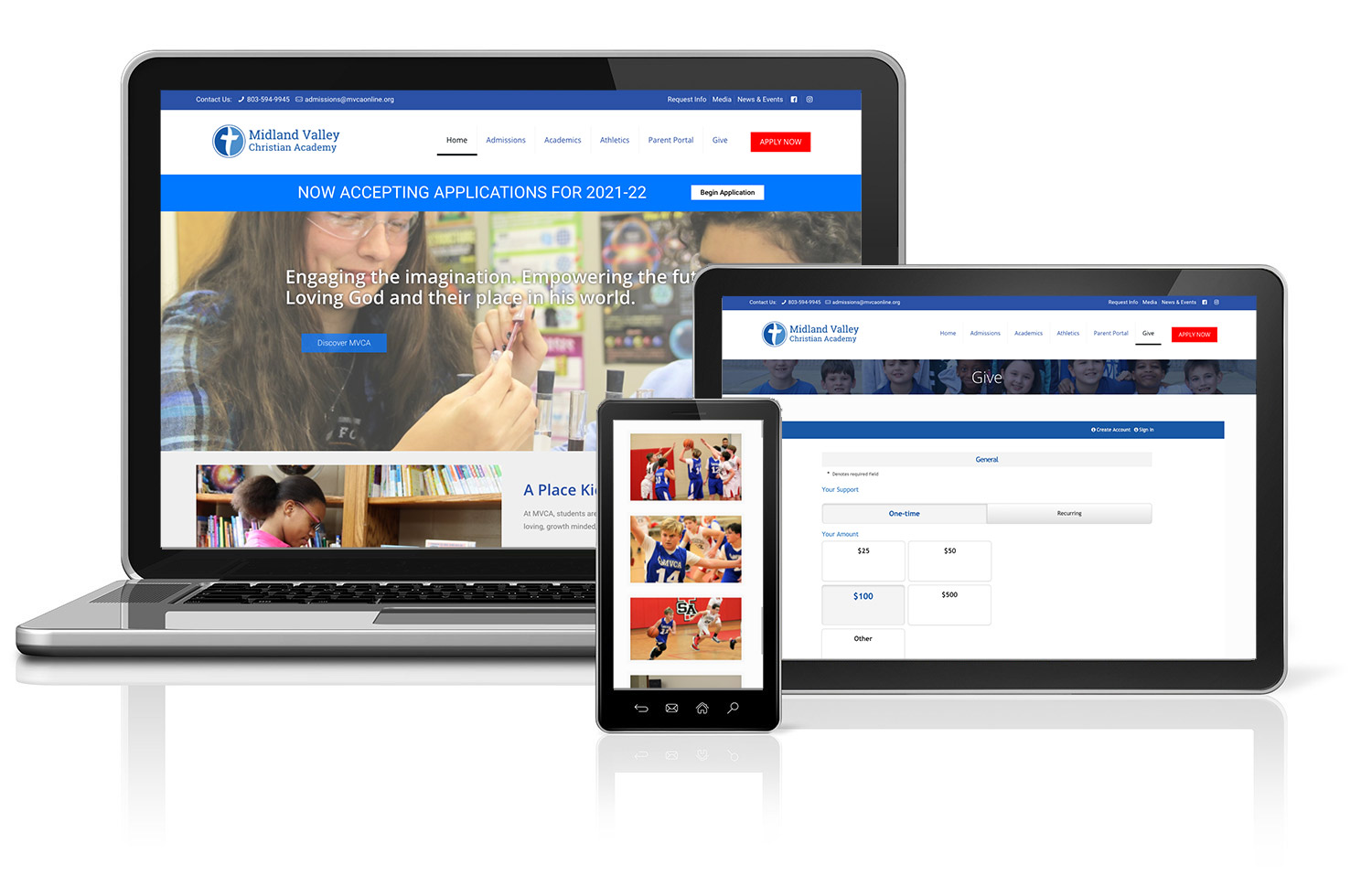 Located in Graniteville, South Carolina, Midland Valley Christian Academy (also known as MVCA), is a Christ-centered educational, non-profit organization focused on helping children to discover their place in God's world by preparing the mind, body and soul of its students to learn and to love God. With a phenomenal staff of qualified teachers, MVCA provides its students with a Biblically-based robust academic curriculum, as well as an extensive athletics program that ranges from basketball and soccer to golf.
Offering a wide variety of educational experiences to children from infancy through eight grade, MVCA helps children to build a strong foundation that will prepare them for a future of learning and success throughout their lives. MVCA encourages every child to be resourceful, encouraging them to excel in every aspect of his or her life to realize the full potential of their individual abilities. The organization prides themselves on providing children with the confidence they need to be successful in their learning.
Animink has a long history with Midland Valley Christian Academy that goes back many years.

Charlotte Web Design Services
MVCA needed a fresh new redesign of their website previously created by Animink in 2011. The new website is more organized and offers new additional features that were not available with the previous iteration. The newly redesigned site provides highly informative content for parents and students, as well as FAQs, admission guidelines, and tuition & financial aid information for parents who are interested in enrolling their children in the future. Parents can now not only gather information about the school, its philosophy and its beliefs on the website, they can also apply for admission directly online through Renweb. The new site design also includes valuable links for parents that include a simple-to-use Parent portal with various links, Virtual learning plans, school safety information, student supply lists and more. The standard site map, contact pages, directional information, terms of use and privacy policy are also included.
The redesign was also built to allow MVCA employees to directly manage the site with ease that requires very little assistance from Animink, with the understanding that we always offer full website maintenance services if and when the need ever arises.
A Web Development Company and So Much More!
The completed redesign of the website fits with the identity of MVCA and emphasizes the goals, philosophy and beliefs of the Midland Valley Christian Academy organization as a whole. Above all else, MVCA stands firm in their belief that every child can grow to be a confident and successful adult in the world in which God has created.
Along with our Charlotte Web Design Services, Animink offers full website maintenance services, as well as search engine optimization services, social media marketing, custom software development, brand management and so much more! Contact us today and let's get started with building an outstanding web presence for you and your organization.