Animink Designs and Develops New Website for Mustard Seed Dental Studio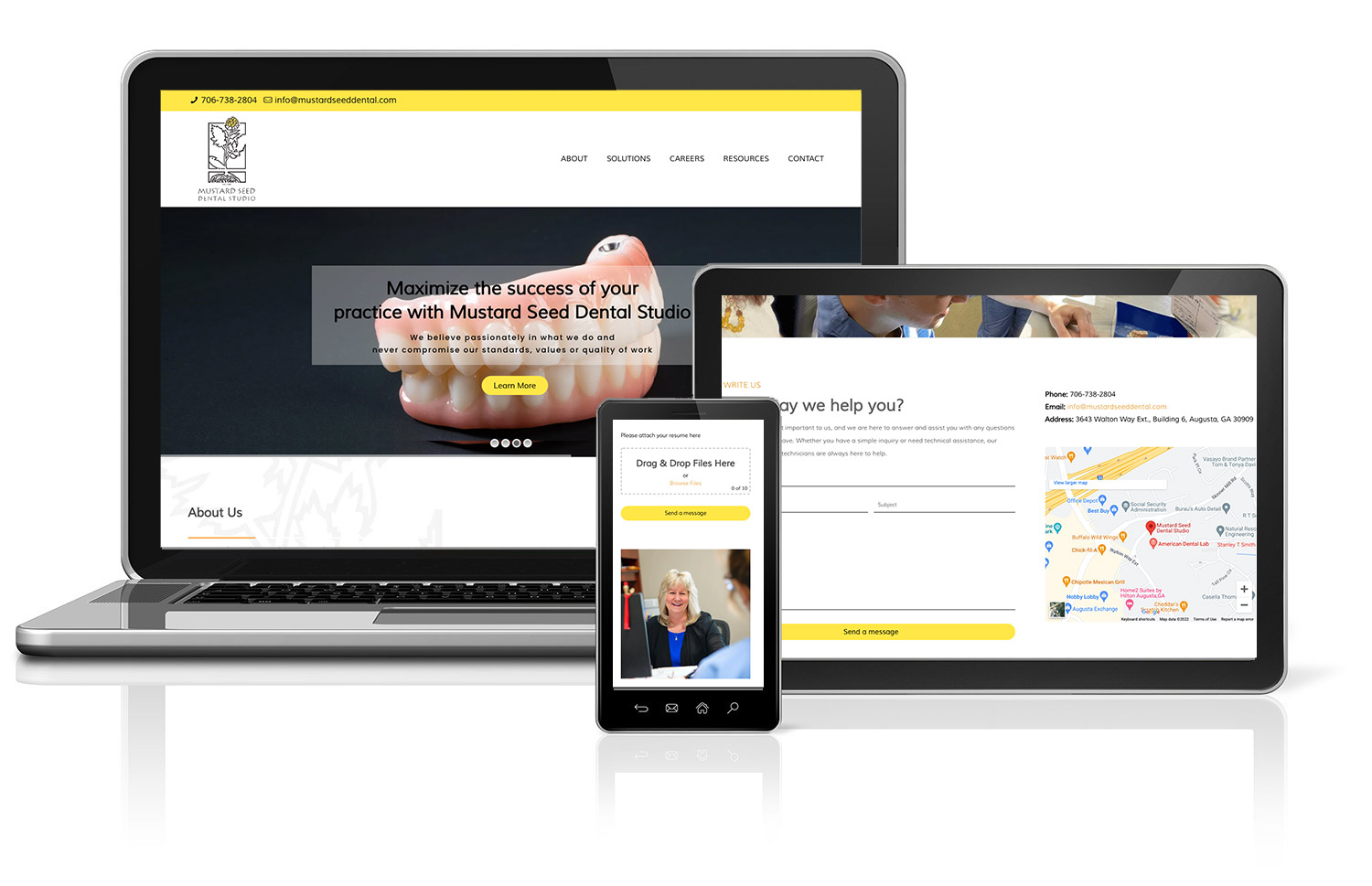 Founded in 2000, Mustard Seed Dental Studio got its start as a small in-office dental laboratory with three employees to assist the prosthodontic practice of Dr. Geoffrey W. Sheen. A new business plan was developed in 2009, and the commercialization of Mustard Seed Dental Studio began. After a business reorganization in 2010, the focus of MSDS became digital dentistry and CAD/CAM manufacturing processes, putting the business on the cutting edge of digital dentistry.
Today, Mustard Seed Dental Studio is a successful commercial dental lab that supplies prosthodontic solutions to local, regional and national dentists. Their success is not only a result of forward thinking laboratory practices, state-of-the-art technology, and outstanding solutions for dentists' unique clinical situations. MSDS also stands out from others in the industry because owner Dr. Geoffrey W. Sheen is both a CDT ceramist AND a Prosthodontist –  a rare find in the world of dental laboratories.
Charlotte Web Design Services
Animink was contacted by Mustard Seed Dental Studio in need of a user-friendly website that would increase brand awareness and elevate customer experience. After several in depth conversations with the client, the web design and development team understood that MSDS needed a responsive website developed to educate their potential customers on the products and services they offered, as well as provide valuable resources to their existing clientele.  
The newly designed website offers exciting features for potential and existing clients. Dentists can now easily find detailed information on every product and service offered by MSDS, in-depth information about the owner, company, and staff, and learn best practices for submitting lab work. Animink also addressed one of the biggest complaints that the lab was receiving from clients – the inability to submit digital files online. With the newly developed customer portal, dentists can send the needed information to the lab online, saving valuable time and resources that are better used serving their patients.
Another big need for the website was a very robust and easy to use careers section. As a rapidly growing innovative dental laboratory, Mustard Seed Dental Studio is always looking for the brightest new talent in the dental laboratory field. A way for new recruits to learn what the job requirements and benefits of MSDS are, and the ability to easily contact the lab to inquire about career opportunities was a top priority for the dental lab. The new careers section provides detailed information about MSDS and what their goals are for their company and their team, as well as a contact form, and drag & drop resume feature.
A Web Development Company and So Much More!
The newly designed Mustard Seed Dental Studio website is responsive, informative, and directly reflects the drive, innovation, dedication, reliability, and knowledge that MSDS is known for.
At Animink, we understand that not only is a website for your business necessary in today's modern world, it's important that the design and flow of the site be created in such a way that your customers quickly understand what you do, and how to complete a call to action. We go beyond just providing a face online for your brand. We learn about your business, what makes it tick, and how the web can create more business for you. Our designers create a visual interpretation of your business, while our developers integrate a highly functional flow to drive traffic through the site as intended. Being a web development company, we are constantly improving these methods.
Animink has more than two decades of experience in designing websites that not only represent who you are as a business, but also provides a great experience to your website visitors. Contact us today to learn more.