Animink's Complete Guide to Influencer Marketing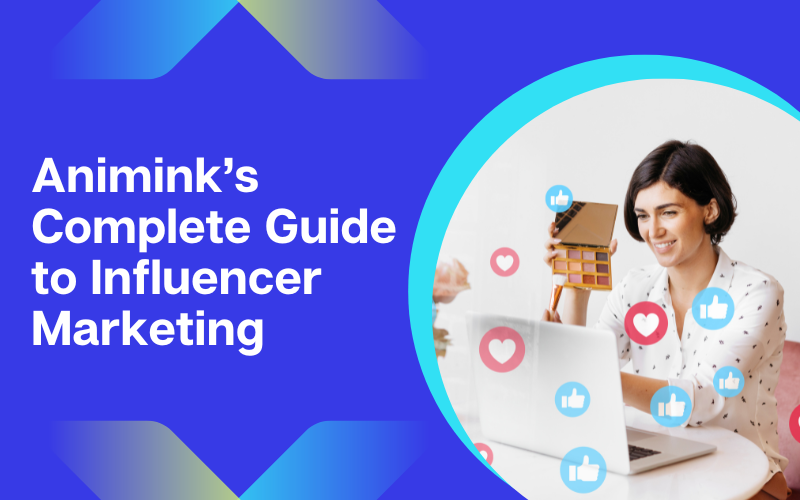 As a web design company in Charlotte, we've witnessed the influence of social media platforms reach nearly every corner of the planet over the past decade or so. As these platforms have matured, brands have had to become more thoughtful and more creative in the ways they use social media to reach their audiences.
Influencer marketing has proven to be an important tool for successful social media marketing. Also known as branded content, businesses work with creators to expand the reach of their brand across various social media channels. Brands who have successfully utilized influencer marketing have created carefully thought out strategies to leverage the full capacity of the influencer's marketing power, taking everything into consideration from talent scouting to metrics effectiveness.
It is estimated that about 92% of consumers trust recommendations from other people, even if they don't personally know them, over promotional content that comes directly from a brand (advertisements). According to a study by eMarketer, advertisers who utilized influencer marketing for campaigns earned $6.85 in media value on average for every $1 spent on paid media for influencer programs.


Way back in 2015, the clothing brand Lord & Taylor got 50 Instagram influencers to post a picture of themselves wearing the same dress. This sent out the signal to their followers that this dress was a must have fashion statement. By the following weekend, the dress had completely sold out. Since that time, social media influencer marketing has exploded across virtually every platform.
There's really no "one-size-fits-all" approach to a successful influencer marketing strategy, but every business in every industry can make it work with proper planning and research. Let's take a look at how to make an influencer campaign work for your business.
What is influencer marketing?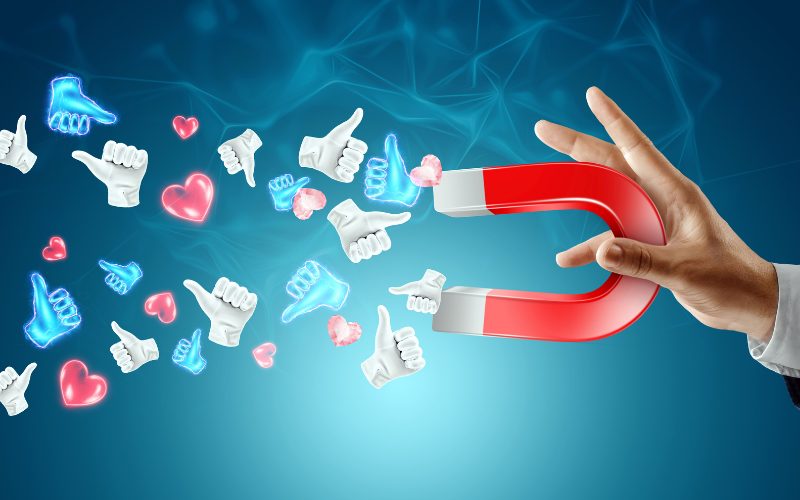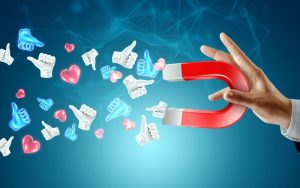 In simple terms, an influencer is someone who has the power to influence others. Social media influencer marketing allows brands to pay that influencer to promote their products or services to their large audiences. The influencer acts as a "friend" connecting your brand to their followers. The power of this influencer helps amplify your message across social media platforms, drives traffic to your website, and can even help sell your product as a direct result of their recommendation.
In the beginning, endorsements by celebrities were the original form of influencer marketing. Today, creators of social content with niche audiences offer more value to brands than celebrities typically do. This is because these smaller accounts often have very engaged followers on their social media platforms.
Types of Influencers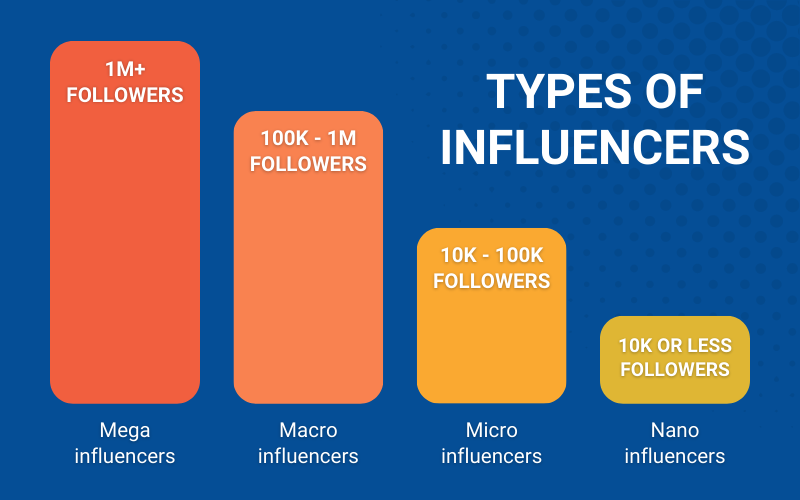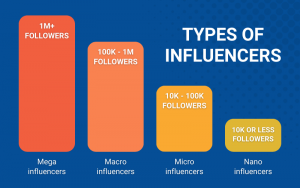 When you think of social media influencers, one name in particular likely comes to mind – Kim Kardashian. While she is certainly at the top of the influencer "food chain", not every influencer is such a well known personality. As a matter of fact, influencers who have a smaller, more dedicated following might actually be more effective. Influencers with a following of around 15,000 have some of the highest engagement rates across every platform. In addition, the cost of their promotional services is going to be a lot less expensive.
There are different types of social media influencers based on the size of their audience. While there is no strict cutoff for audience size, types of influencers are typically broken down as:
Nano influencers with 10,000 or less followers.

Micro influencers with 10,000 to 100,000 followers.

Macro influencers with 100,000 to 1 million followers.

Mega influencers with 1 million+ followers.
What is the cost of social media influencer marketing?
An influencer with a large following rightly expects to be paid for their endorsements. It can be the case that nano and micro influencers will endorse your brand in exchange for free products or services. Larger influencer campaigns are most likely going to require a budget. The more followers an influencer has, the more they are going to expect to be paid. Large brands who work with celebrities can expect a budget that is going to be quite large.
How do you find influencers?
Now that you know what an influencer is, how do you actually find them? There are several ways to go about this, depending on the amount of time and effort you are willing to spend on the process.
Just because someone is not already an influencer doesn't mean that they can't be one. Your followers are already fans of your brand, and can serve as advocates as well. Even if a follower has only a few hundred, or even a few thousand followers of their own, they can turn into a great brand ambassador if their engagement rate is high. You can reach out to your followers on your own, or utilize professional web design services in Charlotte, who are professionals at finding the right ambassadors for your brand.
Knowing which brand related hashtags are trending is an important step in finding the right ambassador for your brand. Once you have determined which hashtags are most popular based on the product or service you are trying to promote, add them to any social media platforms you use and search for users who use those hashtags most often. As an example, Animink uses hashtags like #websiteMaintenance, #webDevelopmentServices, #webMaintenanceServices, etc to promote ourselves as a website development and website maintenance company.
If you have even a small budget for influencer marketing, partnering with a marketing agency who has experience in the world of influencer marketing is a good way to find accounts relevant to your brand. These professionals know how to find users through keyword and hashtag research, how to reach out to them in a way that encourages them to become a brand ambassador, how to analyze the effectiveness of their promotions, and more.
Conclusion
There is no doubt the impact influencers have had on social media platforms. At Animink, we understand that your approach to influencer marketing is as unique to your business as the products and services you sell. We have the knowledge and experience to keep tabs on your influencer campaigns to ensure your strategy delivers results. We keep a watchful eye on your audience reach and engagement, discover elements of your campaign that aren't working and suggest ways to address them, help foster long term, lasting relationships, and help build new ones when necessary. Contact us today to learn more.