RDC Appraisals: A New Website For a Trusted Firm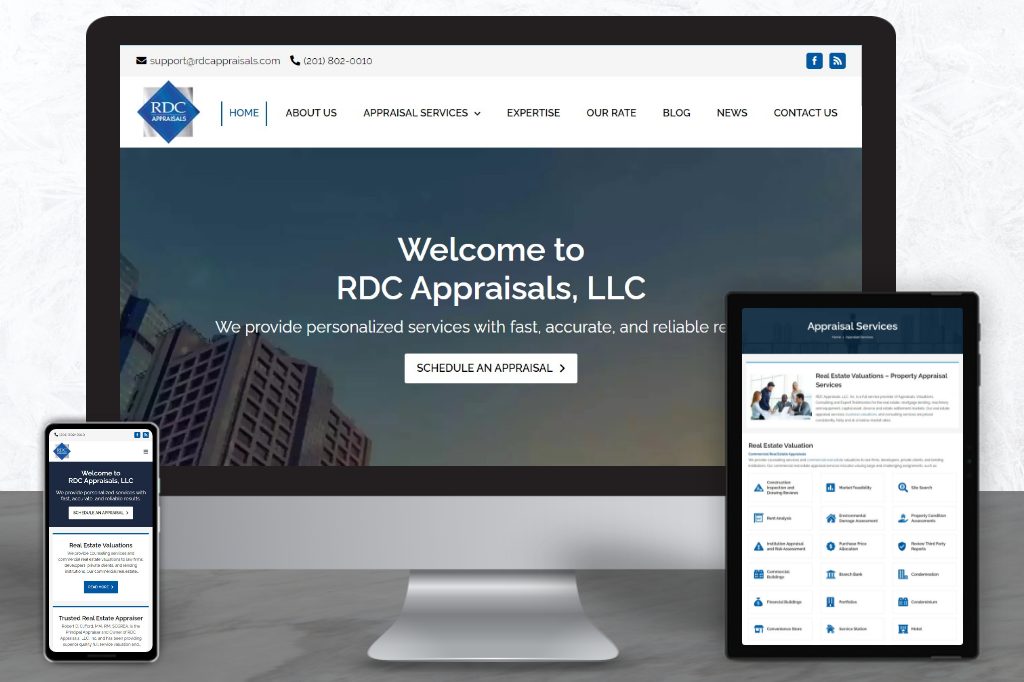 Meet the client
RDC Appraisals is a trusted law firm in Montvale, NJ, and has been for nearly twenty years. The firm offers comprehensive real estate appraisal services across a range of personal and business matters across Appraisals, Valuations, Consulting and Expert Testimonies for real estate, mortgage lending, machinery and equipment, capital asset, divorce and estate settlement markets.
Need
When a business firms contact us about a new website, it is frequently because their current website no longer accurately reflects their brand. This was true of RDC Appraisals. After becoming an LLC, there was a growing gap between their high level of client service and their ageing website, which had performance issues and was difficult to navigate. The heavy, dated aesthetic of the website hampered the user experience. Their lawyers are trendsetters, but the firm's visual identity and website were quickly becoming relics of a bygone era and did very little to reflect its strong local roots.
Furthermore, the government had established a deadline for businesses to meet web accessibility standards. The company's previous website failed to meet the set accessibility standards.
Solution
Clarity of purpose can make the difference between a great website and an ordinary one.
A well-design execution makes complexity appear simple. Our team optimized the information architecture for the new website while working with RDC Appraisals. We enhanced functionality while maintaining usability by concentrating on key user interactions. We employed visual design to direct users around the website, emphasizing actionable areas where they could take concrete action and logical next steps. We concentrated on simple, contemporary design that provides text and users lots of breathing room. The company's brand now has new life thanks to our design team.
This project's focus was on web accessibility. We are pleased to announce that the new website meets the Web Content Accessibility Guidelines Level AA requirements (WCAG 2.1).
Here are some of the features we added to the website:
Easy updates: The user-freidnly backend controls give the stakeholders to freely publish blog articles, update and add information, picutues without assistance from any developer.
User friendly: Designed a fast, safe, and user-friendly website for RDC Appraisals. The website's ability to meet the needs of both the company's business and personal audiences was duly met.
Responsive Design: Employed a classic style in creating custom graphics. These graphics make the website more personable and more memorable.
Accessible Design: The new website was designed to be as accessible as possible to users of diverse abilities. Now, it is simpler for visitors with visual or hearing impairments to use the company's website and for those who use screen-reading software. By following the rules for web accessibility, we increased the website's overall Search Engine Optimization (SEO).
Inviting H: zThe new website features compelling CTAs to schedule consultations, a summary of all service offerings, and the latest Insights,and Firm News. This provides a great introduction to the firm.
Fast loading: The new website not only loads quickly but looks great too.
Result
Potential clients can now easily understand what RDC Appraisals can offer them thanks to the accurate listing of service offerings and specialty market solutions. Furthermore, the ability to find and contact the right person has increased the number of new leads received by their stakeholders.
We successfully delivered a website with a clear path forward and detailed, visually pleasing, and engaging pages after starting with a bare-bones online presence. A simple and pleasing user experience is provided by the modern aesthetic combined with strategic visual content.