AssessTEAM – Performance Evaluation Software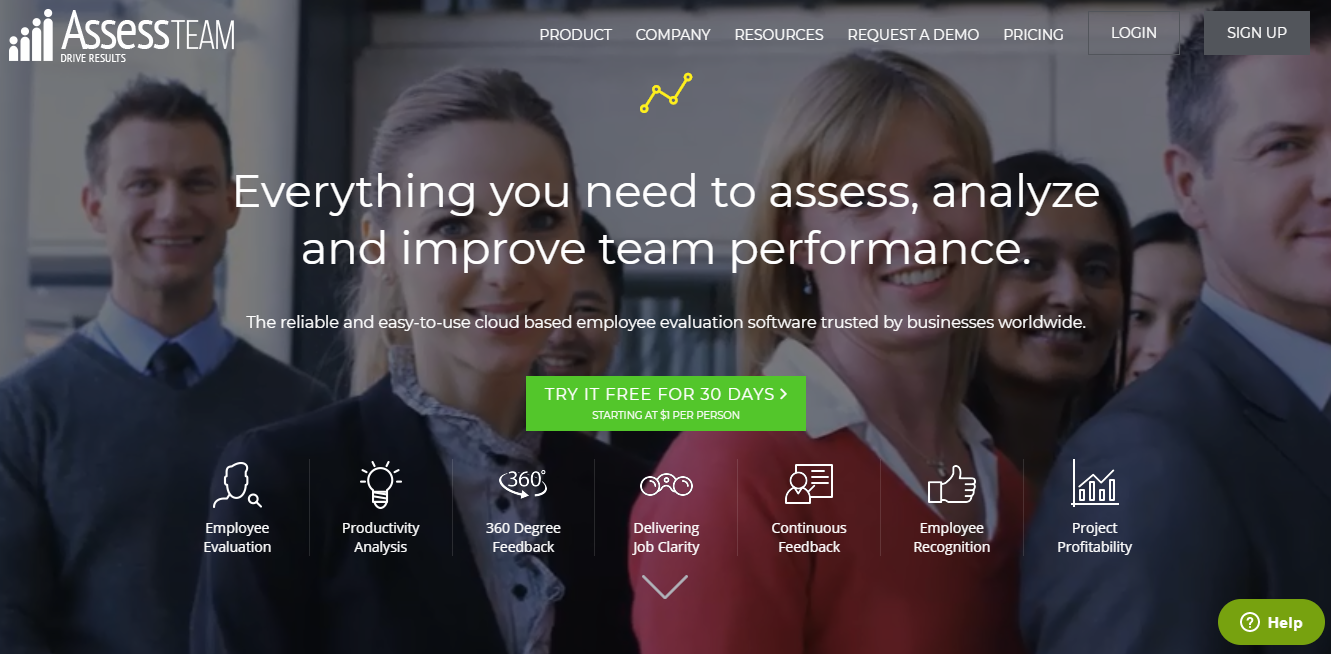 Animink, a Charlotte Web Design team, collaborated with AssessTEAM to develop a one-of-a-kind, 360-degree, cloud-based employee evaluation software for employee engagement, mentoring, and profitability reporting. Our team worked hard to build and design this ambitious software to help businesses analyze employee performance and project profitability – all in a single integrated suite.
Challenge
The entrepreneurs at AssessTEAM aimed to build software that offers organizations across all industries – whether big or small to manage their employee performance evaluation. Also, the client wanted to integrate a unique feature that allows businesses to measure profitability and achieve a fine balance between employee engagement and profitability.
Animink's team spent time with HR professionals, business owners, usability experts and industry analysts to understand the unique demands of this field and identify the core components that needed to be integrated into the software. We derived that businesses required a simple, affordable, yet powerful software that helps employees and employers gain a deeper understanding of performance parameters, deliver personalized resources to assist employees at all levels advance their skills, and enhance meaningful conversation within the organization.
Solution
We designed a continuous feedback appraisal software that includes 360-degree review, peer reviews, client satisfaction evaluations, self-evaluations, and more to motivate high-performing employees and train those who need help.
We were also successful in fulfilling client's requirement to connect the employee performance with project probability by integrating timesheets into the system. The timesheets allow the employers, to receive in-depth data on performance metrics. It helps correlate time spent and profitability to understand real-time project profitability and know when projects are at risk or employees need guidance.
Features included in the suite:
360-degree feedback including client satisfaction surveys

Productivity analysis with a powerful time tracking engine

900+ pre-created job roles for quick evaluations

Easy goal setting with Continuous feedback.

Scheduled evaluations per job responsibility

Profitability reporting at the team and person level

Unlimited evaluations and unlimited projects

Mobile apps to evaluate employees and review performance
Result
AssessTEAM now helps over 2000 companies from all over the world to identify, track and develop talent within the business to build a robust talent pipeline and make informed, strategic decisions. The software makes it easy to collect, analyze and act on feedback from peers and managers with a flexible web-based platform supporting all job evaluation methods. AssessTEAM mobile apps make reviewing employees simple, fast, and affordable for any sized business.
Learn more about AssessTEAM.com >
Animink continues to assist AssessTEAM with ongoing maintenance services. Do you have an idea for your next custom software development? Let Animink transform your ideas into a reality.