The Big Show Website
The John Boy & Billy show is a syndicated radio show that has been running in markets across the country for over 25 years. Their comedic style and good ol' boy spirited fun has literally entertained generations. Animink has worked with The Big Show since 2001, creating multiple iterations of their website over the years.
Charlotte, NC – The home of The Big Show
Hailing from Charlotte, North Carolina, The John Boy & Billy Show has had an enduring relationship with Animink, working with us to assist in online initiatives. In addition, Animink has created an online store for The Big Show, Video of the Day player and custom administrative area, as well as The Big Show Bitbox, an online area with thousands of bits from the show available for purchase and immediate download.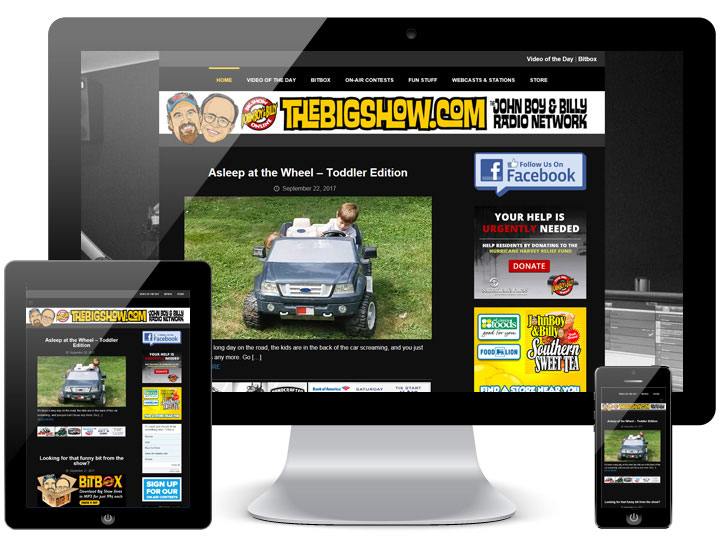 This year, Animink was again tapped to assist with the latest iteration of The Big Show website. The goal was to create a site that is even more fun and entertaining than the previous iteration. It needed to easily feature current events news, but also links to featured Bitbox bits, Video of the Day promotions, online store adverts, and other bits of information. Partners of The Big Show also needed more prominence banner ads strategically placed within consumptive content.
The resultant site is clean, highly functional, and fully responsive, running optimally on all devices from smartphones and tablets to desktops. The site back-end is extremely user-friendly, allowing updates to the site with less effort and time. Future integrations are planned to more easily allow updates for store items, new Bitbox bits, and partner promotions.
Charlotte's Web Design Company including Website Maintenance Services
As you can imagine, there is a host of regular updates required for the website and corresponding social media. Social media management and website maintenance for The Big Show occurs on a daily basis, with changes on-going. Perhaps your website or social media efforts have become more than your current team can handle, or you're unsure of the best path forward with your digital efforts. Reach out to Animink or website maintenance services as well as web design in Charlotte or anywhere else across the world.