Aminis Website
Amini's is an award-winning online furniture store with physical locations in four cities across the midwest. With designs that inspire and reflect your lifestyle, Aminis' products range from furniture and lighting to accessories, rugs, and wall décor. Looking for that perfect gaming cabinet or home theater furniture? Amini's has it all.
Website Maintenance Services – We've Got You Covered
Animink's Charlotte website design team was contacted to assist Amini's with their online efforts and generate more business. Our work involved a full redevelopment of their existing website. The site was clunky, slow, and had a host of extraneous pages & code that needed to be removed. The new site loaded faster than ever with a cleaner navigational structure directing users through the site with a clear call to action. In addition to new site development, Animink has continually assisted with on-going website maintenance services making sure that the site is functioning properly and running optimally.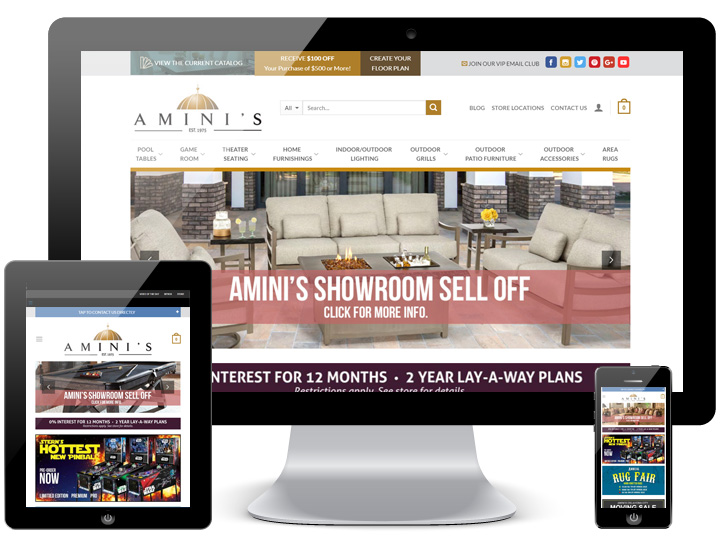 The new site also paved the way for true ecommerce via the website, a first for Amini's. Products ranging from Pool Tables and Pinball to Night Stands and Sofas can all be purchased directly through the site. Amini's provides a host of shipping options, from curbside to white glove delivery. Animink also assisted with API integration of their rugs such that their entire inventory is viewable and available for purchase through the site. With exceptional pricing, Amini's rugs are a great buy.
Web Hosting Services – One part of the Digital Spectrum
Lastly, Animink assisted in all aspects of digital marketing including Adwords management, Facebook ads management, organic SEO, retargeting, and other online initiatives. Animink has served as a true partner with Amini's for quite some time now. With regular reports sent weekly and monthly, Animink is completely transparent with all traffic data from the site. Conversion tracking allows true Cost Per Customer (CPC) data showing ROI.
If you're looking for an online partner for your business that can not only provide website maintenance services, but drive new revenue through online initiatives, contact Animink. We're only a call or email away.