Jeff Pillars Website
Jeff Pillars is a professional voice actor, perhaps one of the best. Currently he's a cast member of iHeart Media's nationally syndicated "The John Boy & Billy Big Show", writing and performing dozens of characters, including song parodies. However he also provides voices for commercials, documentaries, and online promotions all across the globe. When it came time for a website redesign, Jeff contacted Animink, a social media management company.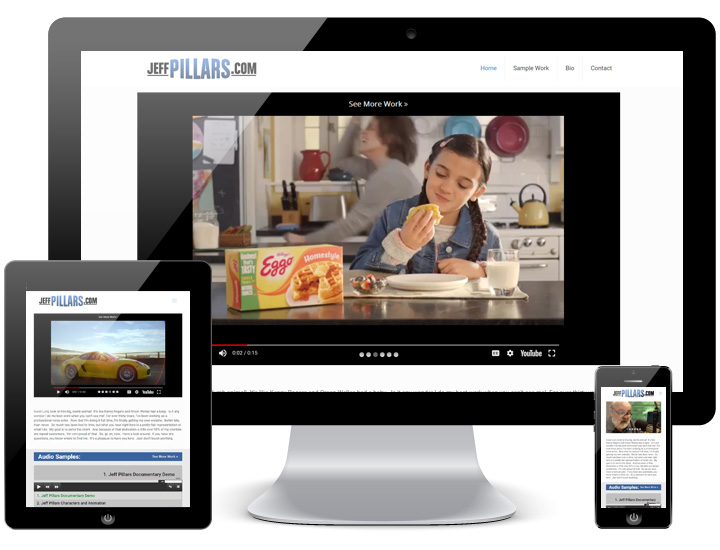 Charlotte Web Design – Creating for the Creative
Jeff is incredibly versatile, his accent range include Australian, British, Canadian, Chinese, England – Received Pronunciation (RP, BBC), England – South East (Oxford, Sussex), French, French (Standard International), German, Irish, Japanese, Latino, North American, Russian, Scottish, Scottish (Standard Scottish English), Spanish, Trans-Atlantic, US Appalachia, US Cajun (Creole, Bayou), US General American (GenAm), US Mid-Atlantic, US Midwest (Chicago, Great Lakes), US New Orleans, US New York (New Jersey, Bronx, Brooklyn), US South (Deep South, Dixie, Delta), US South West (Texas), US Upper Midwest (Fargo, Minnesota), US Western, and Yiddish.
He has been in the business for over thirty years with thousands of projects to his credit. Animink's Charlotte Web Design team was tasked with capturing some of his best work and featuring it on the new website. In addition to showcasing visual work, several audio clips are also featured allowing the user to experience Jeff's versatility.
The bio page digs a bit deeper into Jeff's personality, he even has a video Q&A answering some of the more pointed questions he has received about his voice work. Apparently he has been asked more than once if he does Morgan Freeman.
Website Maintenance Services – As needed
In addition to website development in Charlotte NC, Animink has been tapped for social media management and occasional website updates via our website maintenance services. Our job is to make sure that the site is secure, but also presents information creatively and concisely. Regular updates are suggested to keep site content fresh and drive users to return to the site. Looking for an online solution? Contact Animink today.