Cady Bag Corporate Website
Cady Bag Company is perhaps one of the most unique companies that Animink has had the opportunity to work with. Based in Pearson, GA, Cady Bag is a vertical integrated manufacturer of polyproplyne fabrics & bags for a wide variety of end uses. Their products include mesh bags for produce, specialty bags, agriculture bags and geotextile fabrics for niche markets.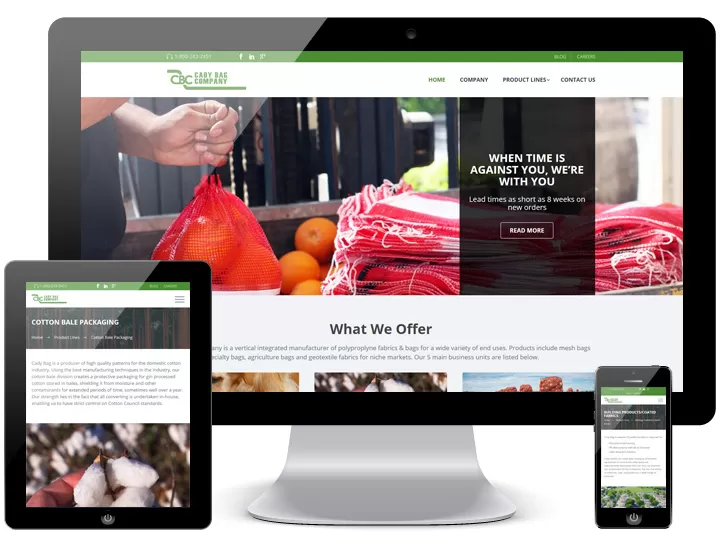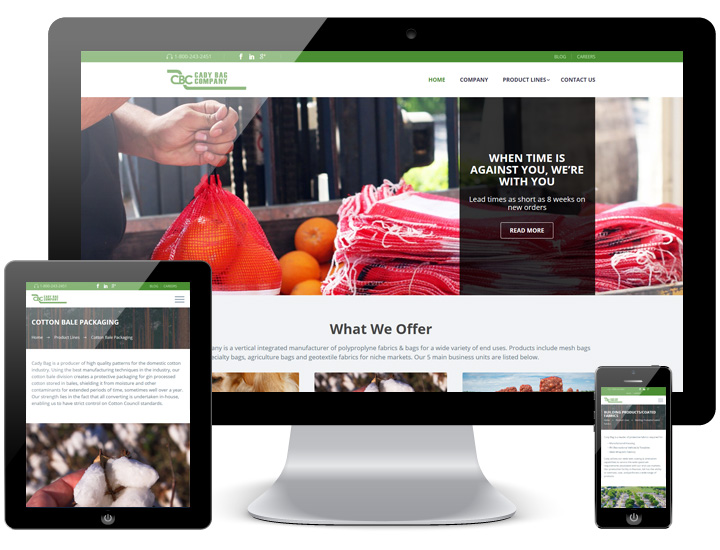 Website Design Charlotte, NC – For a Company in Pearson, GA
Businesses that manufacture pet food, bird seed, and deer corn, as well as minerals, rice and other products depend on Cady Bag to create the strong bags to hold their product from facility to store. Other businesses that provide nuts, shellfish, citrus or firewood depend on Cady Bag to create mesh bags for their products.
However, Cady does a lot more than manufacture bags. They also supply building products and coated fabrics for the manufactured housing industry. Additionally, they have a powerful global sales network that buys materials in bulk and allows their customers to order the materials in smaller quantities, effectively becoming a dependable resource and integral partner.
Cady Bag was in need of a complete redesign of their website. The site needed to behave responsively, and feature their 5 business units:
Consumer Packaging
Cotton Bale
Leno Packaging
Building Products & Coated Fabrics
Global Sales Network
Charlotte Web Design – Hosting, Maintenance, and more
The site also features information about the company and an informative blog that is regularly updated via Animink's website maintenance services division in coordination with Cady Bag. The entire site is wrapped in a design that fits the brand and identity of Cady Bag, with an emphasis on quality, speed, and flexibility. Above all, Cady stands by their clear communication with clients and 'personal touch' that ensures a great experience throughout the process of manufacture & delivery.
Animink provides web hosting services & handles all website maintenance services for Cady Bag. We're also in the beginning stages of performing organic SEO for the company. As with other clients, our first month will be spent performing a full site & company audit to address developmental concerns, optimization issues, and meta data creation. A list of recommendations will also be created for compliance with Google recommendations.