Château du Sureau – Redesigning to create an upscale experience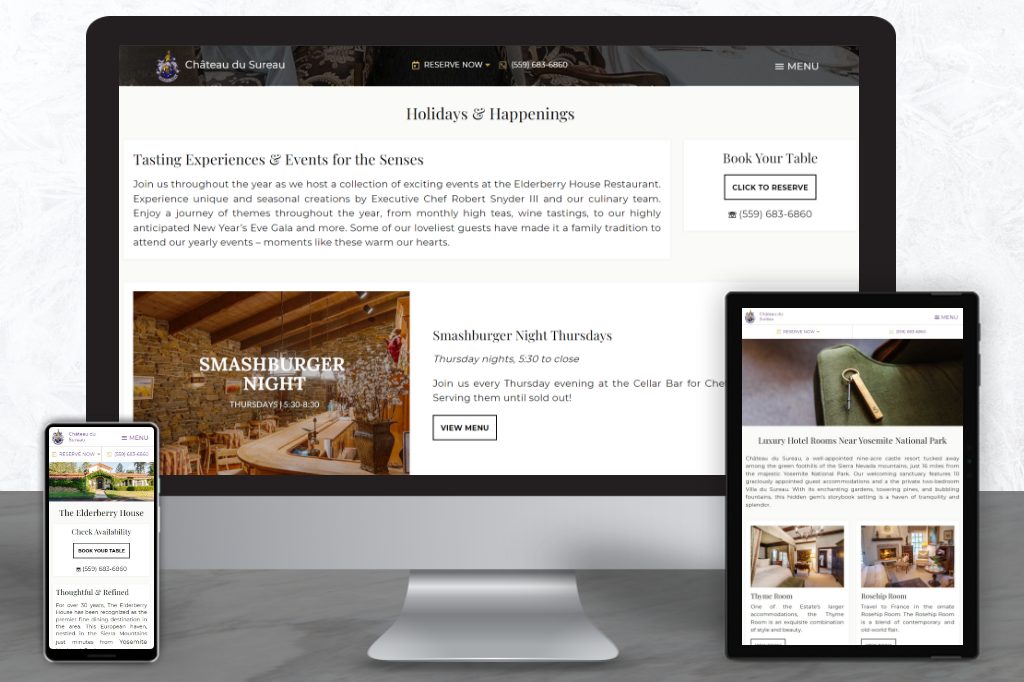 Meet the client:
Set on 9 acres of grounds and featuring views of the Sierra Nevada mountains, this upscale hotel with a stone turret features 10 country-chic rooms with wood-beamed ceilings. The storybook setting is the perfect way to explore the waterfalls and granite domes of Yosemite National Park, one of America's most spectacular natural sites. This luxurious hotel is reminiscent of the finest European châteaux and is dotted with antiques, tapestries, and artworks. 
Need:
The hotel website was outdated and built on archaic technology platforms, none of which were responsive or mobile-enabled. The website was failing to deliver the digital experience needed in a very competitive landscape. Also, the outdated technology was making it challenging to make updates, which was becoming costly, required technical expertise, and was time-consuming. Overall, the technology did not have the capability to grow and expand with the changing times. Château du Sureau wanted to create a more upscale look for its website that reflected the hotel's lavish nature.
Solution
The first goal we identified during the discovery phase was that we wanted to showcase the beauty of this stunning hotel while making the website feel more dynamic and engaging so people would want to browse, click around, and eventually book their hotel rooms and event spaces. Animink identified the hotel's many conversion touchpoints, market segments, and many amenities. Our team also did a competitive analysis to review the performance of the old website, finding new opportunities to implement. Armed with this knowledge, our designed team kicked off this exciting project. Here are some of the features we added to the website:
Responsive design
Château du Sureau's website is now navigable and optimized to perfection to be visited from any mobile device, including the booking process.
Easy booking:
Our team understood that the first goal of the website should be facilitating the direct booking. Therefore, our team designed the Booking widget as the first element that is found on all pages – making it simple for users to book no matter at what point they are on their user journey.
Fast booking process
The booking process is efficient, convenient, and extremely speedy. The user is asked only for limited information making the process smooth for users.
Beautiful imagery
The idea of this website is to capture the breathtaking beauty of this magnificent hotel through stunning pictures. We added beautiful shots of the property to let travelers imagine what it will be like to stay or held events in this lovely property.
Content-Control
CMS-driven technology helps Château du Sureau to respond quickly to changing market demands by giving them complete control of their content. Now the hotel can easily update textual, imagery, or promotional content without needing the help of any technological head.
Revenue Generation Opportunities
The new website drives revenue from ancillary services, including the spa, restaurant, and event spaces, using pre-built modules to generate reservations. The multiple inquiry forms help visitors gain information about the various activities. 
Result
The new Château du Sureau's website makes booking hotel rooms, catering services, and event spaces a much easier task to complete. Site admins can now instantly make updates on their own, greatly enhancing their efficiency and drastically reducing reliance on other resources. Thanks to clearly defined goals and a strong UX Strategy, the redesigned site was a success! We were able to provide our client with a beautifully designed website that accomplished their goals to educate and then drive site visitors to contact them.
More Visitors, More Revenue
Site visits: Increased by 20% YOY.

Unique visitors: Increased by 35% YOU

Bounce rate: Decreased by 88% YOY

Inquiry from submissions: Increased by 44% YOY
Are you looking to update your old, outdated website? Get in touch with us, and our team will help you achieve your website redesign goals.