Gertsburg Licata: A Brand New Website For Experts In Their Field. Expertly Engineered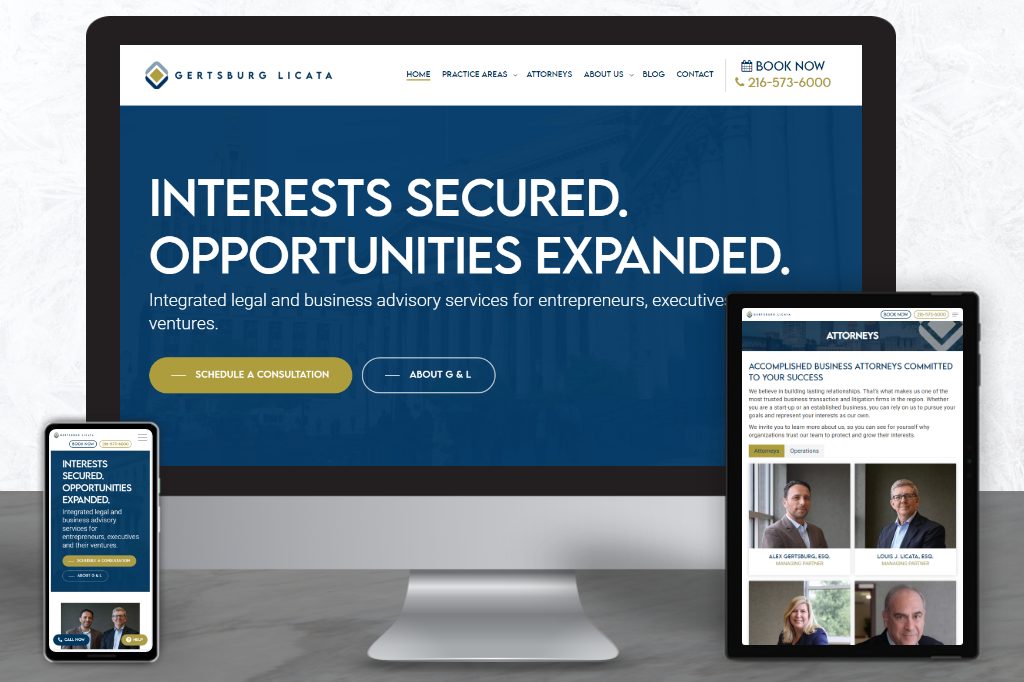 About the client:
Gertsburg Licata Co., LPA is a full-service business law firm representing and serving entrepreneurs and executives in business transactions, litigation and arbitration, and regulatory matters. The firm serves as a legal consulting service on domestic and international business matters, advising on critical issues that every business leader and entrepreneur faces. The main practice areas include business litigation, business transactions, labor, and employment, outside general counsel, M&A advisory, probate and estate, and many other services. The attorneys advise entrepreneurs and business leaders with a wide range of business creation, transaction, management, and compliance issues.
Need:
Gertsburg Law Firm and Licata Law Group merged in 2021 to form Gertsburg Licata, Co., LPA. Gertsburg Licata came to us with an outdated, disorganized, and cluttered website. In addition, the client desired to redesign and rebrand the website in accordance with the new brand guidelines. Gertsburg Licata, Co., LPA. was positioned as the leading law and business consulting firm due to the merger, and its website needed to reflect this.
They looked to our software development company to create a strategy that would improve the user experience and align their goals with the strong reputation and weight of the new firm.
The goal was simple:
Reshape the company's perception
Target business community
Create a look and feel that exudes confidence and trust
With our objectives clearly defined, our team set about creating a website we can be confident of!
Solution:
After our UX and design teams understood the new merger's requirements, we launched into the discovery phase, where we interviewed stakeholders and thoroughly researched the competition. We wanted to delve deeper into the essence of the new firm to meet their needs and ensure that its website stood out from the crowd.
During the discovery phase, we identified two important goals. The first goal was to make their website feel more dynamic and engaging so that people would want to stay on the site, click around, and listen to their informative podcasts. A second goal we discussed was the importance of designing the site to be an effective tool that would leave potential clients with a positive impression.
Taking into consideration the client guidelines, we added the following features to the website:
Added podcasts: Added informative podcasts to build more time to cover important topics in their niche and show the depth of their legal knowledge.
Added Mailchimp: Aligned Mailchimp with their marketing plan so it is simpler to share the signup form and invite groups to sign newsletters.
Lawyer Bios: The lawyer biographies are at the heart of the new Gertsburg Licata. We designed attractive, user-friendly, and feature-rich bio pages.
Responsive design: We designed the site to look sharp on all platforms: laptop, desktop, tablet, and mobile.
CTA buttons: Placed CTAs at strategic steps to motivate visitors into deeper engagement with the brand and compel users to take action immediately.
Integrated CRM with Salesforce: To help store customer contact information, identify sales opportunities, record contact information, and manage marketing campaigns.
Integration of both firms: The new website properly incorporated all the pertinent data (attorney details, practice areas, staff, and important pages and posts) from both independent websites.
Result:
The time spent conducting user interviews, testing users, and developing a robust UX strategy paid off with the Gertsburg Licata website design. Visitors to the newly launched site could find what they were looking for: whether it was to schedule a consultation, listen to informative podcasts, or learn about their service offerings.
We were able to transform the website into a cohesive experience that beautifully tells its narrative, thanks to the efforts of everyone involved. The site is now elegantly designed, easy to navigate, and offers clients an engaging experience.
Gertsburg Licata makes it simple for interested clients to take the next step by contacting them and providing more information about their offerings and intuitive contact options.
Do you want to learn more about our web development services? Contact us today!