The Pinball Company Website
The Pinball Company was started in 2006, created by Nic Parks through his passion for pinball games. Today, The Pinball Company has grown tremendously, providing pinball games and much more to enthusiasts worldwide. Their personal attention given to each customer, as well as the quality of each product they sell has made The Pinball Company the #1 pinball retailer in the country.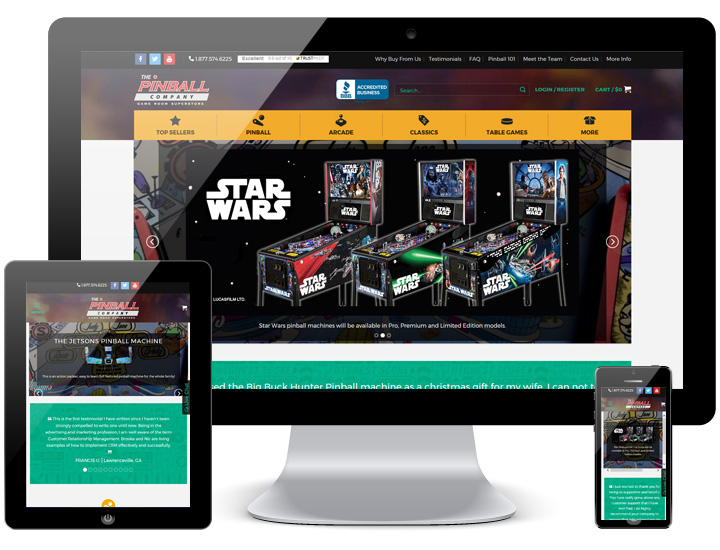 Charlotte Web Design – For Your Gameroom
Animink has been working with The Pinball Company for almost 10 years, assisting with site development and various website updates including website maintenance services. The previous website has served them well, but it was time for a new look. When the time came for a new site, we got right to work.
The requirements for the new site included a fully responsive system that would work optimally on all devices, from phones & tablets, to laptops & desktops. The shopping experience needed to work well across all device types. Additionally, products needed to be displayed clearly and professionally. All of the existing product data was migrated to the new site platform, and tested across all devices.
More than just a pinball company, the site also offers touchscreen games, jukeboxes, classic arcade games, air hockey, foosball, and a host of other great gameroom favorites. Looking for basketball games, redemption games, claw machines, skeeball or dartboards? You can find them here. An administrative back-end was also provided so that the client could easily update all areas of the site.
Animink – A Social Media Optimization Company
Animink is also assisting with on-going organic search optimization via on and off-site updates. If you're looking for a reliable team to help with your online presence or provide web hosting services, contact Animink today.