Primal Brewery
Primal Brewery came about through a desire to create a comfortable gathering place for good friends and great memories. You won't find any TV's at Primal, it wasn't created to be a sports bar. It was brought about via the lack of actual human connection in today's bustling world of technology. Primal Brewery, located just north of Charlotte, NC lets you kick back, slow down, and enjoy some of the finest beer known to man.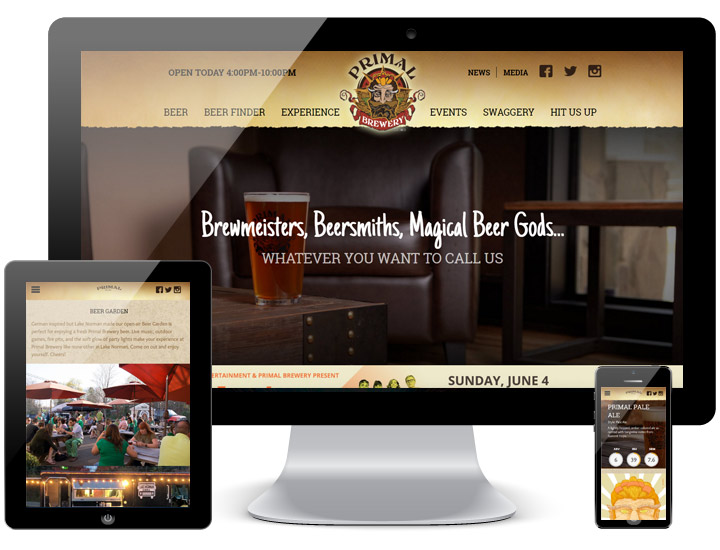 Charlotte Web Design – Just north of Charlotte, NC
Primal contacted Animink, a social media optimization company, to create a site that carries the same warmth as the brewery itself, with some Primal personality thrown in. Via the site, you'll be able to read about all of their beer types, from the Primal Pale Ale, to the Imperial IPA Grim Creeper, with a 9% ABV. You can also view a map of locations that carry Primal on tap via the Beer Finder.
Events are a big thing at Primal, with something happening almost every single day. The events section allows users to quickly learn about everything happening at Primal, and plan their visit. Want to offer Primal at your
restaurant
, or maybe you'd like to plan your own event and need some space? You can contact them via the contact page. You'll also find News & Media, and an online store coming soon.
Website Maintenance Services – Part of the Primal Process
Overall the site gives users a taste of what it's like at Primal, but nothing can compare with actually visiting the brewery. If you're looking to take your business to the next level. Consider working with Animink. More than just web design, we provide web hosting services and assist in generating revenue for your business via digital marketing strategies that really work. Contact us today.