Protective Solutions Website
Protective Solutions tapped the Charlotte web design studio at Animink to redevelop their website. The existing site was also created by Animink, however it featured dated information, old flash files, and was non-responsive, rendering it difficult to view on mobile devices.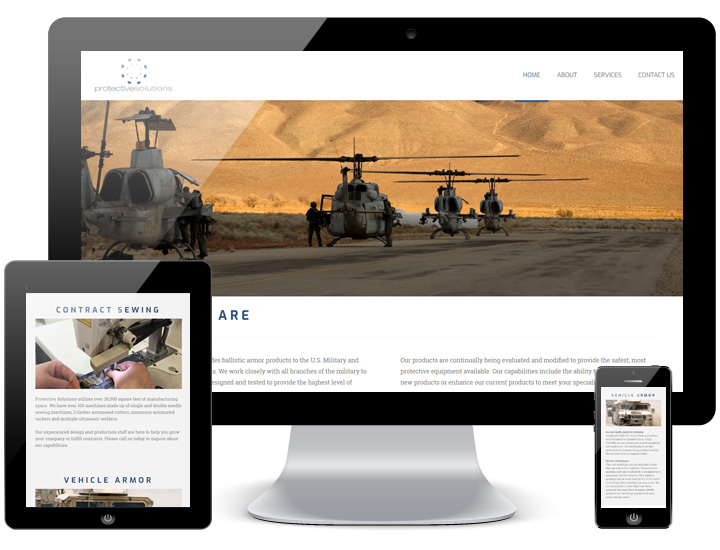 Website Design Charlotte – Simple & Concise
Protective Solutions specializes in ballistic protection, supplying solutions to all branches of the U.S. Military, as well as multiple Federal Law Enforcement agencies. Their goal was to create lighter weight equipment without sacrificing protection via a fiber-based product. Located in Loudoun County, Virginia, the company is only 30 minutes from Washington DC.
The client was very specific about keeping the site simple and to the point. They wanted a very clear and concise design that could quickly convey their business and list of services.
Website Maintenance Services – for Military Clients

Animink built a one-page website with all of the required information. The site features a brief bit of information about the company, short list of services, and contact form. The services list includes information about Contract Sewing for military protective gear, and Vehicle Armor for ballistic protection. Our Charlotte Web Design team also assists Velocity Systems and Mayflower Research & Consulting, providers of armor solutions.
In addition to site development, Animink also provides web hosting services and website maintenance services to all of these clients. Regarding web hosting services, each client is provided with a hosting space, data backup, regular security updates, plugin updates, server updates & critical CMS updates. Regarding website maintenance services, each client is provided with back-end website updates, text & graphical website updates, as well as technical updates & support.
Contact Animink for your next web-based project. Our expert developers will create a solution specifically for your business.