Responsive Website Development for SYMTECH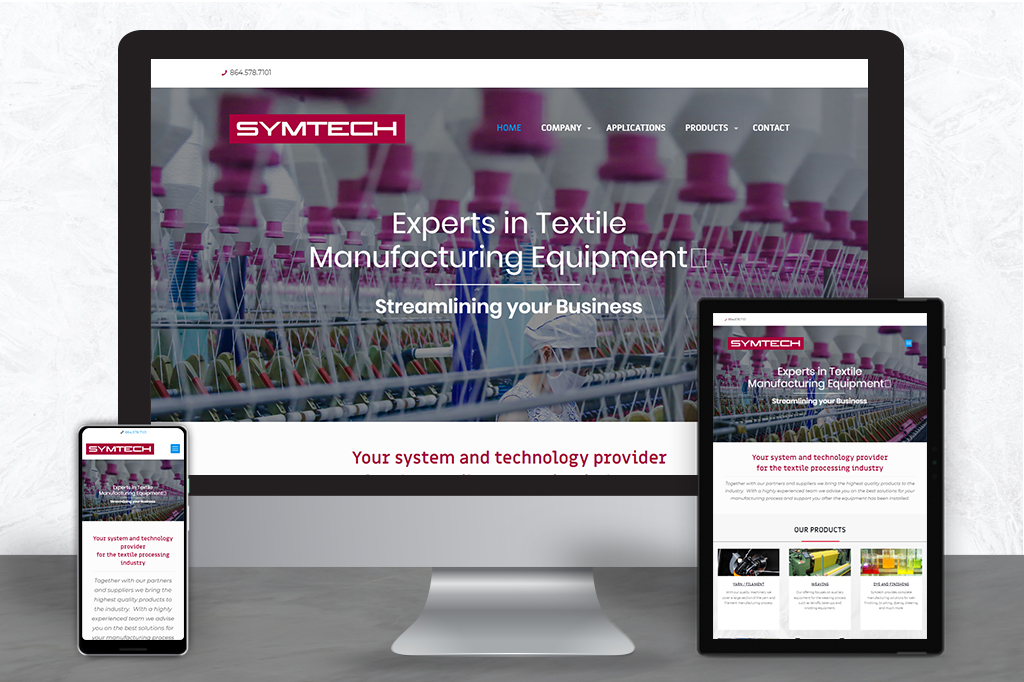 Meet the client
SYMTECH, Inc. is an industry leader as a distributor of major textile machinery and equipment, offering products all over the USA and Canada. The company not only sells the highest quality products in the industry, but also installs, repairs, services and offers replacement parts for all their products, making them a one-stop solution for the textile processing industry.
Need
SYMTECH has a respected reputation built on decades of successful work. They came to us in need of a full redesign of their existing website. The old site had an outdated design, had lots of fragmented information, and wasn't housed in an intuitive way. A full redesign of the website from the ground up was required, with an emphasis on clean, precise design and a strong SEO strategy to bring their full range of products and services into focus.
Solution
SYMTECH chose Animink as their trusted technology partner to navigate them through intricate business demands within a stipulated time frame, providing much-needed agility to their business. During the initial meetings, our team understood the scope of work, analyzed the requirements, and accordingly proposed using WordPress as a reliable framework that can be customized based on their business requirements. Our "Technology First" approach enabled us to deliver a responsive, customized, and future-forward website for our client. Here are some of the features we added to the website:
Improved overall site architecture and navigation to enable easier browsing and a user-friendly experience
Developed an infrastructure in a straightforward WordPress CMS allowing SYMTECH to add and modify the content easily
Responsive design that supports a seamless mobile experience
Designed a classy, refined website with a neutral color palette to evoke professionalism
Created a highly usable, and browseable product and services catalog to enable customers to understand their extensive offerings
Devised a strong SEO strategy to drive engagement and lead generation
Revised and rebranded the content to feature projects, research, design, and innovation
Bringing it all together
The newly launched SYMTECH website is highly searchable, intuitive, and responsive. The new design with better navigation offers a clear, concise idea of the company's product offerings. Whether on a desktop, a tablet, or a mobile device, the website delivers on SYMTECH's promise to offer only the best services to the textile processing industry. Here are some noteworthy results SYMTECH achieved after successfully launching the new site:
The overall visitor experience is inviting, with clear paths to content and more concise menu options.
The improved features greatly improved customer satisfaction
Product lines and resource pages pack a great deal of information and functionality into a small package.
Increase in critical metrics such as conversions and revenue
As a
responsive web company
, Animink can help you with web development in Charlotte, NC, for many industry verticals. Talk to us today to discuss your next project.