Why Responsive Web Design is Important
Imagine a scenario where at a business conference you attempt to show a potential customer your website on your phone, only to find that it displays incorrectly on the device. Apart from leaving you red-faced, you in most likelihood would have lost a good client. They would think of your company as regressive and incapable of delivering that "wow" service they are scouting for.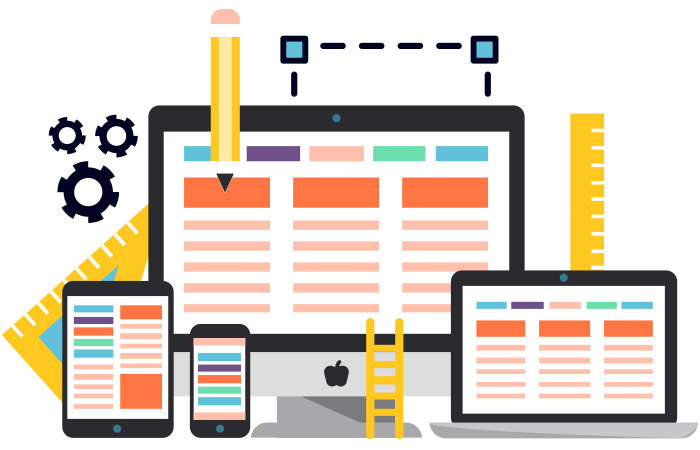 Move over to a Responsive Website Design
It's high time to put your website in the hands of a responsive website design company. With a responsive design, your site will adapt to any screen device be it a mobile phone or a tablet or any other appliance. When the user logs on to your website, it will automatically reformat to the screen of the instrument in use. The benefit? They will be able to quickly browse your site from their mobile or tablet and find the information they want. The world is changing, technology is singing, and you must play to the tune of the mobile dance!
Mobile devices are here, there and everywhere!
Astonishingly there are more mobile phones on Earth than there are people! In America, more than 58% of American adults own a smartphone, and almost 60% of website traffic is from mobile devices. As that number increases, more and more prospects will log on to your website from their mobile instruments or tablets. You will need to make sure your website won't be missed by this ever-increasing mobile browsing traffic, and their experience of your site is a memorable one for the right reasons! Eighty percent of consumers regularly use their smartphones to shop online. 70% of shoppers now use mobile phones while in stores during the holidays. If your products and services aren't easy to view from a phone, you're missing out on a tremendous opportunity.
Your SEO Rank Matters
You surely cannot go against the Godfather of search engines!  Think of what a responsive website development service in Charlotte can do to maximize the impact of those searching for your services online. Google opines that responsive websites will perform better in search rankings. The user experience is better than sites that are not mobile-friendly. Google also likes that responsive sites use unique URLs rather than different URLs for separate mobile versions of websites. There's also a stark reality lurking about – mobile search is overtaking desktop searches. And as cell phones have a different Google search algorithm it does not mean that just because your site ranked high in a desktop search, it will continue to rank well for searches via mobile. So to harness the benefit of search engine optimization, your site needs to be responsive.
A breathtaking user experience
With a responsive website, you'll soon make the impact you are looking for at business conferences and customer meetings. Now, when you show off your site you can watch your target audience get impressed as they see the content and pages operate fluidly across all screen resolutions and various devices. The web pages will be flexible. No matter what device the user is holding, they will have optimal viewing experience – navigation will be a breeze and without the bother of much resizing and scrolling.
So say goodbye to your customers' pinching and zooming, side scrolling, or the pain of experiencing an entire site not fitting onto a mobile screen – and even a separate mobile site to look after, which is expensive. Welcome your targets to better user experiences and get less bounce rates, better website conversions and improved brand perception with a responsive website design.