Impact Safety Inc. Website
Impact Safety specializes in providing a comprehensive safety source for businesses in all industries and fields looking to reduce risk, protect assets, and create a safe, compliant work environment. Their training specifically addresses OSHA compliance, and encompasses a host of opportunities. These include:
Accident Prevention
Emergency Planning
Emergency Response
Fall Protection
Fire Prevention
Fire Extinguisher Training
Fire Safety
Forklift
Aerial Lift Operator
Hazardous Materials
Hazwoper
Process Safety Management
Personal Protective Equipment
Machine Safety
JSA, Job Safety Analysis
Respiratory Protection
Risk Management
Accident Investigation
GA Utility Safety
Excavation Trenching & Shoring
Confined Space Entry
Confined Space Rescue
Construction Site Safety
CPR/First Aid/AED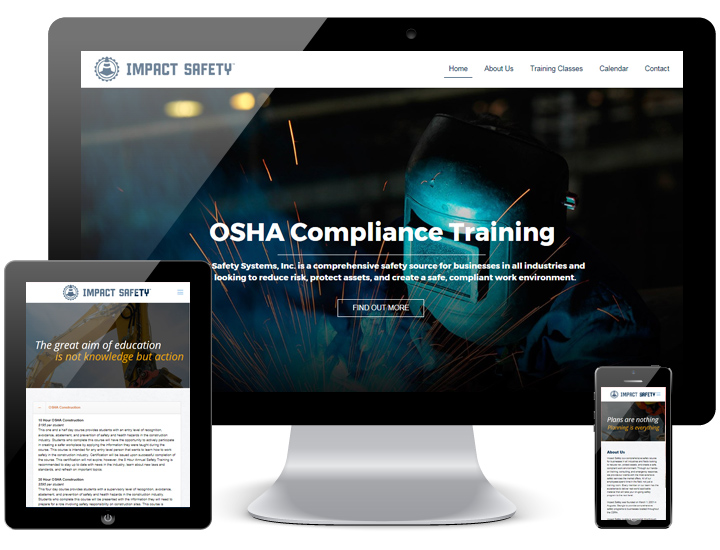 Charlotte Web Design – for OSHA Training

Impact Safety turned to Animink to assist with a website that would provide information about their business, list of Training Classes, an easy-to-use Event Calendar, and general Contact page. The new site also functions optimally on all devices, from phones to laptops. The latest iteration also easily accommodates future updates and additional pages as needed by Impact Safety going forward.
Web Hosting Services – part of our Digital Strategy
Additionally, Animink is beginning the process of SEO (search engine optimization) to further optimize Impact Safety for relevant terms on Google search. The strategies put in place by Animink will result in more traffic, and more business for Impact Safety. As a social media optimization company, we'll also be addressing all aspects of their social media presence. Animink will provide web hosting services as well for Impact Safety. Lastly, Animink will be assisting with the ad spend for Impact Safety via Google Adwords to maximize their budget and earn viable clicks for business.
Looking for a company to manage your organic relevance or pay-per-click initiatives? How about a Charlotte web design company that can provide website maintenance services for your organization? Animink can assist with every piece of your digital strategy puzzle. Contact us today.