Celebrating a Quarter-Century of Innovation: Animink, Inc.'s 25th Anniversary!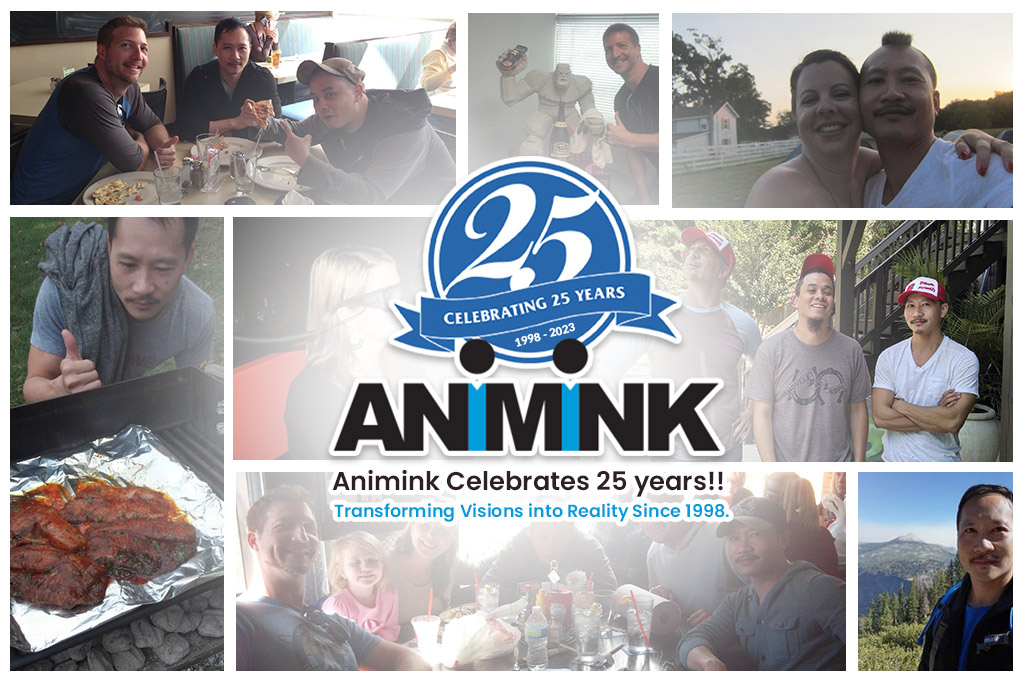 This year marks an exhilarating milestone for Animink, Inc. as we toast to 25 years of relentless innovation, extraordinary web design and development, along with the creation of top-notch custom software. As we commemorate this significant anniversary, we find it both exciting and humbling to reflect on our growth, unforgettable moments, and the phenomenal journey we've shared with our treasured clients.
A Journey of Growth and Innovation
From our humble beginnings as a small studio, Animink has evolved into a juggernaut in the realm of web development in Charlotte, NC, with a steadfast commitment to digital excellence that has marked every step of our journey. Originating with a concentrated vision on crafting unparalleled digital experiences, we've not only embraced –  we've pioneered – inventive methods and solutions meticulously designed to align with the distinctive requirements of our clients. For twenty-five years, we've been more than silent observers of the digital revolution; we've been integral participants and influential contributors to the constantly transforming digital arena.

The Animink team has relentlessly challenged limits to produce work that doesn't just satisfy – it frequently exceeds the anticipations of our clients. Established in 1998 with roots in animation and digital ink and paint, Animink adopted its name as a nod to the fusion of these services. This period also coincided with the inception of the internet, providing us with an invaluable canvas to craft dynamic websites, utilizing our expertise in both traditional and digital media.
Advancing nearly two decades, Animink has metamorphosed into a multifaceted Digital Design entity capable of crafting virtually any online element you may encounter, engage with, or utilize.
From devising business strategies that simplify operational processes to developing applications, driving website traffic through digital marketing, and managing social media profiles – we cover a broad spectrum of services. Our passionate team at Animink not only revels in what we do, we also dedicate hours weekly to refining our skills and acquiring knowledge, ensuring we stay ahead in our field. This relentless pursuit of mastery and our love for education converge into a creative process that guarantees an enhanced online experience for our clients' visitors, effectively cultivating a base of devoted customers.
Notable Clients and Exciting Work
We've been incredibly fortunate to work with an array of distinguished clients, each presenting a unique canvas to showcase our creativity and technical acumen. The partnerships we've fostered over the years stand testimony to our commitment to delivering value, and it's been an honor seeing our clients thrive alongside us.
From crafting visually stunning websites that offer unmatched user experiences to developing software solutions that drive operational efficiency, the projects we've undertaken reflect the breadth and depth of our expertise. The work we've done for our notable clients showcases our adaptability, commitment to quality, and the innovative spirit that Animink embodies.
A Future of Forward Thinking and Innovation
As we step into the next chapter, our gaze is firmly set on the future — a future where digital experiences continue to enchant users, and technology plays a pivotal role in solving complex problems. Animink is not just observing from the sidelines; we're actively shaping this future with our forward-thinking approach and never-ending pursuit of innovation in web design, development, and custom software creation.
We envision a future where our work continues to inspire, engage, and deliver tangible results for our clients. This vision guides our steps as we explore new possibilities, experiment with cutting-edge technologies, and continue to offer services that set industry benchmarks.
New and Exciting Things on the Horizon
In the spirit of continuous improvement and to mark this milestone, we're thrilled to announce that Animink is in the process of reimagining our digital presence. Yes, we're redeveloping our website, infusing it with something exciting, fresh, and quintessentially Animink!
This redevelopment is not just a facelift; it mirrors our journey, ethos, and the future we envision. Visitors can anticipate a site that is not only visually appealing but also offers an intuitive, user-friendly experience, showcasing our portfolio and the comprehensive suite of services we offer in web development and custom software development.
Celebrating 25 Years of Digital Excellence
As we commemorate 25 years, our gratitude goes out to every client, partner, and team member who has been part of this incredible journey. Each project, every challenge we've overcome, and the successes shared have been integral in shaping Animink into the dynamic, innovative, and client-focused company it is today.
In reflecting on our past, we're energized for the future. With an unwavering commitment to delivering digital excellence, the Animink team is ready for the next 25 years and beyond. Here's to a future filled with more innovation, exciting projects, and continued partnerships with clients who inspire us to be our best every day!
Conclusion
The 25th anniversary of Animink is not just a celebration of our history but an enthusiastic nod to the future. With our roots firmly planted in delivering unparalleled web development in Charlotte, NC, and custom software solutions, we invite you to join us on this exciting journey ahead. Here's to celebrating the past, cherishing the present, and eagerly anticipating the future with Animink, Inc.!