Web Design Services Charlotte, North Carolina
The term "Web Design" encompasses a very broad digital range. While many think of a web design company as a company that only designs websites, there are a host of other digital solutions that require design and are viewed via the web, thus the term web design. Animink, a provider of website design services, can tackle any web-based design needs.
Website development is a lot more than web design services and code. As a leader in website design services in Charlotte, the goal of our designers is to create a website for you that is not only functional, but also professional and attractive. We strive to infuse a layer of creativity into your site that fits the attitude of your brand. The entire website is then wrapped in a responsive design that scales and adapts to fit any device and any resolution. Keep reading to find out how we, as a website design company, work through the creative & developmental process.
Many businesses don't realize how much of an impact they can make to their potential buyers & clients via the web beyond just a website.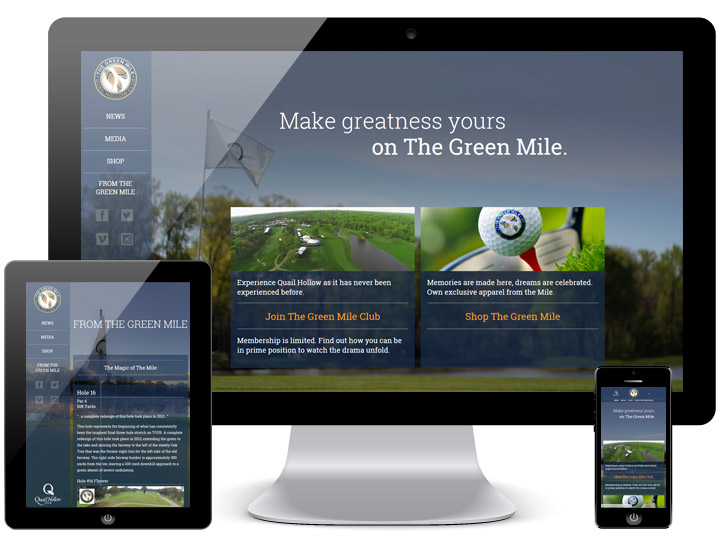 Website Design Services in Charlotte – Examples
Here are several examples of web-based opportunities provided by our website design services in Charlotte:
Custom website features: Beyond a website, some clients benefit from a separate microsite highlighting features of a specific product or service. This may be a single landing page with a call to action, or an entirely separate website from the parent site. Let our website design services in Charlotte help you design a customized website that is personalized for your business.

Print to Online: How about a strategy beginning with direct mail that drives traffic to a specific landing page for analytics tracking? Drop a QR code on to your direct mail piece and give the user a special offer that is only available via the online portal. Gather valuable information and generate sales via a simple payment form.

Original online graphics: Stock imagery is dated and impersonal. You're going to need a web design company that can create visual content specifically targeting your audience. The art should feel fresh and current, and should be rotated regularly on your website.

Forms pages: Need a one-off contest page created for a radio or television promotion? You're going to need a Charlotte web design company that can not only develop the functionality of the form, but can also create the visual presentation that fits the promotion.

Presentation design: As a company providing website design services in Charlotte, we also specialize in offline customized presentations. If you're reaching out to a new business partner or potential vendor, and need to present your concept or solution to them, you're going to need a visual presentation that's available even when there is no internet connection. Sure, you could present some information with bullet points like everyone else, but why not incorporate visual elements to drive your point home, as well as bringing the 'wow' factor to the table?

Business Streamlining: Want to reduce paperwork and bring efficiency to your business? Animink is a web design company in Charlotte, NC that specializes in efficiency.

Take your business fully into the digital age with a purchase order system that tracks everything, from who created the order, to when it was created. Do you need a secure online area where you can share documents & files with your employees and vendors? No more individual emails or files wandering around because everything is in one central place. Define who has access and for how long. What about an event registration system that allows you to track reservations and view everything in an attractive comprehensive event calendar? The ideas are truly limitless. Rely on a website design company with the expertise to make it happen.

Social media graphical elements: In case anyone hasn't already, we'd like to welcome you to the world of social media. If you're not actively engaging users online via social media, you're missing out on the largest demographic on the web! We're talking about facebook, Twitter, Google+, Youtube, Pinterest, LinkedIn, Instagram, Snapchat, Vine, Tumblr, Flickr, and more. It's not enough to throw a post out there with some text and a link. Every post should either include a prominent graphic, or video if possible. Engagement greatly increases when a graphic or video accompanies a post. If you don't have the ability to create graphics for your social media campaigns, you're going to need a company that delivers website design services that work with you as you grow your social media presence.
Mobile web design: Our designers are engaged in every aspect of the websites we create. Graphics and design components that work on laptops often don't work for the mobile version of your website. Additionally, graphics or campaigns specifically targeting mobile users require the experience of a web design company that has developed mobile campaigns.
Considering website design services – Why web design?
Great question. Why not simply present functional information on your website with no design aesthetic whatsoever? The answer can be presented by an example. Ever been to a birthday party? Notice the cake? It usually has icing, candles, and some words placed on top. Sometimes it has figurines, sometimes the cake is in the shape of a house or a guitar! In every case, it's just a cake. So why not just bake a square and stick it on the table?
Because it was created for someone special, and you want to present something great for them.
Guess what? That's your target audience. As a potential customer, they deserve something special from you, and you should present it in a way that will appeal to them. As a cake-baker ( in this case, a website design company), we want to bake the best cake possible for your business, with 3 layers and sparkling candles if need be!
As designers, we want to leverage our website design services and techniques to provide information in a creative way. We're visual arts experts, right-brained people that help determine the flow of a digital project, and bridge the gap between the user & code. We're competent in information flow, and collaborate with others in our Charlotte web design company to make sure that the personality of your brand is evident on your website.
The process for our Web Design Services
1. Initial Creative Discussion – There are no rules or wrong ideas here. We're going to find out what makes your company tick, find out what your corporate ideals and goals are and begin the process of forming a plan.
2. Development Strategy – We'll then weed out what is needed vs. what's not to develop a plan of approach in terms of design and flow for the project. Animink is a website design company with plenty of experience in how best to determine this strategy.
3. Project Realization – Leveraging all of our research and creative tools, the project is then created, with client-approved milestones along the way.
A Web Design Company in Charlotte – and a partner
Beyond providing website design services in Charlotte, we can also assist with creating online promotional graphics for every part of your business. This can be related to ongoing website maintenance services, social media promotions, or other online assistance. As a strategic partner with your business and web design services provider, the promotional aspect is never-ending, and should be a coordinated effort between your company and Animink.
Contact us today for excellence in web design services in Charlotte NC.