Crafting a Digital Experience: Robocrown's Personalized Website Journey in the Dental Services Industry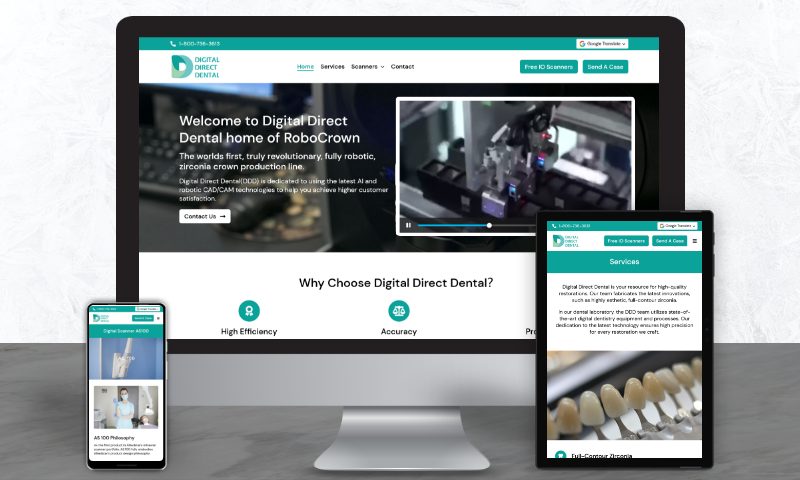 Meet the client:
At Digital Direct Dental (DDD), the company employs cutting-edge technologies to offer its clients the best digital dental solutions. DDD has pushed the boundaries of digital dentistry by introducing RoboCrown, the world's first robotic zirconia crown production line. They use advanced 3D printing technologies and the latest AI and robotic CAD/CAM systems to fabricate high-quality dental restorations of superior aesthetics.
Need:
Robocrown approached our team to create a website that could effectively showcase its dental scanning services and seamlessly cater to potential customers. The client needed a website that would serve as an informative platform, enabling visitors to explore the services they offer conveniently. Animink was chosen for the project to create a user-friendly site that meets their needs. Robocrown wanted to emphasize its services, which include Full-Contour Zirconia and Customized Titanium Abutment, while providing an automated process for submitting scans of patients' teeth. The aim was to create a website that would better facilitate dental clinics and increase patient satisfaction.
Solution:
We were thrilled to take on the challenge to Robocrown's digital presence. We were confident in our ability to leverage our experience to develop a modern website that would effectively serve them for years to come.
To ensure a successful project, we began with a comprehensive Discovery phase. This phase involved closely examining Robocrown's target audience and identifying the key pages that would be most impactful for them. The 'Services' page emerged as one of the top priorities. Robocrown needed an attractive and informative page where visitors could explore their dental restoration offerings. By presenting these services in a compelling manner, we aimed to enable users to make well-informed decisions and recognize the value that Robocrown brings to the table.
Once the general framework was established, we progressed to the visual design phase. This stage focused on refining the website's aesthetics and overall user experience. Our team carefully selected appropriate imagery, color palettes, typography, and iconography that aligned seamlessly with Robocrown's brand identity. The objective was to create a visually pleasing user interface to captivate visitors and provide an elegant and sophisticated browsing experience.
Our team embarked on the development process with clear goals and objectives, ensuring that the website looked visually appealing and boasted well-defined features. The emphasis was on creating a seamless user experience that would engage visitors and enable them to navigate the site and easily access the needed information. Here are some of the features we added to the website:
CMS-driven WordPress website: We chose to take advantage of a CMS-driven WordPress website for this project. This allowed the client to easily and quickly update their website content as needed, helping Robocrown keep their audience informed with current offerings and information.
Wetransfer.com: Robocrown now utilizes Wetransfer.com as part of its website interface, making it effortless for dental clinics to transfer cases confidently and reliably. This integration offers a seamless user experience and eliminates potential barriers arising from the transfer process.
Request forms: This request form is designed to provide dental clinics access to free scanners in a simplified, hassle-free manner. It also ensures quick and efficient processing of the application.
Services page: The website displays information for full-contour zirconia and custom titanium abutment services, each with comprehensive descriptions, videos, images, and outlined benefits.
We have created two dedicated sections on the website for dental professionals interested in learning more about these advanced tools. This additional information provides deeper insight and allows dental professionals to make more informed decisions when choosing Robocrown for their scanning needs.
Engaging videos: To better illustrate the features and advantages of Robocrown's products and services, we added engaging videos to the website. These visuals give viewers an exciting learning experience that will help them understand the value proposition Robocrown offers.
Results:
Robocrown's website has been intuitively designed, offering dental clinics a convenient option to understand their services. Our team was thoroughly committed to this process, with diligent research in the discovery and design stages, producing a modern, visually captivating page. Additionally, the integration of wetransfer.com into the workflow allowed for seamless transmission of dental cases, lightening the workload for Robocrown and its customers alike.
Site admins now have total control over content updates, which offers high efficiency. With all these advanced features, it's no surprise that Robocrown has experienced tremendous customer approval leading to increased website traffic conversion rates and brand loyalty. This transformation is an enormous success that will undoubtedly impact Robocrown's presence within the dental industry.
Looking for website development in Charlotte? Contact Animink today for professional services.