Google Ads Phasing Out Broad Match Modifier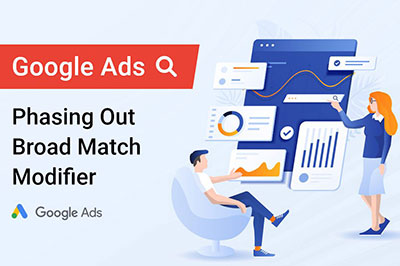 If you use Google paid search for search engine marketing in Charlotte, then you've probably heard that broad match modifier keywords will completely go away this year. That's right—the search engine giant is phasing out modified broad search in favor of phrase match. The changes are starting to roll out and are expected to be completed by July.
What does this mean for advertisers in general? How will it affect how keywords match to search queries?
According to Google, it will continue to take "word order" into consideration if it affects meaning.
Advertisers don't have to take specific actions.
New matching behavior will become more and more evident, but performance data will remain where it is.
Broad match modified keywords may still be added until July of this year. The full roll-out is expected to be completed by then.
Broad match modified keywords that are already existing should continue to serve, but they will be matched according to this update.
Also according to Google, their goal for this streamlining is to help their clients decrease the time they spend managing specific keywords and on account management in general.
The new matching mechanism – How it works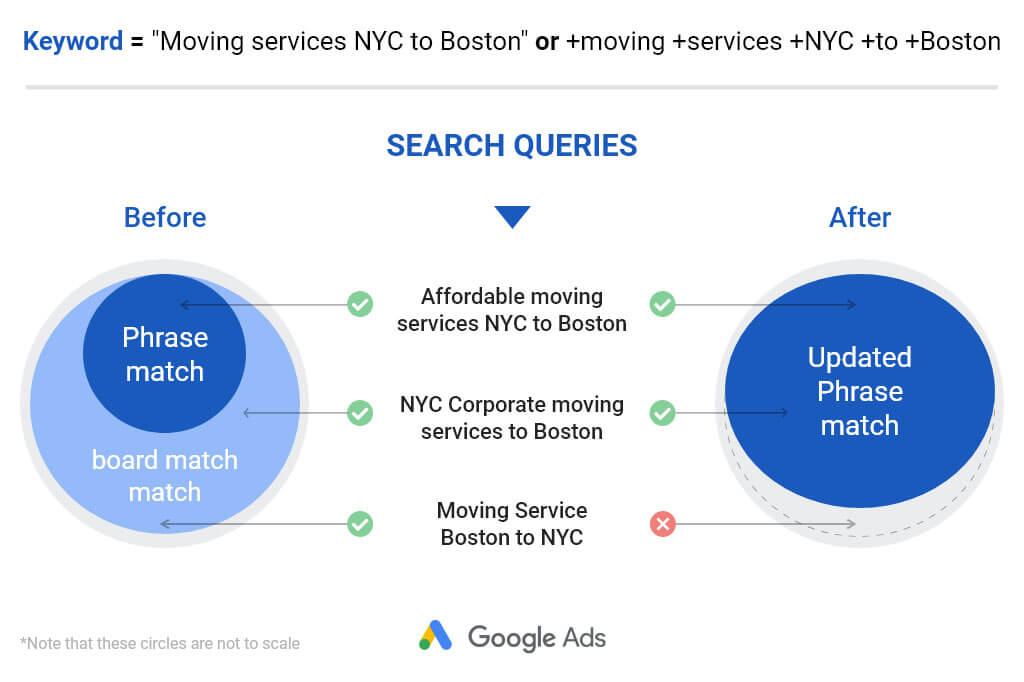 Broad match modifier currently tells Google that "all of these words have to be present in the search query." This command is expressed with a plus sign (+) preceding the keywords/terms required in the search.
Meanwhile, traditional phrase matches tell Google that "the terms should appear in this order."
When the update is fully rolled out, phrase matches will start to cover both these requirements while considering whether or not "word order" affects the meaning.
The changes will allow Google to ultimately better distinguish and understand searcher intent.
Here are some examples of how queries will match to keywords before and after the change.
| Modified broad match keywords | Queries that won't match post-update |
| --- | --- |
| +best +shoes | best prices on shoes for toddlers |
| +used +printers | companies that used dot matrix printers |
| Phrase match keywords | Queries that will match after the change/update |
| "short sleeve dress" | short sleeve cotton dress |
| "holidays in Peru" | holiday spots in Peru |
| "men's boots" | new men's size 9 boots |
If you're an advertiser, what can you do to prepare for this update?
Google has recommended that advertisers proactively check the "recommendations" section of their accounts. These changes will likely light up the duplicate keyword notices. Pausing versions can lessen the total keywords that are being managed in the account.
The update will also likely have an effect on budgets, especially if your account allocates money according to match types, or divides match types by ad group or by campaign.
The future of paid search
This update is another attempt by Google to move advertisers away from focusing too much on the keyword level. This might look counterintuitive because search is built on keywords, but Google ultimately wants to get advertisers to focus instead on search themes and persona-driven targeting.
Is this a step towards Google achieving a "zero keyword needed" environment? That's still up for debate, but one thing is for sure: The search engine giant is doing everything it can to streamline and consolidate this segment of their platform.
Get help from experts in search engine marketing in Charlotte
The broad match modifier phaseout is just one of the many changes that are expected to be applied to Google paid ads—and to search technology in general—in the next few years. These technical updates can make it harder and harder for small business owners to manage their own digital marketing in Charlotte NC, especially if they don't have the technical background to keep up with the changes.
Hiring professional search engines and digital marketers may be the best investment you can make if you are serious about making your business successful online. Talk to us here at Animink. We can optimize your Google AdWords campaign to take advantage of these changes and maximize your marketing dollars. Call us at 704.992.2027.