Velocity Systems Website
Animink, a web development company in Charlotte, NC was contacted by Velocity Systems to create a new, fully responsive website for their organization. This was the 3rd iteration of the site that Animink has created for our long-time client. Velocity is in the business of armor solutions, and their products are made at an extremely high quality level, and are also made in the USA. Online sales were sluggish due to a multitude of reasons, however the main concern was that the site didn't cater to users on phones and tablets.
Velocity began operations in 2007, providing armor solutions to the United States Mlitary Special Operations community and Law Enforcement communities nationwide. Their 75 years of combined specialized armor manufacturing experience has allowed them to mold the Velocity into a company with extensive knowledge of custom armor solutions and special projects for new and emerging threats.
Charlotte Web Development – for Protective Armor Solutions
For this particular client, Animink leveraged the Magento platform to deliver an extremely robust online ecommerce solution. Combined with a design that more accurately represented the brand of Velocity Systems, the new Velocity site was poised to deliver a more optimal experience to users around the world. Additionally, all products from their sister brand Mayflower Research & Consulting were also brought into the fold for a broader range of inventory.
Our Charlotte web development team also began the process of organic search optimization to drive traffic to the website and increase sales. Keywords and phrases specific to the industry and their products were identified, and targeted for optimization.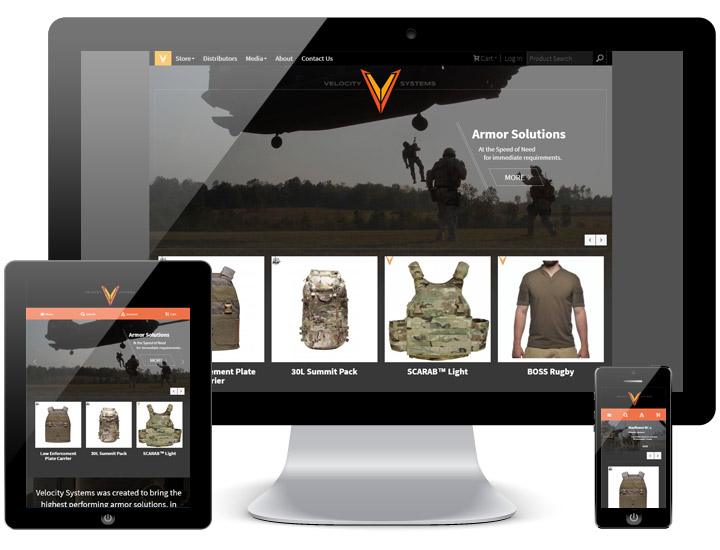 The Result of the efforts of a Charlotte Web Design Team
In the first month alone, there was an 85% rise in sessions. Revenue soared, and online sales continue to increase. The client now has a website that not only runs optimally on all devices, but delivers a better overall shopping experience to the user.
If you're looking for a robust ecommerce solution and a web development company that can lead your business into a successful online presence, look no further than the Charlotte Web Design team at Animink. Contact us today.