Brent Metcalf Website
As a Charlotte Web Design studio, we're well known for creating some of the best Sports website designs, particularly in the NASCAR & Formula 1 world. However, we work with multiple sports marketing companies, and create content for a lot of clients beyond the racing arena.
Animink was approached to create a website for the world-famous wrestling sensation Brent Metcalf. Brent is an American wrestler currently competing in the international circuit for the United States of America. Metcalf went undefeated as a prep wrestler with a career record of 228-0. He is also the first American this decade to make the Yarygin finals twice. 
Web Development Charlotte NC – For a Michigan Native
The bar was set extremely high to create a sports web design featuring the dynamic athleticism & personality of a champion of this caliber. Animink researched footage, photography, and news to form a design that could appropriately feature Brent's accomplishments, and future endeavors.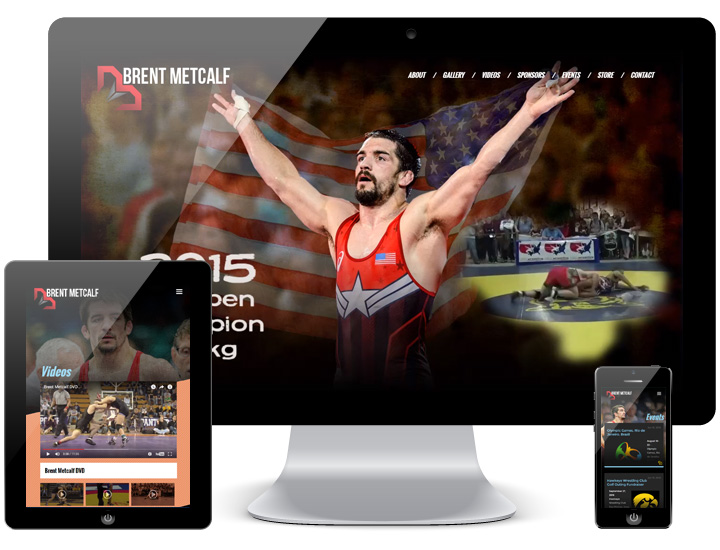 The resulting sports website design features highlights & takedowns from some of Brent's recent matches , as well as stats from the last few years. Brent's custom apparel is also available for purchase, as well as a listing of sponsors. The entire website is fully responsive, and operates optimally on tablets & mobile devices, as well as laptops and desktops. As Brent continues his career, the website will feature statistical updates as well as listings of new events he'll be attending. Our Charlotte Web Design team will manage the website as changes and updates are needed.
Charlotte Web Design – Pushing the Boundaries
As with any site, Animink's attention to detail with Brent's website is evident in every facet of the design, from the front page video montage, to the responsive nature of the website & user interaction elements. We constantly challenge ourselves and strive to test the limits of what the web will allow. If you're in need of a digital solution or other web development Charlotte NC, or anywhere else for that matter, contact us today for your next great project.