Transign Website
As a Charlotte website development company, no two jobs are ever alike. We're constantly approached with new opportunities in industries that we have never worked in before. From medicine to music, tarps to transportation, each website offers a unique opportunity for us to challenge ourselves and create something new and exciting for every client.
Web Development Charlotte NC – for Transportation
Transign was poised to grow their business substantially. Having been in the transit industry for more than 55 years, they not only understood their niche market, they were very successful in it. Founded in 1959 with a commitment to 'Quality Products backed by Quality Customer Service', Transign rapidly became the established market leader in a variety of innovative products for the transit industry. However, their online presence needed a kick-start. That's where the Charlotte web development company Animink comes in.
As public transportation is in greater demand now more than ever, innovative products from Transign allow transit operators to more effectively run their business. They needed Animink, a web development company, to drive traffic to the site to increase revenue for Transign, and provide transit agencies and bus dealers with a company that could solve their technical problems.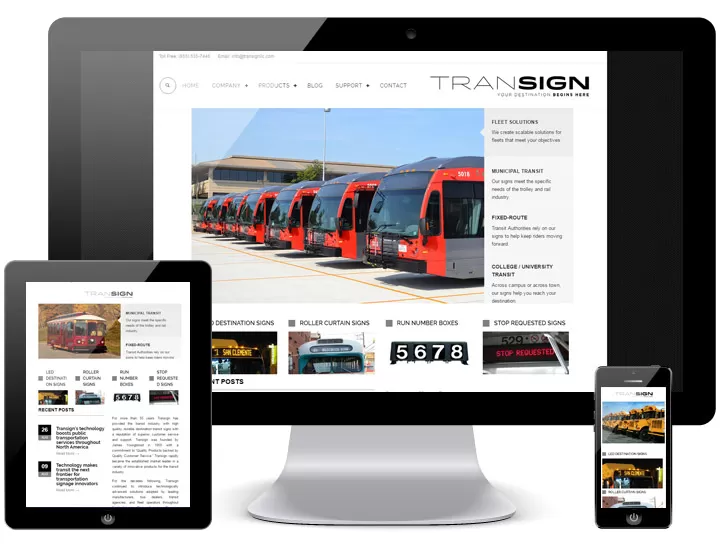 Web Development Company Charlotte – more than Web Development
Animink performed a full site optimization, allowing the site to load quickly, as well as modification of content to provide relevant information to the user in a straightforward way. Images were optimized, and additional content was added to the website. With products ranging from LED Destination Signs to traditional Run Number Boxes, Transign has a wide range of signage. It was important that fleet operators quickly and easily find the information that they need for their transit vehicles.
Website optimization is just one of the components of our on-going relationship with Transign. An entire update to the support section is underway, allowing users easier access to software updates, and pdf information sheets. A series of questions will guide the user to the proper file that they need for their product.
If you're curious about how you can increase business online, don't hesitate to give us a call. We specialize in website development, search engine optimization, and search engine marketing, with an end-goal of driving traffic to your website and increasing sales for your product or service. Our methods work, contact us today.