Cole Custer – Making History
Animink has had the pleasure of designing www.colecuster.com. As of August, Cole became the youngest winner in NASCAR K&N Pro Series History. At just 15 years old, he's a driving machine, leading every lap, and eventually winning the Be Inspired 150 East-West race at Iowa Speedway.
As if that wasn't enough, Cole recently started, and finished, 1st in his 12th career start, now a multi-time winner in the NASCAR K&N Pro Series East by winning the North American Power 100 at New Hampshire Motor Speedway. View the official press release here.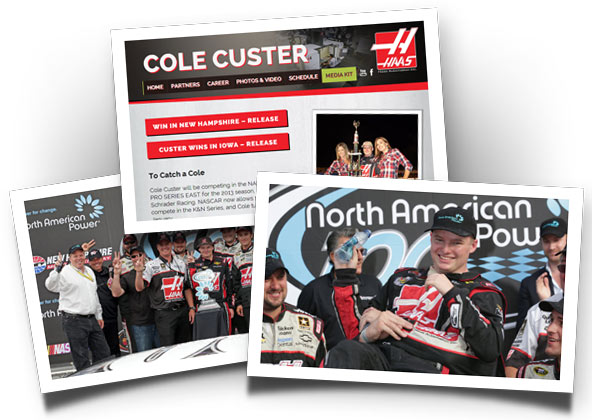 Animink, the Charlotte web design studio, was approached by Cole and his father to create a site that would be a launch point for Cole's career. The site needed to work well on tablets and phones, as well as desktops. The result? A single scrolling site filled with small innovations that bring a 'wow' factor to the site. Once you scroll past the home page, the nav follows you down through the site. Small elements move as you work your way down. And an interactive Career Highlights section combine to give this site the touches that it needed.
Congratulations Cole!