Decals for a Difference
Decals for a Difference reached out to Animink, masters in Charlotte web development, to assist them with their online efforts. The non-profit was created to show support to local law enforcement and firefighters. The organization has created decals for sale that show outward support for a great cause and also help worthwhile charities at the same time. A portion of all proceeds from sales will go to highly rated charities within the law enforcement and firefighters organizations.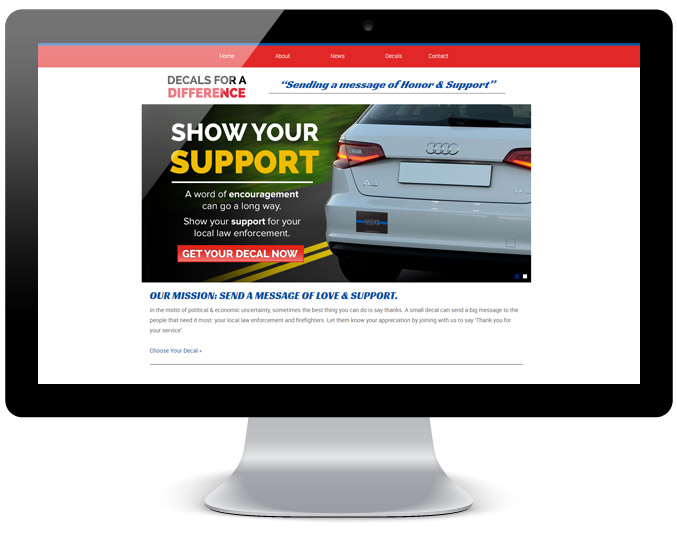 Decals include blue 'SUPPORT' and 'WIFE' decals, as well as red 'THANKS' and 'WIFE' decals.
The decals are durable and made as a window cling.
A Web Development Company That Works For Non-Profits
The Charlotte web design team at Animink assisted in the creation of the website, as well as graphic design of the actual decals. Additionally, an easy-to-use administrative back-end allows updates to the website. The entire site is designed to function responsively for optimal use on devices from phones & tablets to laptops.
Charlotte Web Design – And a Whole Lot More
Non-profit organizations can benefit greatly from an effective website for not only educating users of their cause, but also requesting donations, or selling products that help their cause. Animink is a Charlotte web development company that not only provides website design, we can also form a successful online strategy to drive traffic to your website via organic search optimization, Pay-per-click campaigns, social media management, and a host of additional digital marketing techniques.
These methods drive traffic to your site, and ultimately bring more awareness to your cause. This is a critical part of a growing non-profit organization, and should absolutely be included in your marketing budget.
If you are considering starting a non-profit, or you have an existing non-profit organization, and are in need of an online strategy & a web development company to properly drive traffic and increase awareness, contact Animink today.