LPS-Filtration Website
Animink is working with a new client for their web design needs and digital marketing in Charlotte. LPS-Filtration has been assisting companies for almost 25 years in the areas of hot oil filtration systems serving a host of industries including manufactured/engineered wood, asphalt, die-casting, plastics, PET, adhesives, paints, chemicals, pharmaceuticals, supplements, medical devices, carpet, fiber, automotive, food processing, resort and institutional laundries, recycling, reprocessing, petrochemical, and aerospace. The filtration systems are made in the USA and shipped worldwide.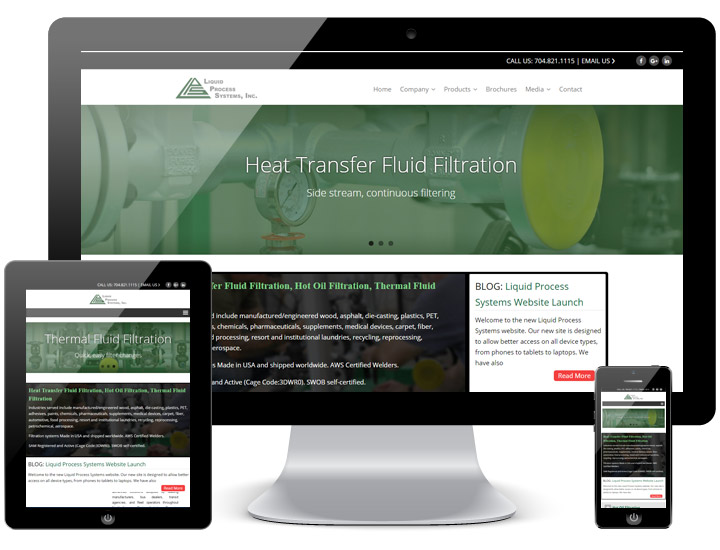 Web Design Charlotte NC
The Charlotte web design team at Animink was contacted to not only redevelop the website but also provide digital marketing assistance to help LPS-Filtration rank highly in organic search for specific keywords and keyword phrases. They are currently in 1st and 2nd position for their 3 top keyword phrases. Digital marketing in Charlotte has grown tremendously and is critical for any company looking to increase their online presence and generate new business.
Some of our efforts for digital marketing thus far have included, but not been limited to:
Fixing problems found on google webmaster tools including duplication and tag errors.

Submissions into relevant web directories in the US

Blog assistance

Activity on Q&A websites to find users looking for assistance

Submission to various social bookmarking sites.

Analyzing competitor website backlinks and taking action accordingly

Adding Rich Snippet for social profiles and contact schema tag on the website page. This displays company contact information to the Google Knowledge panel in some searches.

Charlotte Web Design – for a Charlotte-based Company
The site itself features LPS-Filtration company information, as well as a host of
case studies
, testimonials, heat transfer fluid comparisons, and published information. As is the case with all sites developed by Animink, it is responsive to operate optimally on all device types. Additionally, load speed was a huge consideration during the development process.
If you are in the manufacturing industry, a responsive website with on-going digital marketing efforts can tremendously affect your business in a positive way. At Animink our Charlotte web design experts will discuss your specific needs and establish a strategy to take your business to the next level. Curious if search engine optimization and other digital marketing methods work?
Contact us and we'll send you a list of references.