Flute World – New eCommerce store from Animink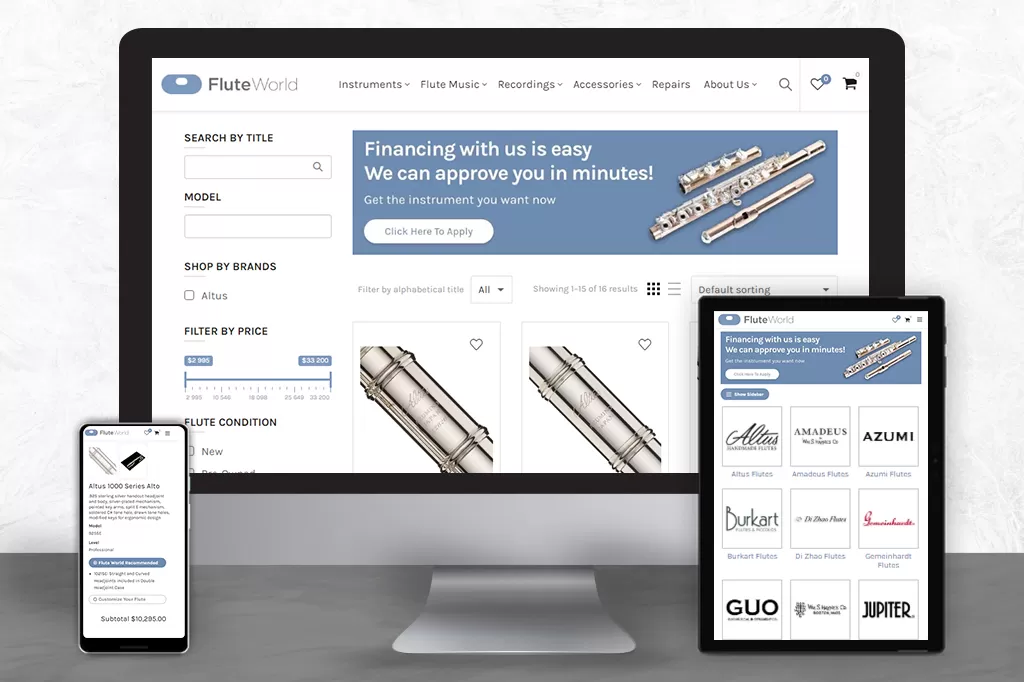 Meet the client
Flute World is America's leading flute store, offering a comprehensive online catalog of flute music in 48 different categories. They also offer a wide variety of flute-related accessories and recordings. The company also stocks many different top brands and models of flutes, piccolos, alto flutes, and bass flutes. Flute World offers its vast collection at three different locations, in Michigan, California, and North Carolina.

Need:
For over 20 years, Flute World has been the largest flute retailer in America. With the need to streamline business processes and make ordering more convenient for customers, developing a modern, feature-rich eCommerce website was a priority. The other requirement was to improve backend processes and give a complete overhaul to the current site. The current site lacked attractive design, intuitive user-interface, and a responsive design that intelligently delivered the best user experience for each visitor regardless of the device they're using.

Solution:
We went through a series of designs, mock-ups, and revisions to come up with the perfect plan to balance aesthetics and usability at the same time. Animink brought a wealth of knowledge and methodology to the project to conceptualize, design, and create a user-friendly and intuitive website portraying the essence of Flute World, while meeting stringent deadlines. Taking the client's requirements to the drawing board, in terms of both functionality and technology, we created the 'user-first' focus that the client desired. Here are some of the features we added to the website:

Conversion focused on all devices
Whether the potential customer searches for a product on their smartphone while sitting on a bus or lying in bed with their tablet, we designed the site to be optimized for every imaginable device—our responsive design will adapt to any screen size, today or in the future.

Customized checkout process
Making the Flute World checkout process intuitive and easy to use was a top priority in our design board. It was essential to prominently display two simple shipping options, including one that allows customers to use products before paying for them.

Advanced Filtering
With hundreds of products, it was a must to have product attribute filtering. Customers looking for the perfect plastic product can simply type it in the search bar. Customers can also use the menu bar to find the product/service they require.

Easy to update
Through the website content management system, Fluteworld can easily add or edit, ensuring the prices and products on the website are always up to date.

NetSuite
Accelerated the online order process by tying sales, finance, and fulfillment to pricing, sales order management, and returns management through NetSuite.

Result:
With the new solution, the business system now is a customer-facing eCommerce system with a customizable, customer-specific, pixel perfect experience. The new website brings their brand story to life with detailed product and service pages. The intuitive user-experience achieves its goal: making it extremely simple and easy for customers to find and buy the product/service they need. After successfully launching the new website, Flute World has exceeded performance goals in the following areas:

The company witnessed a staggering growth of sales orders from customers who bought the products efficiently

Increase in critical metrics such as conversions and revenue

The additional capabilities rendered through the website were well received by users, resulting in increased customer retention rates and user base.

Easy to access inventory, order, and shipment for backend users