Google Data Studio: A Strategic Tool To Building Powerful Reports
Analytics can be challenging, overwhelming and confusing making it quite difficult for the average person to decipher or even understand. It's an area that has been a challenge for digital marketers for years, with many not even reporting analytics data back to the client because the amount of difficult to understand data and information overload makes it difficult to even know where to begin.
Previously, there was really no easy to read or easily understandable way to provide SMB clients with an overview of how their campaigns or websites were performing.
Most other organizations that actually do provide analytics data reports to clients are required to spend a considerable amount of time downloading Google Analytics data and importing it into Excel spreadsheets in order to build diagrams and charts from there.
Now, thanks to Google Data Studio you can easily create reports that even your clients can understand.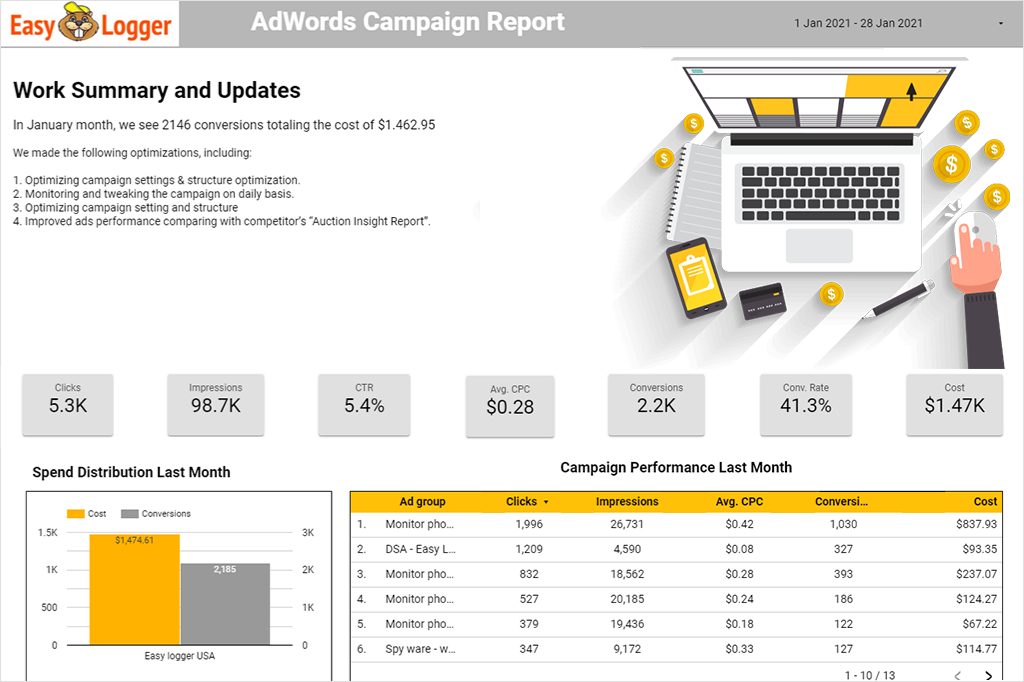 What is Google Data Studio?
Google Data Studio provides everything needed to turn client analytics data into easy to understand, highly informational reports through data visualization.
You now have the choice of how to present data to clients with charts, line graphs, bar graphs and more. Font and color options and the ability to brand reports with client logos provides a report that is customizable and easy to read and share.
With Data Studio, you can pull in more than just Google Analytics data. You can now also import Facebook data by putting the information into a Google Sheet. Any and all information reporting you have on a Google Sheet can be imported into Google Data Studio, so if you can get it onto your Google Sheets, you can show it in your reports.
These reports are shareable allowing you to grant permission to others to view and make changes. They are also dynamic, meaning if there's an update to the data source, the new or updated information shows up automatically on any reports that reference the source.
Just like Google Docs and Google Sheets, all you now have to do is click "share" to allow other team members or clients to view or edit reports.
What are the Benefits of Using Data Studio?
You may be wondering why Google Data Studio is so great. With Data Studio, you have access to these key features:
Access to more than 220 connectors and live data connection
Full control and customization of visuals and reports, with the added ability to add as many pages or charts as you need
Dynamic controls with page level and report filters
Advanced formulas like calculated fields and calculated metrics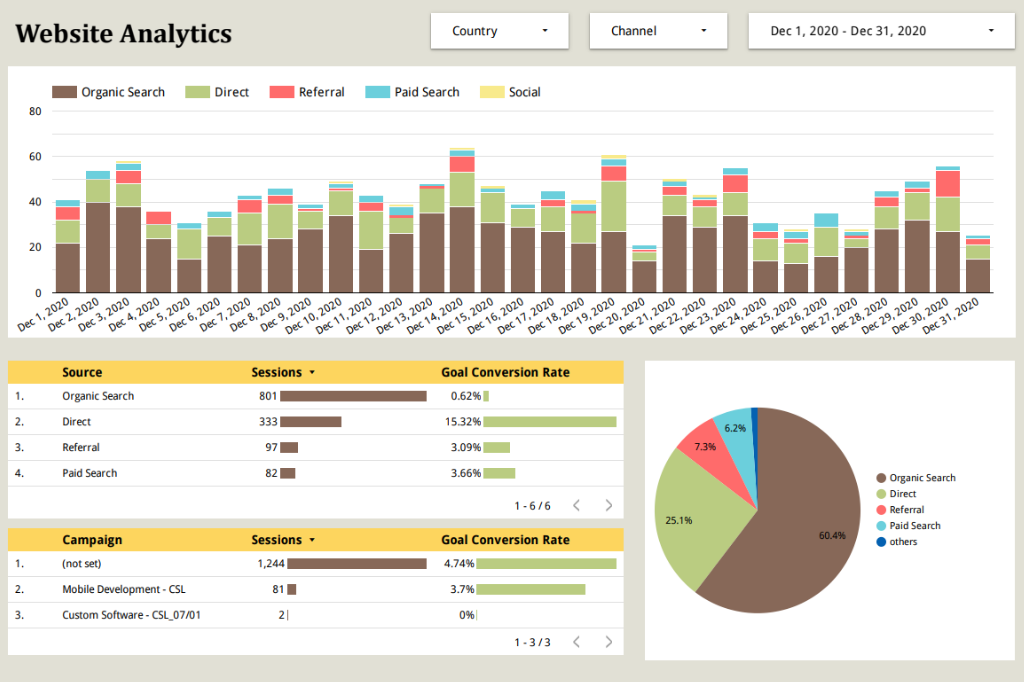 When to Use Data Studio
If you need to bring your reporting together across multiple platforms and connect all of your data together in one location, then you need to use Google Data Studio. While there are a multitude of other reporting services available, none are as clean or comprehensive as Data Studio. It pairs well with all other Google products. Offering real-time documents, Google Data Studio provides reports for everything from a day-to-day campaign report to a monthly executive report that can be used by both internal employees and clients.
By looking at the indicators below, you should be able to determine if Google Data Studio is the right option for your needs if one or more of the criteria applies.
Your architecture is primarily dependent on the Google based app ecosystem and Google services.
Your reports do not require complex dashboards or a more indepth interactivity with reports.
You do not have a dedicated team of expert analysts.
When data is taken outside of your internal network, your compliance requirements are not broken.
How to use Google Data Studio
Getting started with Google Data studio is simple and easy. Just follow the steps below.
Log in to the Data Studio with your Google account
Click "Create" button in the top left corner
Choose "Data Source"
Link your data sources, like Google Analytics, etc
Go back to the Google Data Studio dashboard
Select the "Create" button in top left corner
Choose "Report"
Select which data sources to import from the right-hand side
Edit your report's theme, layout, colors, and more
Click "Share" in the upper right corner to share your report with others
You can also use report templates available in the "Template Gallery" of the Data Studio dashboard. Experiment with templates and custom reports in Google Data Studio to get a better understanding of everything you can do.
Is Google Data Studio right for you?
If you're a fan of working with spreadsheets, you might think that Data Studio is not that big of a deal. If, however, you are one of many people who hate spreadsheets, the ability to look at and make sense of your analytics data is quite a huge benefit.
You will have the ability to easily show clients the results of your efforts in an easy to read, easy to understand, brandable report. Clients can see how digital marketing efforts are paying off in easy-to-digest reports, which is good for your business and reputation.
Animink harnesses the power of Google data studio in our digital marketing campaigns, mobile apps, custom software and SAAS solutions to give customers the freedom to build and export reports themselves. This works towards bringing greater transparency to our work and empowers our clients to access their data at will.