Custom Logo to SEO Services for Gunter Camp and Conference Center by Animink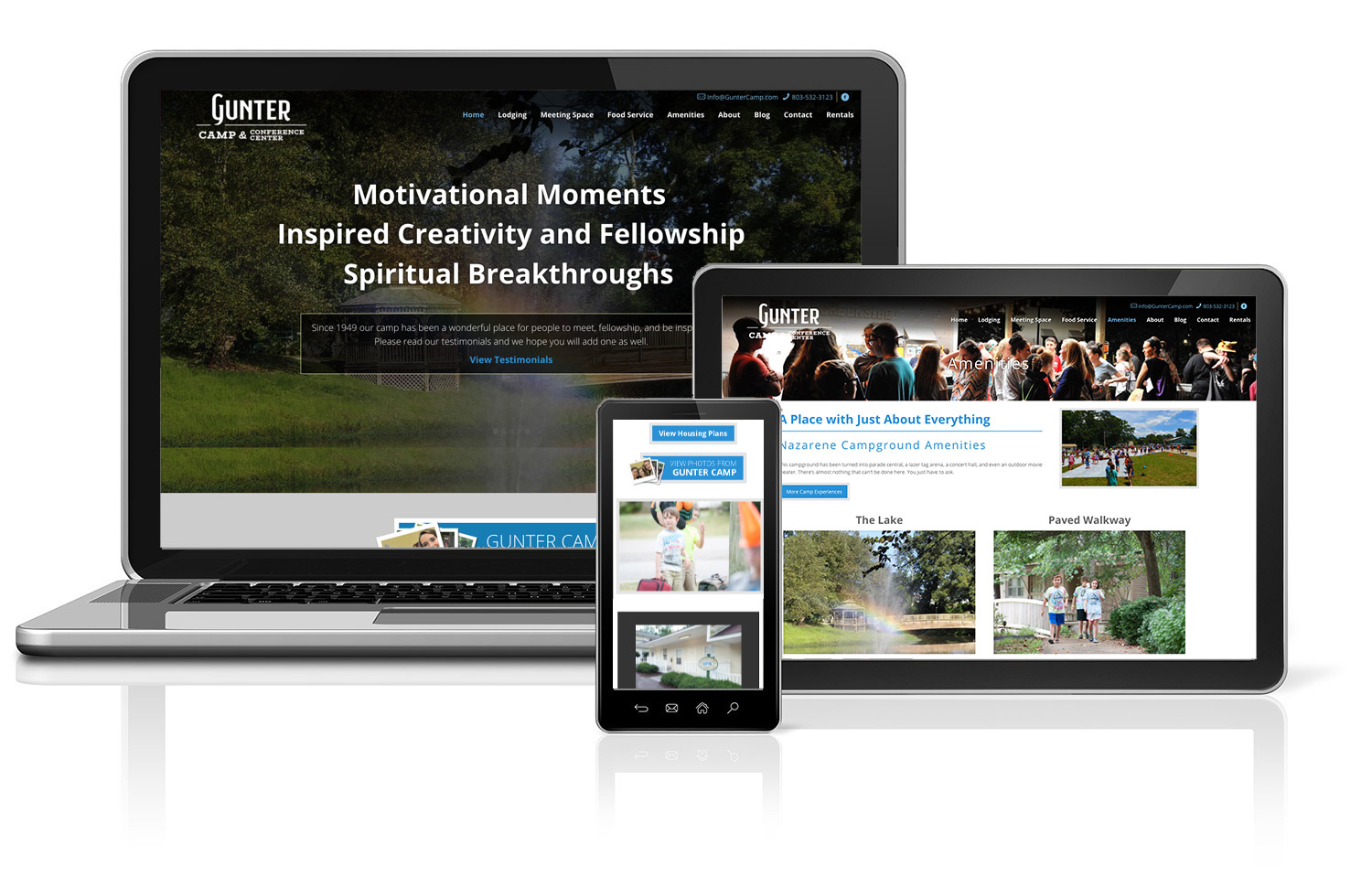 Situated on a beautiful, private, sprawling 25 acres in Batesburg, SC, Gunter Camp and Conference Center is located just 30 minutes west of the state capital of Columbia, SC. Owned and operated by the S. C. District Church of the Nazarene, the center offers amenities such as dormitory and motel accommodations for 270, a swimming pool, chapel, a beautifully landscaped lake, ball field, a tabernacle that seats 800, 100 privately owned cottages, as well as a dining and conference center. Full Retreat and Conference Food Service is available with a fully staffed kitchen to offer exceptional food service at breakfast, lunch, dinner and any time in-between. Menus are fully customizable to meet the needs of your group.
In addition to offering their facilities for use by groups from the Church of Nazerene, they proudly offer other communities of similar faith in South Carolina and surrounding areas the full use of all the amenities the Center has to offer. This also extends to businesses, schools, and other organizations in need of retreat, camp, reunion and conference facilities.

Charlotte Web Design Services
The Gunter Camp and Conference Center approached Animink in need of several of the services that we offer. Our team worked closely with the management team at Gunter to redevelop their corporate logo, build a website to fit the identity of the camp and conference center, and provide full SEO (Search Engine Optimization) services.
To get the process started, Animink sent a team to take measurements of each building at the facility to gather images and information for the new website. We also used the information we gathered on location to create housing plans for groups to plan accommodations and to assist with meeting space planning for events.
The new website offers features for parties interested in booking the camp and conference center in a clear, highly informative manner, making the research and finalization of planning an easy task for clients. Detailed housing plans are now available on the site, allowing visitors to view and choose the size and number of accommodations needed to suit their individual group needs based on party size. Organizers can also view sample menus, images and detailed information for each type of lodging available on site, and a photo gallery that features photos of the facility grounds, buildings and outdoor recreation areas. Everything an interested group organizer needs is conveniently and well organized into easily searchable categories. A quick inquiry form, as well as the standard contact form, are available on the site to allow potential visitors to quickly and easily contact the center with questions and booking inquiries.

Charlotte SEO Services
Gunter Camp and Conference Center was also in need of a strong SEO strategy. After discussing their overall business strategy with the SEO consultants at Animink, an SEO plan was established to greatly improve website visibility on major search engines. This plan included establishing specific keywords and phrases to rank high within Search Engine Results Pages (SERP), creating regular blog posts, company relevant news articles, and regularly scheduled guest bloggers. Website content, including text, images and video is also regularly updated to keep the site fresh with search engines. With SEO services, a detailed report is sent to Gunter every month allowing them to track SEO progress in an easily understandable way.
Links and Reviews are also posted to websites like Google and other online companies to allow potential clients to review what others are saying about the center, helping to build a strong reputation for the Gunter Camp and Conference Center.
A Web Development Company and So Much More!
The completed design of the new website, along with a well laid out SEO strategy, fits with the identity of Gunter Camp and Conference Center to emphasize their belief that wellness in the soul is where all other health begins. They are proud to provide the space for kindred spirits to meet, play, learn, create, rest, laugh, cry, motivate, be inspired, worship and find peace.
Animink offers Charlotte Web Design Services, full website maintenance services, search engine optimization services, social media marketing, custom software development, brand management and so much more! Contact us today and let's work together on building an outstanding web presence for you and your organization.