How Animink Redesigned Zenith by Danco's website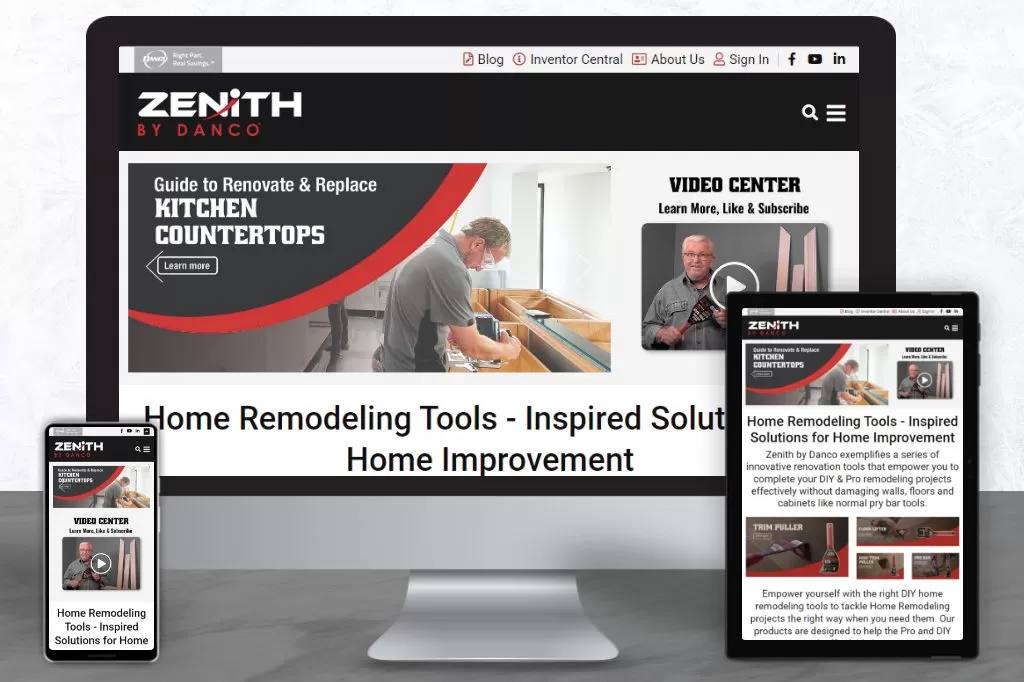 Meet the client:
Zenith by Danco empowers the Pro and DIY consumers with remodel and repair solutions that are affordable, dependable, and accurate to help homeowners to accomplish home renovation projects with absolute confidence. Founded in 2016, the company is today a global supplier of demolition, restoration, and remodeling tools to undertake restoration projects without damaging walls, floors, and cabinets. 
Need:
In 2020, Zenith was merged with Danco, one of the largest plumbing repair, replacement, and remodel suppliers in the home improvement industry. Zenith came to us with a very outdated, disorganized, and cluttered website. Also, the client wanted to redesign and rebrand the website as per the new brand guidelines for Zenith by Danco. The merger poised Zenith By Danco as the leading brand for offering the highest quality of Professional and DIY demolition, restoration, and remodeling tools – and their website needed to proclaim this.
Trusting our team of expert web developers, they looked to us to create a strategy that would not only elevate the user experience but also align their objectives with the strong reputation and the weight of the Danco name. The agenda was clear – to reshape the perception of their company, target clients from every part of the globe, and craft a look and feel that exuded confidence and trust. 
With our goals clearly outlined, our team dived into creating a website that we can be proud of!
Solution:
Through our detailed digital road mapping study, we gained clarity on their business objectives, their most pressing challenge, and their vision. We surveyed their product offerings, internal stakeholders, and marketing strategy to gather data that would help them achieve their goal.
One of the most important pages for them was the product page. Zenith by Danco needed a way to feature their product offerings with an attractive design, so visitors can see details of their products at a glance. From there, customers could click on a product to learn more about it which can eventually lead them to third-party websites where they can lock in their purchases.
Two other key areas of the site are the Videos section and Blog section. These sections are a clutch to assist Zenith by Danco's customers in learning more about the products, their uses, and how they can easily accomplish remodel projects.
Jumping into the design of the website, we knew we were required to craft a look and feel that exuded confidence and trust in the Danco brand. For the color palette, we wanted to continue using the brand colors of the Danco brand (red and black) to align with its existing brand guidelines.
With our goals clearly outlined, we dive into the early stage of creating the website and preparing its framework, which included creating a plan, layout, navigation design, placement of web links, and adding tabs for call for action.
Here are some of the features we added to the website:
Responsive design

: Developed the site using the latest responsive technology to adjust for different screen sizes automatically.

Product Pages

: Designed detailed product description pages that highlighted the features of their prime offerings.

Video tutorials:

Incorporated video tutorials on each page as an aid for visual learners and help find specific pieces of information very easily.

Before/After Photos & Videos

: Create a space to help users upload Before/After Photos & Videos to help customers get inspired for their own remodel.

Blog section

: Created a blog section to drive website traffic, promote products and services, and build trust with potential customers.

Site Architecture

: Improve site architecture and navigation to enable easier browsing and a more frictionless experience.
Result:
The all-new product pages give clear paths to customers to buy online from partnered websites, while the landing page help visitors to better understand the product offerings. The new website offers a much more engaging visitor experience, presenting their products in a way that feels accessible to a much broader audience. The design feels engaging and content interesting while supporting their ongoing efforts in SEO and driving conversions. 
The redesigned website allows the client to broaden their business goals and start pushing the limits of technology. Each element encourages interaction from visitors and is designed to pull visitors deeper into the user journey. It also attracted new potential customers, more than doubling monthly traffic to the website and increasing their time on the homepage ten-fold.
Contact our team
Animink
to tell us more about your business and start designing your custom website!