Pinehurst Concours d'Elegance Website
Blending the history, heritage and grandeur from three of North Carolina's proudest traditions – motorsports, golf and military – The Pinehurst Concours d'Elegance is a unique celebration of America's passion for the automobile and honor for the brave men and women who protect and provide the very freedom we enjoy.
Animink's Charlotte Web Design group was contacted to provide a new updated design for the prestigious Concours d'Elegance that reflected the beauty and allure of the event more closely. The website was designed to incorporate imagery from the event, and convey the energy and world-class competition that people have experienced each year.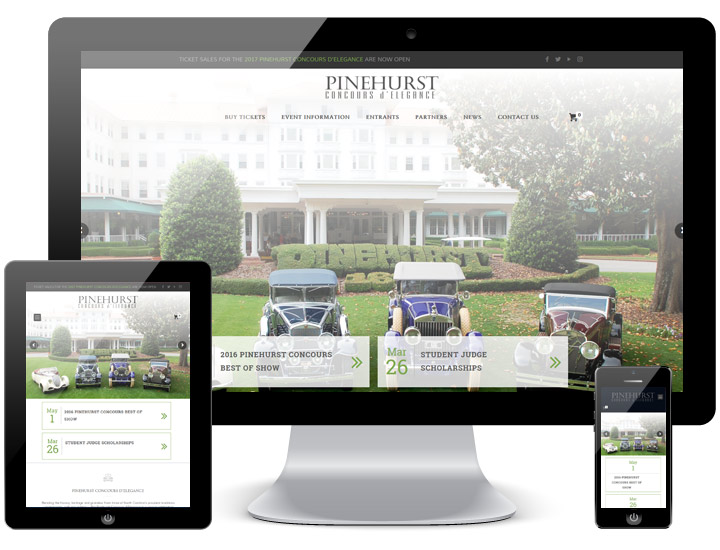 Charlotte Web Development – Elegance meets functionality
The new responsive website functions optimally on all devices, from phones and tablets, to laptops and desktops. Additionally, a more organized navigational structure was introduced, making it much easier for users to find information, purchase tickets, or enter the competition. Our goal as a web development company is not only to create an attractive, site, but to also provide a better user experience from beginning to end.
A new online store was also incorporated by our Charlotte web design team, allowing users to purchase tickets for the event in advance, as well as merchandise. The store includes an administrative back-end such that the client can fulfill orders and mark as shipped.
A Web Development Company providing more than just Web Design
Also, an entrant portal was designed, allowing potential entrants to submit their automobile for consideration into the competition. A complete back-end management system was also created allowing the client to fully organize, manage, and communicate with all entrants. Custom code was written allowing approved entrants to purchase their respective fees based on their approval.
Events are planned for the fifth annual Pinehurst Concours d'Elegance on Saturday, May 6, 2017, with some of the most historic and rare automobiles staged on the fairways of the iconic golf resort.
If your next project involves custom Charlotte web design or other online solutions, consider Animink. In addition to website design, we're also an Email Marketing company that provides web hosting services and website maintenance services. Contact us today for a free consultation.