Medialease OOH Website
Medialease OOH is another long-time client with the Charlotte web design team at Animink. Their site was in need of a revamp, a fresh look, and some responsive site updates. Additionally, they wanted to step up their SEO presence, which required some on-going updates to page content and other on-site and off-site help.
Charlotte Web Design – Eliciting a global audience
Animink began by completely re-evaluating the current site, the outdoor advertising industry, and developing a strategy to introduce relevant information into the new site. As mentioned, the new website also needed some enhancements to their responsive presentation, allowing users on phones and tablets the ability to more readily access information on the site.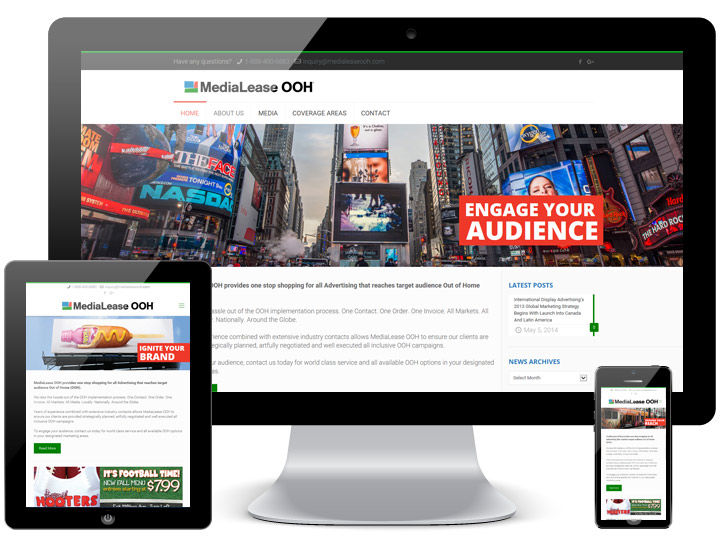 Additionally, titling, tags, meta data, and a host of other updates are planned to drive traffic to the site via website maintenance services, due to the surge in sales via the web.
The outdoor advertising business itself is also an incredibly thriving industry. Advertising's share of ad spend is expected to grow from approximately $2.5 billion in 2010 to around $7 billion by 2019. Medialease OOH is an exceptional choice for outdoor needs, with media ranging from bus benches to airports, from billboards to cinema, and coverage areas spanning the globe.
A social media optimization company – making an impact
"Our process for organic optimization is complex", explains Animink Vice President Markus Alison, "and is designed to occur over time, like a tree sprouting roots. The process must happen slowly over time, with very intentional steps. If it moves too fast, Google can throw you in the sandbox."
Animink's proven processes for SEO have gained top spots in organic search for many of their clients that opt into an SEO plan.
"It's an investment in the future of your business, and the future of business is online."
The Medialease OOH website will feature more information about their coverage areas, and introduce important blogs about Out of Home advertising.
Animink, an email marketing compay, is always looking for new ways to leverage organic search. As a social media optimization company that offers web hosting services and website maintenance services, we could be a great fit to help grow your business. Contact our Charlotte website design office today.