Rahal Letterman Lanigan Website
Rahal Letterman Lanigan Racing is co-owned by three-time IndyCar Champion and 1986 Indianapolis 500 winner Bobby Rahal, former Late Show host David Letterman and Mi-Jack co-owner Mike Lanigan and is based in Hilliard, Ohio and Brownsburg, Indiana.
RLL competes in IndyCar Racing as well as the IMSA WeatherTech SportsCar Championship via BMW Team RLL. To date, the team has amassed 42 victories, 53 poles, and three series championships.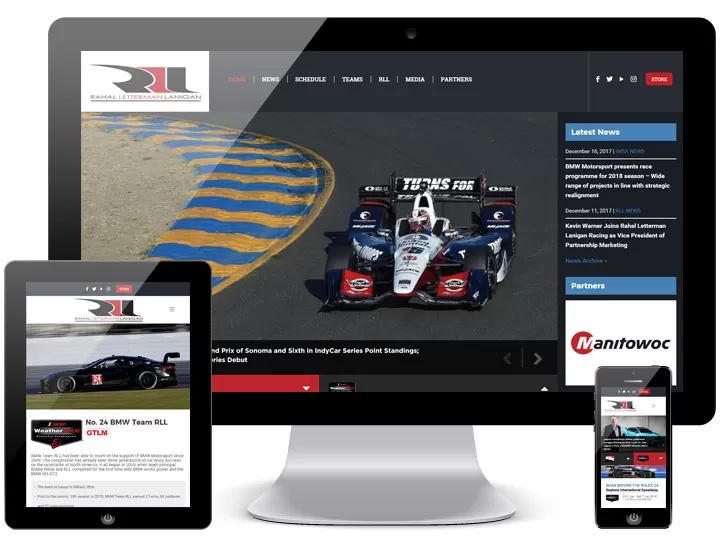 Racing to a New Look – A Turn-Key Solution
Animink was approached to redesign the Rahal brand online via a new fully responsive website. The site needed to accurately reflect the brand and present RLL in a more current light. Animink's Charlotte web design team began work on a layout that would allow users to gather information quickly directly from the homepage and read about the most recent news via a single click.
The new site home page includes a top rotating hero graphic, latest news, toggling next race area for IndyCar & IMSA, and a Media Hub featuring latest posts from Instagram, Facebook, and Twitter.
The site also includes a news section and full schedule for each series. The team section provides information on each team, drivers, and stats. A section is also devoted to the owners & history. The media section provides galleries and videos. Lastly, the partners section provides a list of companies that have partnered with RLL.
Website Maintenance Services – Your Online Partner
An administrative back-end was included as part of the scope that allows easy modification of areas of the website. Animink is also tasked with providing web hosting services & on-going website maintenance. The project has been received extremely well, with further updates pending. If you're looking for an innovative online solution for your brand, reach out to the Charlotte web design team at Animink today.