Studio3Five8 Website
Longtime client and friend LeAnne Howell made the transition to a fully responsive website for her specialty fitness studio, Studio3Five8 recently. The decision was made due to the trend of users spending more time visiting the web on their smartphones than ever before. And with the combination of mobile users and fitness-minded clients, she knew that she needed to reach an audience that was naturally on-the-go.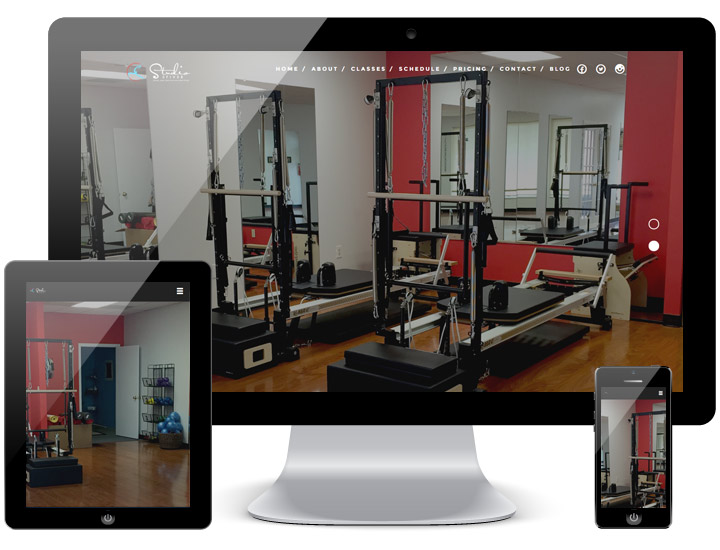 Per the site, LeAnne makes the statement to 'Commit to getting off your meat and on your feet. Commit to being healthy. Commit to being part of a group working toward wellness and having fun along the way.' That mantra travels through every class at Studio3Five8. The studio serves all of Huntersville, NC as well as Davidson, Concord, Lake Norman, Mooresville, Cornelius, Charlotte, and surrounding areas.
Digital marketing in Charlotte – reaching users on all devices
Animink created a single page website that would allow users to quickly find the information they needed and contact Studio3Five8 for information, classes, or private sessions. Additionally, the entire site was designed in a responsive format to accommodate users on all devices, from desktops & laptops to tablets & phones, regardless of orientation (portrait or landscape).
The single page features brief information about the company, class information and schedule, pricing, contact information, as well as a blog that is offered on a separate page of the site for easier viewing. This particular website is ideal as a single-page site due to the presentation of information and nature of the business. For people on the go, the information is easy to access, and contact information is easily accessible.
Website maintenance services via Animink – more than Web Design
In addition to web design, Animink also provides website maintenance services for Studio3Five8, completing updates to the site on an as-needed basis. Animink also provides web hosting services, which include website hosting, email, data backup, server updates & critical Content Management System updates, and general technical support.
If you're looking for an online partner for your business that can provide web hosting services, website maintenance services, or any assistance with web design Charlotte NC, don't hesitate to contact us today.