Web Design and Digital Marketing for Forged Timber Company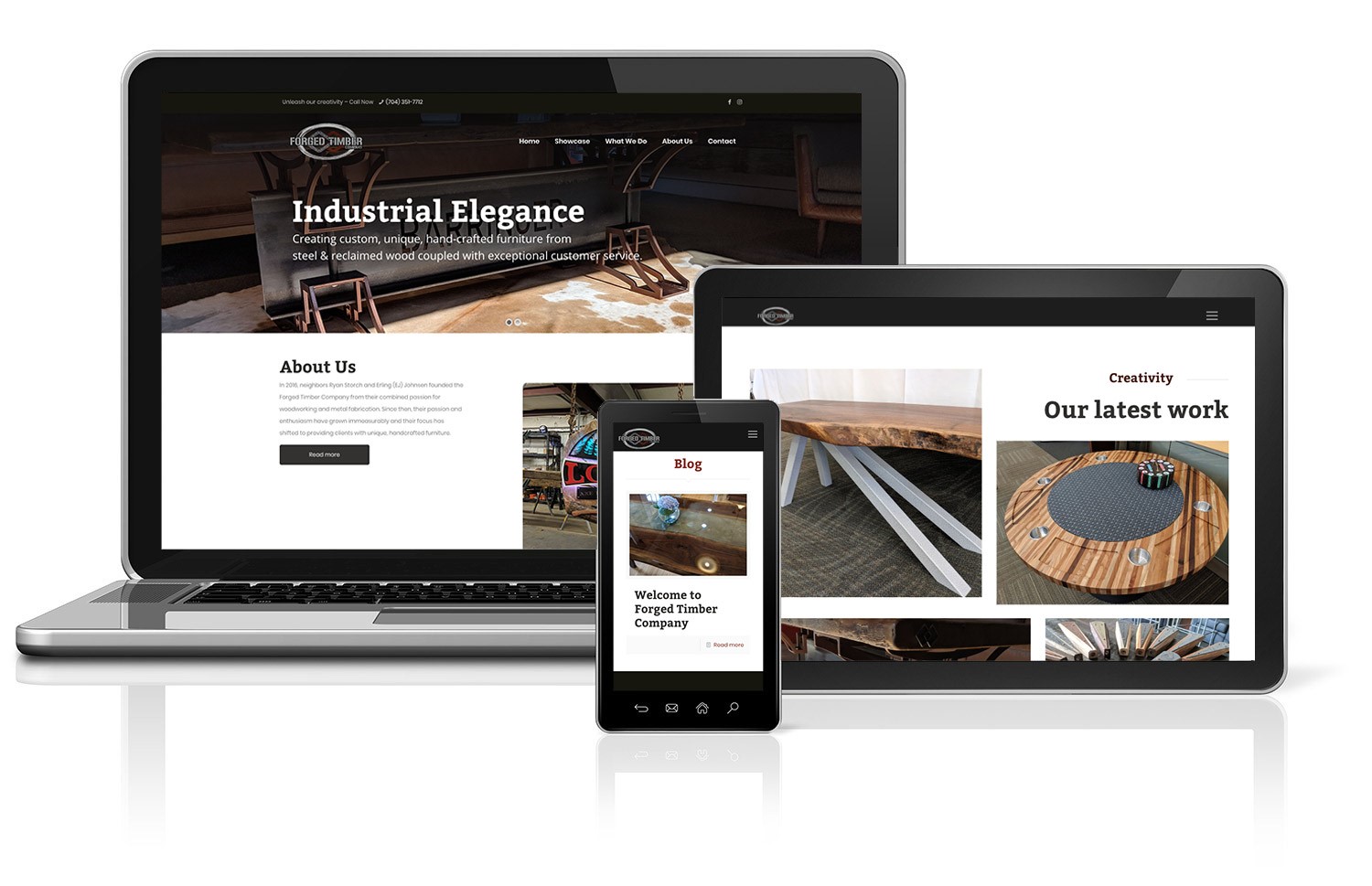 Meet the client:
The Forged Timber Company was founded in 2016 by two neighbors who shared a strong passion for creativity through woodworking and metal fabrication. Their passion and enthusiasm have grown immeasurably and their focus has shifted to providing clients with unique, handcrafted, custom furniture. Their passion to work with, create, and experiment with all types of materials and techniques has turned into a thriving business. The quality of their pieces has set them apart from others in the industry, and their passion shows in every piece that they create. Their services include Custom Furniture, Custom signs, Metal Fabrication, Doors & Hardware, and Commercial Installation.
Need:
Forged Timber Company needed a digital marketing service in Charlotte to create a powerful new website solution to increase their business through strong online visibility, presenting functional information about their company with a new design aesthetic. The need for a streamlined, mobile-friendly user-experience was critical to the future expansion of their business. Their problem was twofold: build a modern website capable of conveying company information and displaying multiple product galleries and secondly, ensuring that the passionate and creative personality of their company is evident on their website.
Solution:
We worked diligently with Forged Timber Company to understand their business and what their primary products were to create a vibrant, informative website. Potential customers can now easily browse their creations online, learn about the services offered, and quickly contact them online with questions or requests. Leveraging all of our research and creative tools, the new website was then developed, all with client input along the way. Here are some of the features we added to the website that transformed it into a highly functional, modern website:
Organized content into individual product pages

Created intuitive user experiences for both current and potential clients

Created website copy based on client input

Coached the client on how to acquire website worthy photography

Added an easily updatable gallery for photos and videos of products and services
Result:
The newly designed Forged Timber Company website is easily searchable, intuitive, and responsive. The interactive gallery makes it easy for customers to browse and view their creations. The website enables both current and future clients to understand the heart behind the company, and offers them a quick and easy way to share their ideas with Forged Timber Company in order to create their own custom pieces. By creating a content-rich website that is also mobile-friendly, interested clients can easily view the site anywhere, anytime.
Are you in need of a new website design? Let our website design team in Charlotte create a rich digital experience for your customers. Contact us today.