Animink designed and developed a culturally significant website for In Kidz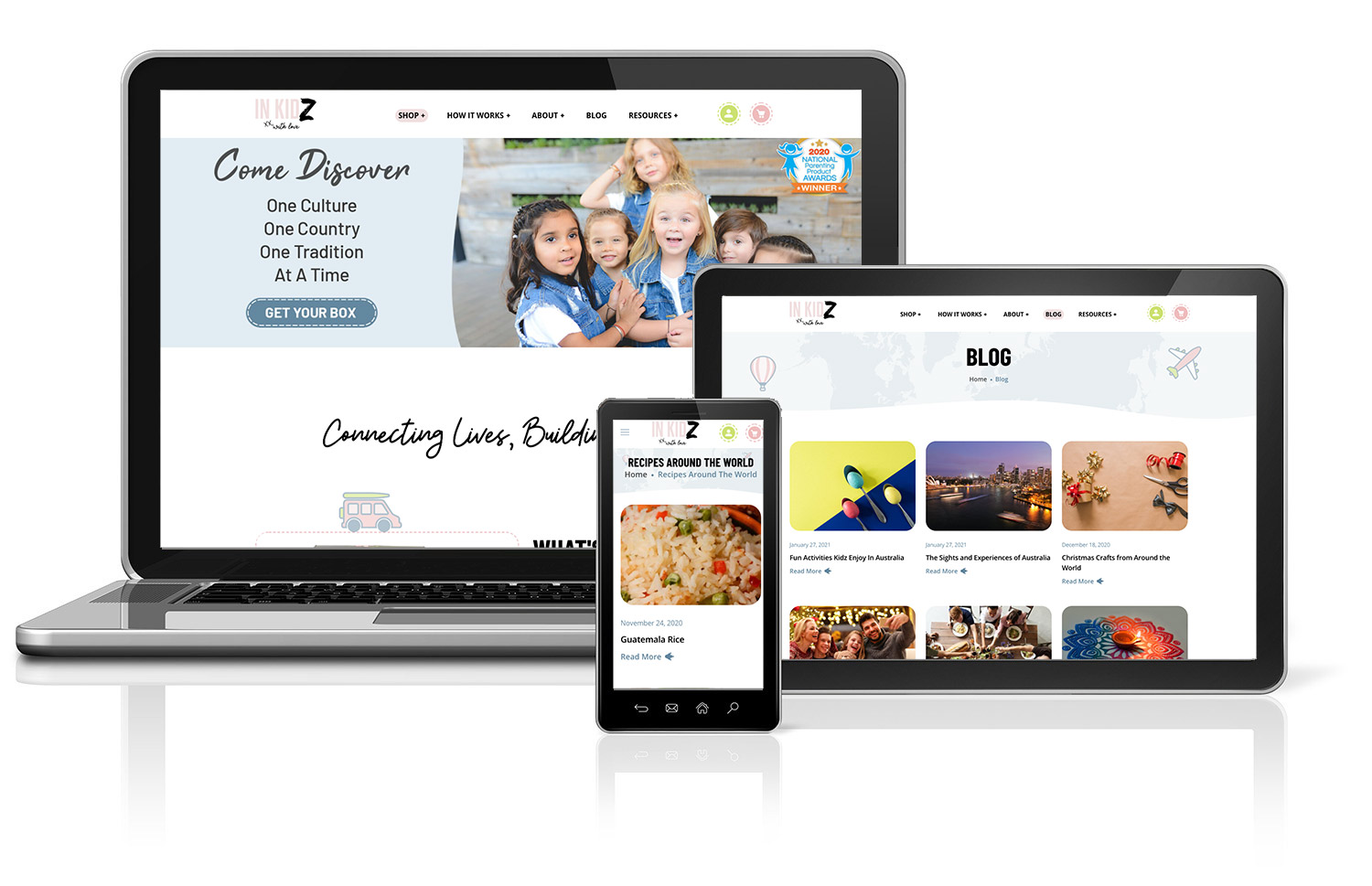 Dr. Zabina Bhasin (Zee) grew up in an area thriving with diversity, but didn't realize until she had children of her own just how limited available educational resources were to teach children about the exciting and beautiful diversity of other world cultures. As her children grew older and began making friends with children of various races and ethnicities, Zee realized that she could make a big difference in the way children all over the country obtained access to educational materials from around the globe. 
This realization turned a passion into a movement as she saw other parents who were also struggling to negotiate the balance between a western lifestyle and traditional cultures. Shifting her focus away from an established career as a physician and hospital administrator, her attention was now solely dedicated to creating "Culture Boxes" for children. With the help of "culture experts", each box was lovingly curated by parents who came from the countries or were raised in the cultures each box represents.

In Kidz boxes are created with love to help children learn about other cultures in a fun way, helping them to embrace everyone just as they are. Each box is ethically sourced and respectful of the culture for which it is created providing a delightful, cultural education to every child that receives one. Australia, India, Turkey, Guatemala and Jamaica are some of the available box options to choose from. An American Black history box is also available.
Charlotte Web Design Services

Zee reached out to Animink in need of a complete website design for In Kidz that also provided all the necessary elements parents and teachers needed to purchase a kit or subscription. After several in depth conversions about the client's needs and ideas for the site, we went to work planning, designing and creating a website that fully encapsulated the unique and culturally significant idea behind the product.
The new website was designed with a crisp and simple color scheme, with an easy to navigate layout. A subscription system was put in place to offer parents and teachers various subscription options like a monthly, bi-monthly or annual subscription with discounted options for siblings. A secure online store was also added where parents can purchase individual boxes and additional items like craft boxes, sensory boxes, puzzles, stickers and other items that are culturally representative.
Other key features include a "How it Works" section, access to the Teacher Ambassador program, informative bios of the contributing parents, and an area with great additional parent resources like country and culture based recipes, printables, and other helpful cultural resource links.

Animink also provides regular maintenance for the site.
Web Development  and So Much More!
The newly designed website perfectly highlights the identity, goals and passion of the company and provides great resources for parents and teachers looking to expose and educate children about other cultures and ethnicities.
"Kids are the future and in this beautifully diverse world, they need to see how all cultures experience life uniquely. Because it is not our differences that divide us. It is our inability to understand and celebrate the differences, that prevent us from bridging the gap between people and accepting all humans as they are – With the goal of truly making the world a better place." – Dr. Zabina Bhasin
Animink provides full Charlotte Web Design Services, complete website maintenance services, search engine optimization services, social media marketing, custom software development, brand management and so much more! Contact us today and let's get started with building an outstanding web presence for you and your organization.