Animink designed a brand new custom website for DAC Services Inc.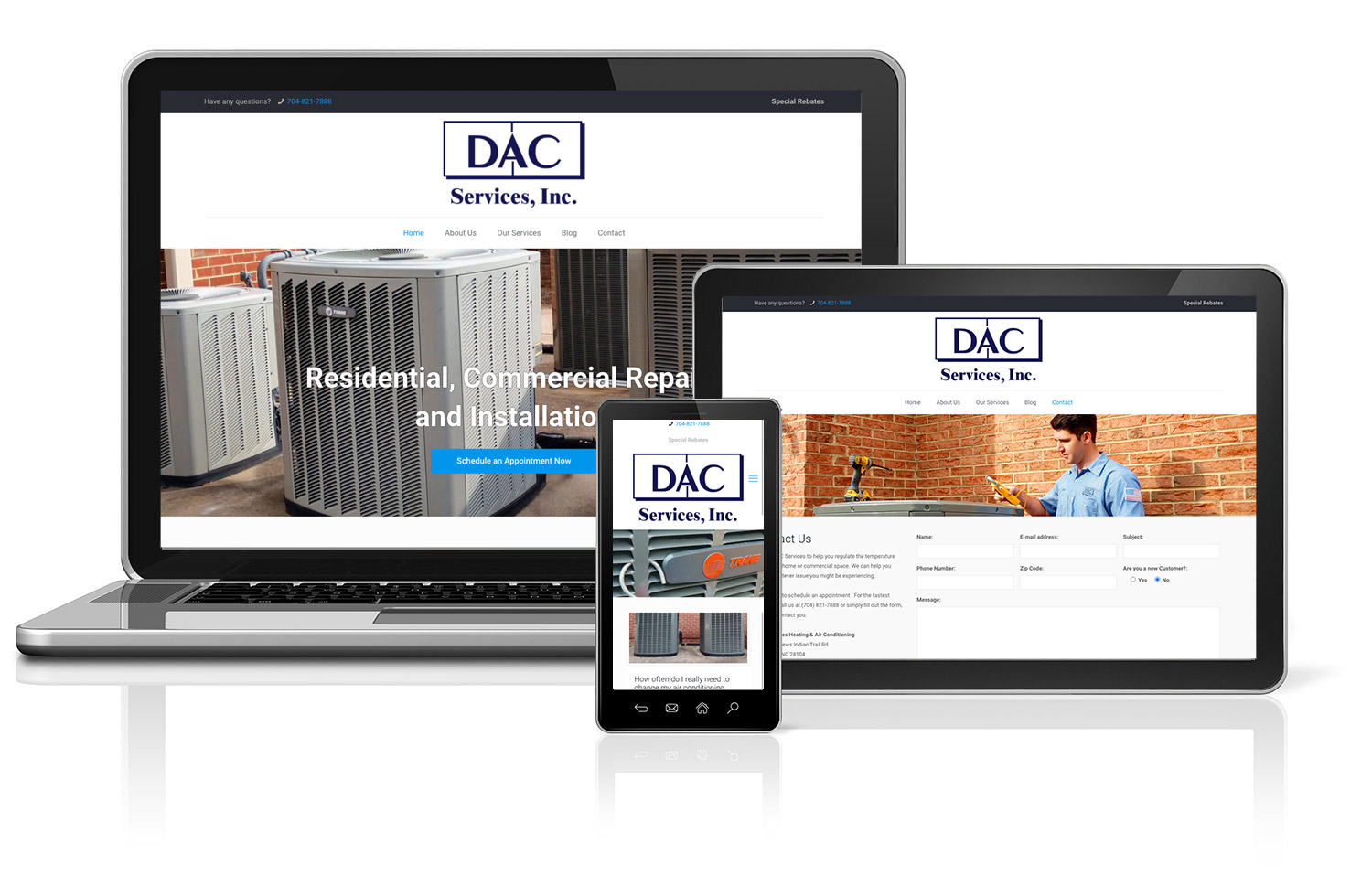 Since 1992, DAC Services has provided the repair, installation and servicing of all major HVAC equipment to the greater Charlotte, NC area. For over 27 years, the company has built a strong foundation in the service industry, thanks in large part to their commitment to prompt service, reasonable rates, and customer satisfaction. Every technician on the DAC Services team specializes in both commercial and residential heating and air conditioning installation, repair and maintenance. Businesses and homeowners alike repeatedly turn to DAC Services because of their reputation for dedication to top quality service, cost effective fair pricing and dependable results.


Charlotte Web Design Services

DAC Services reached out to Animink as they were in need of a new website to better serve their potential and existing customers. After consulting with the client to gain a better understanding of what those website requirements were, the team at Animink designed a clean, customer friendly and easily navigated website for DAC Services. 
The brand new website offers a detailed background history of the company, and a comprehensive and easily accessible list of all of the services the company offers. By browsing through the services area of the site, customers can better understand the exact heating and air conditioning repair, maintenance and installation services provided by DAC Services. The "About Us" section provides customers with the information regarding the specific name brand HVAC units the company installs or replaces.
Client testimonials are now available to help potential customers gain reassurance from past and current customers who have used the company of just how great DAC Services handles service calls for repair, maintenance and new installation.

DAC Services understands that life is busy and hectic for most people. Appointments are now easily booked on the site, helping to save customers a few extra minutes of their time. Details of Special rebates are also available.

Animink – A Web Development Company and So Much More!
In 1998, Animink opened its doors as an animation studio. As the popularity of the internet also began to emerge around this time, Animink evolved to include website design and development. As our company continued to expand its services, we eventually moved into e-commerce, app development, custom software and SAAS solutions.
Fast forward 22 years, and Animink has grown into a Digital Design company that creates just about anything you can view, click, or interact with online. We have a fully staffed team to also offer SEO, SEM and full social media optimization and maintenance services to clients around the world.

The fact is, we all love what we do at Animink, and dedicate our time to perfecting our craft and educating ourselves on emerging technology to continue our momentum well into the future. All of this culminates in a creative process that provides our clients with a better online experience for their visitors, in turn creating loyal customers.