Breathe Yoga – Website Design and Development by Animink with a Touch of Calmness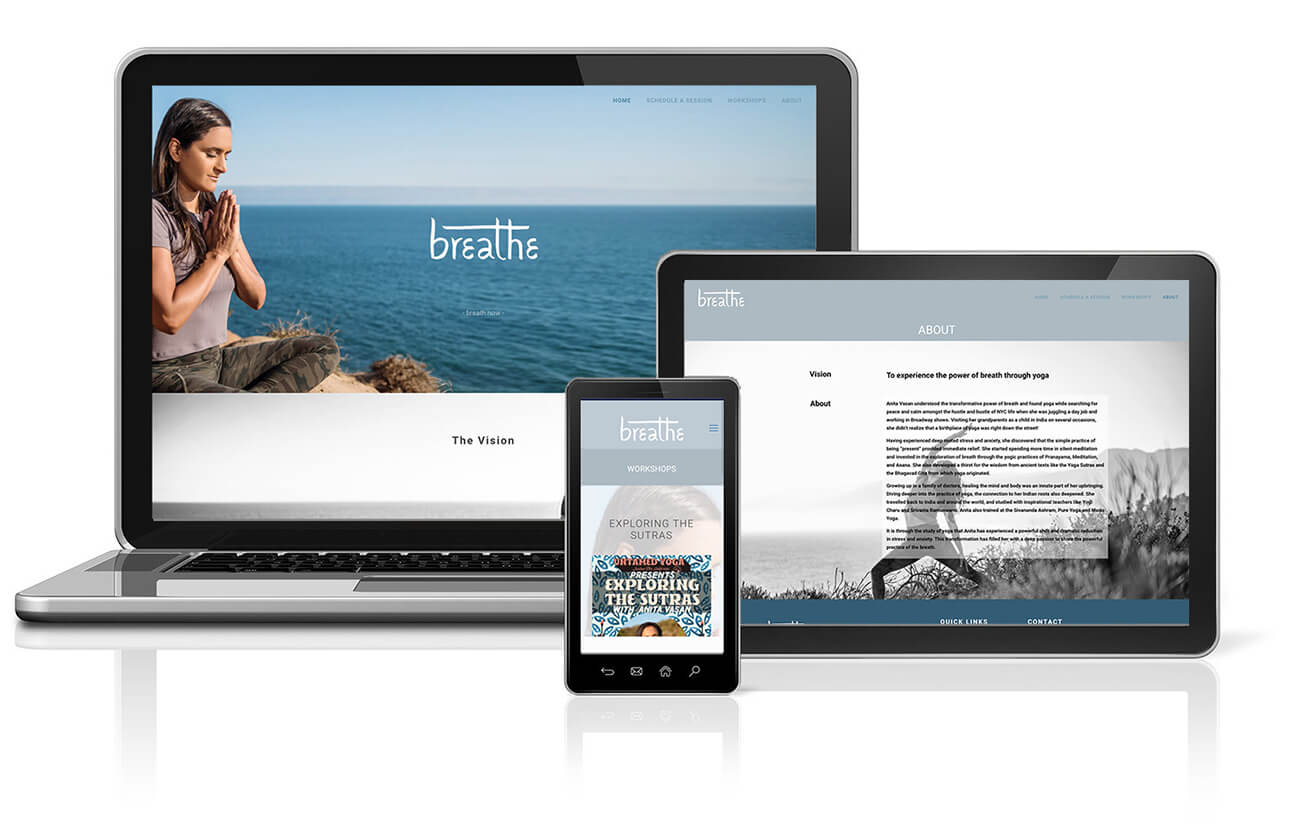 We live in a world that's always on the move. Work, relationships and responsibilities at home cause many people to lead high stress lives. Having experienced deep rooted stress and anxiety herself, Anita Vasan began spending more time in quiet meditation and quickly discovered that a simple practice of being "present" provided her with immediate relief from the day to day stress and anxiety that she was experiencing. Trying to balance a hectic life in NYC with a day job while working in Broadway shows led Anita on a search for calmness and peace. She understood the transformational power of breath and found yoga in her search for a calmer and more peaceful way of life.
As she began spending more time in silent meditation, she also began investing in the exploration of breath through the yogic practices of Pranayama, Meditation, and Asana. In doing so, she developed a strong desire for wisdom from the ancient texts like the Yoga Sutras and the Bhagavad Gita from which yoga originated. Her connection to her Indian roots deepened as she learned more about the practice of yoga, and discovered that the birthplace of yoga was just down the street from where her grandparents lived in India. She travelled back to India and to various places around the world, studying with inspirational teachers like Yogi Charu and Srivasta Ramaswami. Anita also received training at the Sivananda Ashram, Pure Yoga and Modo Yoga.

Anita experienced a dramatic reduction of stress and anxiety in her life through her studies of yoga that have transformed her life. This transformation has given her a strong passion to share the powerful and transformational practice of the breath with others.
Charlotte Web Design Services
Anita Vasan reached out to Animink> via client referral. She wanted a website that would be a reflection of both her teachings and mindset that would also invoke a yogic sense of calmness for her website visitors.
The new website is designed with a color scheme and images specifically targeting a feeling of serenity and calmness. Current and potential clients can gain a better understanding of the power of breath through yoga, as well as learn detailed background information about Anita, and how she found her path to transformation. The home page provides simple instructions on ways to breathe and informational client testimonials. The site offers those interested in learning from Anita a simple way to schedule a session through both an online form and email. The "workshop" area provides regularly updated workshop classes and availability, prices for workshops and a sign up form.

A Web Development Company and So Much More!
The newly designed website perfectly reflects the vision and passion Anita strives to impart on others, providing detailed information and access to sessions and workshops. Animink is proud to offer regular website maintenance services for the Breathe Yoga website.

Our experienced team of website developers and designers understand that your website is a critical component of your business and what it represents. It is quite often the first impression prospective clients have of you, and can tip the scales between someone choosing your company or someone else. Animink works hand-in-hand with our clients to create an online experience that serves their business objectives. We are a website development company that helps your business grow. Contact us today and let's get started building an outstanding online presence for your brand!