Animink completes a full website redesign for Nichols Store, Inc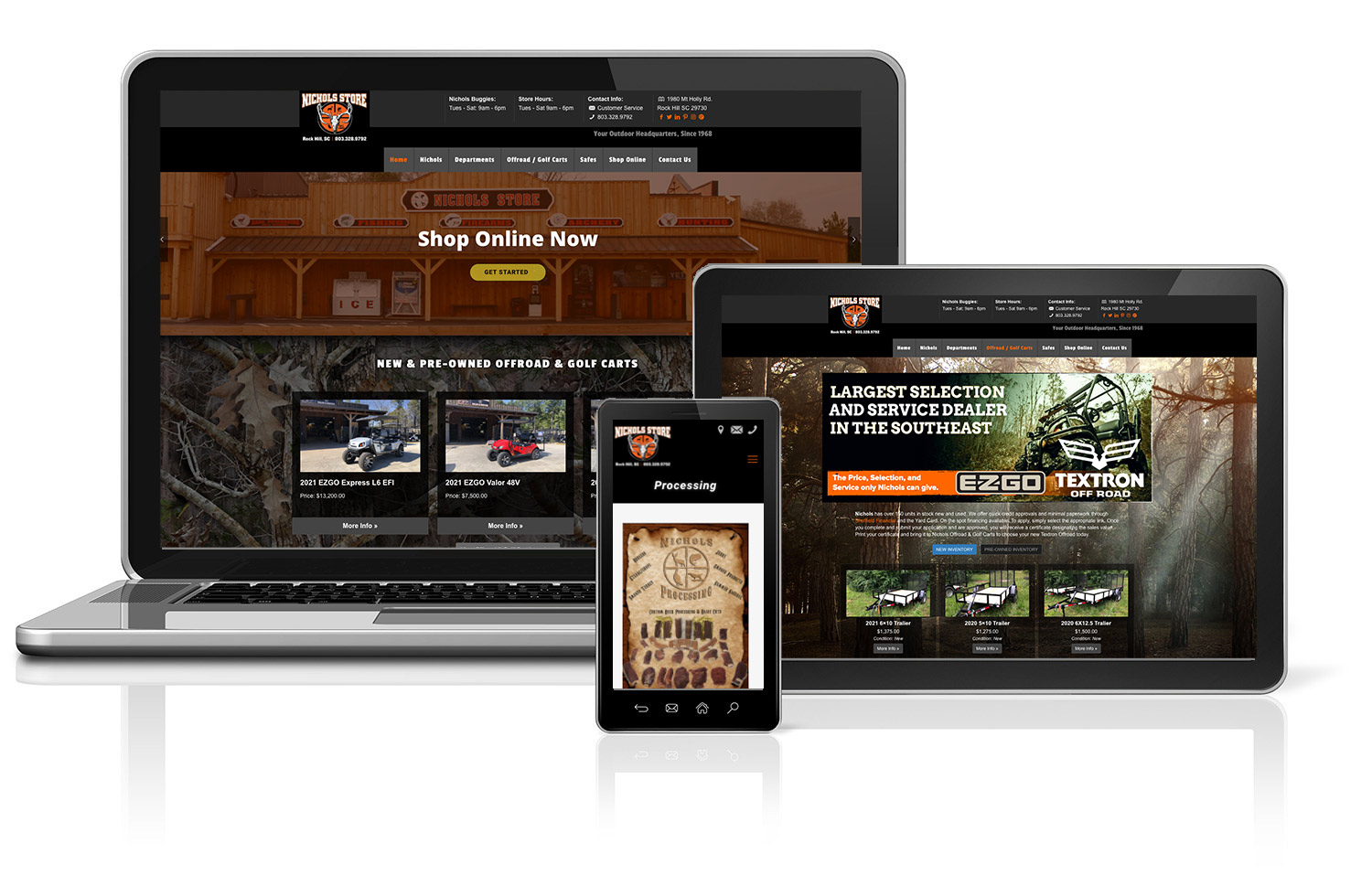 Family owned and operated since 1968, the Nichols Store was established by Tommy "Papa Tom" Nichols. From 1968 until 1989, Papa Tom ran the business as a small "mom and pop" style small country store, selling a small amount of fishing supplies, gas and groceries to locals.

Tommy's son, Darren, purchased the store in 1989, and for over 30 years has grown the business into a massive outdoor sportsman retail center. His love of the outdoors and outdoor sportsman experiences were combined to create a retail store that offers customers a friendly and warm hunting lodge shopping atmosphere. Highly trained support staff provide expert product advice and are devoted to fulfilling every outdoor need.

If outdoor sportsmanship is something you are passionate about, Nichols Store in Rock Hill, SC provides its customers with just about anything they could ever need, including hard to find name-brand products from all season hunting gear to kayaks, clothing and footwear, firearms, ammunition, safes, archery, fishing and cutlery. They also carry beautiful reclaimed wood furniture and Log Cabins by Legacy Quest Outdoors. Setting them apart from other outdoor sportsman retailers, Nichols Store also offers layaways and trades on firearms. In addition to Nichols Store, there is also Nichols Buggies and Nichols Processing on site.

Charlotte Web Design Services

Animink was first approached by Nichols Store owner Darren Nichols over a decade ago as a client referral from our longtime client and friends at The Big Show.

Over the years, Nichols Store has grown into a massive outdoor retail complex, and needed a newly redesigned website to showcase all of their offerings and provide their customers with an organized way to easily learn more about the business and to shop products online. This is the 3rd iteration of their website designed by Animink. The new website is designed with a rugged, outdoorsy theme to represent the image of Nichol's Store.

The site includes exciting new features for online visitors, including a trophy gallery where users can submit images from hunts. The vast number of departments at Nichol's Store are organized into easily navigational categories. Each category page provides product images and lists of the brands the store carries in that specific category. The "About" section gives customers detailed background about the company, and the Google map in the "Directions" section makes it possible to quickly and easily find the physical location of the store.
Interested in meat processing? There's a detailed section of the site for that too! The page includes directions for getting your deer to Nichol's Processing, as well as a detailed list of cuts available and what the cost of each is.

Animink created a client side area for the client to update the Offroad and Golf Carts section directly via the website. We provide all web maintenance and regular updates for the website as well.

A Web Development Company and So Much More!

At Animink, we understand that your website is a critical component of your business that must be designed and maintained by a professional web development company. Your website is often the first impression prospective customers and potential clients will have of your business and can tip the scales between someone choosing your business, or someone else. Contact us today and let's get started building an online presence to help your business grow.