How to Choose the Right Mobile App Development Company in Charlotte, NC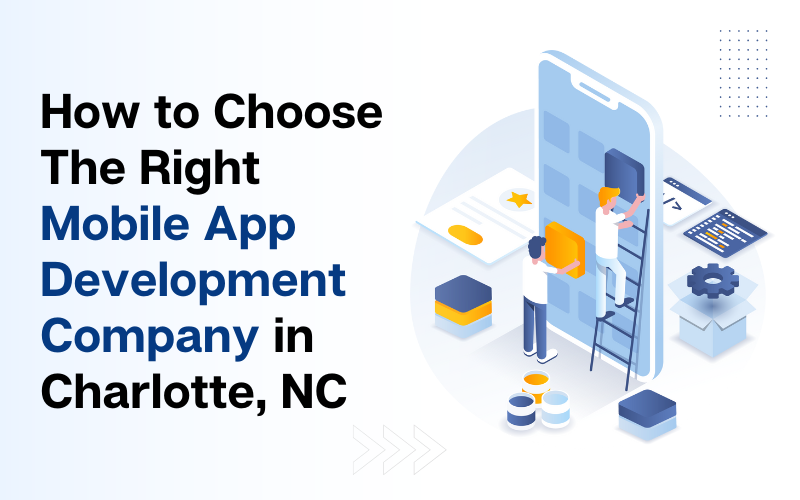 Like many other organizations across the globe, you may find yourself in need of mobile app development to help your business stand out in an arena crowded with competition. Do you need to streamline your internal processes or provide your customers with a fast, reliable way to communicate with your business? A customized mobile app can offer so many benefits for businesses, but choosing a mobile app development company with the right qualifications, knowledge, and skills to meet your needs can be quite overwhelming if you don't know what to look for or which questions to ask.

It doesn't matter how long you've been in business or how well established you are, partnering with the right mobile app development company can take your app from just being an idea floated around the office to an actual mobile application that helps your business succeed.
There are hundreds of app development companies scattered across the US, so how do you find the right partner for mobile app development in Charlotte NC? For starters, you need a company that is experienced and reliable, and one that is fully capable of assessing your requirements and creating a development roadmap to ultimately deliver a fully functional mobile app solution for your business.
These tips can help shortlist your search for the perfect mobile app development partner in Charlotte, NC.

Tips For Choosing a Mobile App Development Partner

Building a new mobile app for your business is an exciting venture, but if you take the time to understand how to choose the right company for your mobile app development project, you'll save time and money in the long run. Here are some top suggestions to consider when beginning your search:
Choose a Specialist
Whether you need a mobile app developed for Android, iOS, or both, it's important to look for a company that specializes in mobile app development, not one that just offers it as a service on the side. Look for a company with years of experience. Take the time to get to know the team to ensure communication will be open, honest, and frequent.
Talk to Their Customers
While a company's website may showcase its best reviews, it's important to talk to actual customers. Any reputable app development company should be happy to provide customer references. Read reviews online and ask the company about any negative feedback to understand how they handle challenges.
Review Their Portfolio
Look at apps the company has developed for others in the same industry as yours, and even some outside of it to get a sense of their mobile app development process and what the end result will look like. Seeing a wider range of apps they have developed can help you understand the company's strengths and where they excel.
Find Out How They Work
What is the company's development process? How involved are clients allowed to be in the conceptual, prototyping, and testing phases? Choose a company that prioritizes open and transparent communication throughout the entire process.
Ask About Timing
A mobile app developer who promises to deliver a high-quality product in a short amount of time should be a red flag. The process will likely take months, not weeks. If you need the app developed quickly, communicate your timeline upfront in order to meet your requirements before finalizing the project.
Ask About Support
Choose a company that cares about your overall business success, not just completing one app. Ensure that they provide post-launch support, including maintenance such as fixing bugs and making updates.
Be Detailed in Your Request
Be specific about the features you want or need for your mobile app, and avoid vague statements like "I want the UBER of online stores." The more details you can provide, the more accurate the cost estimate will be.
Remember that, just like any other product, the cost of building your mobile app will vary based on your required features and mechanics.

Conclusion

You're ready to take your business to the next level, and a customized mobile app can help you do just that. The important thing is to find a development partner who will go above and beyond to meet your needs in a timely manner. You want a company with expertise and extensive knowledge in the field of mobile app development – one who has an in-house team of professional developers with the proper training needed to take your mobile app idea from dream to reality.

For more than 20 years, Animink has created mobile apps in-house from the ground up based specifically on your needs and ideas. We provide mobile app development services specifically for Apple iOS, and create apps that run on the iPhone, iPad, or other iOS devices.

This development encompasses the Internet of Things (IoT), and is the next wave for businesses. We also provide Charlotte app development for Android devices, creating apps specifically suited for your needs. In many cases, your app will require development on both platforms. Contact us today to learn more!