Alpha Dental Care – New Customized Multi-Language Website from Animink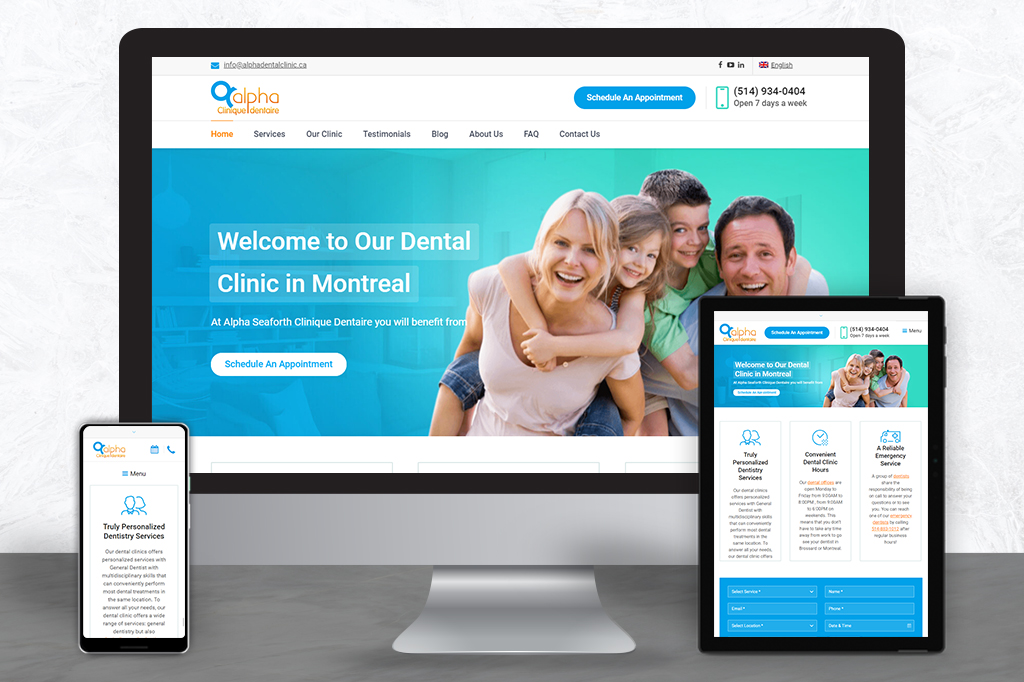 About Alpha Dental Clinic
Alpha Dental Clinic is a multi-specialty dental clinic located at two South Shore locations in Brossard and Montreal. Incorporated in 2009, Alpha Dental Clinic expanded from their original Montreal location, and now have a clinic on Montreal's South Shore in Brossard. Today, Alpha Dental Care consists of a dental team with specialty areas ranging from dental implants to orthodontics and regular care and checkups, and more.
Need:
Alpha Dental Clinic offers innovative advanced dentistry services and has been renowned as a top dental clinic in Montreal and Bossard, but their website didn't reflect that. There was an urgent need to update the website to reflect their commitment to patient care. The aim was to design a website that simplifies their website, increases online appointment requests, and offers the same experience they give in-person. The three main challenges that restricted their growth were: unresponsive website, slow loading pages, and a clunky, outdated design.
Solution:
Our custom web development team worked closely with the team at Alpha Dental Care to better understand their patients and the practice. This helped form both our web design and SEO strategy, and this communication continues to be vital to our partnership. We listened to the client's requirements and suggested the technology to meet their needs in the best possible way. Then we created a feature-rich website while ensuring it is responsive and secure to use and would enhance visitors' experience through easy navigation. Here are some of the features we incorporated into the website:
Thumb-friendly design so readers can easily view, fill the contact form, and access the site's content.

Mapped out a site that made it extremely simple for first-time users to find out all the critical information and book appointments all within one or two clicks.

Multilingual website developers developed the website in three languages viz English, Chinese, and French, to display text in the language preferred by the user

Developed the website on WordPress to allow anyone at the practice to easily update or add content to the site.

Focused on local SEO to enhance search visibility for the dental practice that serves their community face-to-face.

Result:
Since launching their new website, Alpha Dental Clinic has increased their website traffic, improved engagement rates, and increased user experience. The new website is modern,
mobile-friendly
, eye-catching, and optimized to drive the client's traffic and conversions. Our
web development company
has designed a new website that accurately portrays their dental practice, highlighting their doctors and staff, their specialties, and the quality level of care they provide to all patients.
Ready to improve your web presence? Get in touch with us now to know more about custom web development services.